Showcase Announcements
Upcoming Collegiate Information Sessions, Showcases and Forums
by USTA, 17 October 2010
Many people are curious about college tennis and the college recruiting process. When should I get started? How does it all work?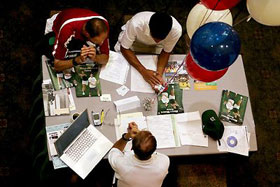 There are lots of educational opportunities, but one great way to get started is through introductory information sessions. All across the country, USTA Sections and other organizations are hosting such information sessions, showcases, and forums to educate players and parents on college tennis and recruiting.
The USTA College Tennis Website includes a page with links to upcoming events about college tennis. Here are some events coming up in November:
USTA Middle States College Showcase
November 6, 2010
Arthur Ashe Youth Tennis & Education Center
Philadelphia, PA
Michael Kennedy: (610) 935-5000 x226
A.C.E. College Information Fair
November 6, 2010
USTA Billie Jean King National Tennis Center
Flushing, NY
Linda Mann: (914) 697-2385
USTA Eastern College Showcase Day
November 7, 2010
USTA Billie Jean King National Tennis Center
Flushing, NY
Julie Bliss: (914) 697-2229
USTA New England College Day Forum
November 7, 2010
College of the Holy Cross
Worcester, MA
David Zeutas-Broer: (508) 366-3450 x22
USTA Mid-Atlantic College Showcase
November 20, 2010
The College of William & Mary
Williamsburg, VA
Bonnie Vona: (703) 556-6120 x17
USTA/PTM College Tennis Showcase
November 21, 2010
Methodist University
Fayetteville, NC
Kelly Gaines: (336) 882-8577
Keep up to date with future sessions and showcases by monitoring this page on the USTA College Tennis Website.
Leave a Comment
More Recruiting 101 Articles
24-Nov-2014
Tips from D-I Players and Parents
At High-Tech Tennis, we're in a unique position because we have access to information that can help you transition from junior tennis to college tennis. We have interacted with dozens of junior tennis coaches who have walked the walk and are now talking the talk to help you navigate the very exciting - but sometimes confusing - recruiting process. Here are five interesting HIGH-TECH TIPS that might help you if you've got your heart set on playing Division I.
16-Nov-2014
Fall Signing Week '14: Balancing Time Between Court and Classroom
With Fall Signing Week at hand, tennis players are faced with the next challenge: finding time to practice while keeping up in the college classroom. Brandon Videtich and Will Gilhooly, tennis alumni at NCSA Athletic Recruiting, share tips and strategies that helped them maintain a healthy balance in college.
10-Nov-2014
Fall Signing Week '14: How Young is Too Young to Start Recruiting?
When it comes to college tennis recruiting, one of the biggest fears parents have is starting the process too late. They are afraid there will be no more room on the teams and all the scholarships will be gone by the time their child is recognized. Everyone wants to get their child in front of coaches before it's too late, but how young is too young to do this?