Showcase Announcements
Upcoming Collegiate Information Sessions, Showcases and Forums
by USTA, 17 October 2010
Many people are curious about college tennis and the college recruiting process. When should I get started? How does it all work?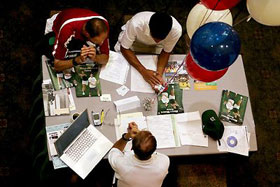 There are lots of educational opportunities, but one great way to get started is through introductory information sessions. All across the country, USTA Sections and other organizations are hosting such information sessions, showcases, and forums to educate players and parents on college tennis and recruiting.
The USTA College Tennis Website includes a page with links to upcoming events about college tennis. Here are some events coming up in November:
USTA Middle States College Showcase
November 6, 2010
Arthur Ashe Youth Tennis & Education Center
Philadelphia, PA
Michael Kennedy: (610) 935-5000 x226
A.C.E. College Information Fair
November 6, 2010
USTA Billie Jean King National Tennis Center
Flushing, NY
Linda Mann: (914) 697-2385
USTA Eastern College Showcase Day
November 7, 2010
USTA Billie Jean King National Tennis Center
Flushing, NY
Julie Bliss: (914) 697-2229
USTA New England College Day Forum
November 7, 2010
College of the Holy Cross
Worcester, MA
David Zeutas-Broer: (508) 366-3450 x22
USTA Mid-Atlantic College Showcase
November 20, 2010
The College of William & Mary
Williamsburg, VA
Bonnie Vona: (703) 556-6120 x17
USTA/PTM College Tennis Showcase
November 21, 2010
Methodist University
Fayetteville, NC
Kelly Gaines: (336) 882-8577
Keep up to date with future sessions and showcases by monitoring this page on the USTA College Tennis Website.
Leave a Comment
More Recruiting 101 Articles
13-Oct-2016
Countdown: Transitioning to College Tennis
During my 35 years coaching tennis at the high school level, I played a key role in helping my players transition from junior tennis into college tennis. I was highly successful, so many parents over the years have asked me about my approach - and what I thought might be the key factors to success.
12-Sep-2016
What Every Player Should Know Before Joining a College Team
David Mullins spent sixteen years competing as a college tennis player and coach at the highest levels. As he reflects on his career, he notes that college tennis has changed dramatically since he first got involved. Mullins talks about these differences - and offers a list of the realities and expectations of college athletics to students and parents.
12-Aug-2016
Amateur Issues
One of the principles that college sports was founded upon is that of amateur competition. In the eyes of all three collegiate governing bodies, student-athletes participating in collegiate athletics should be amateurs. Over the years, the line that defines amateur and professional has become less clear. Recruiting expert Dede Allen takes a comprehensive look at the issue.