Showcase Announcements
Upcoming Collegiate Information Sessions, Showcases and Forums
by USTA, 17 October 2010
Many people are curious about college tennis and the college recruiting process. When should I get started? How does it all work?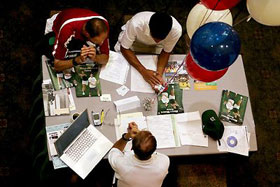 There are lots of educational opportunities, but one great way to get started is through introductory information sessions. All across the country, USTA Sections and other organizations are hosting such information sessions, showcases, and forums to educate players and parents on college tennis and recruiting.
The USTA College Tennis Website includes a page with links to upcoming events about college tennis. Here are some events coming up in November:
USTA Middle States College Showcase
November 6, 2010
Arthur Ashe Youth Tennis & Education Center
Philadelphia, PA
Michael Kennedy: (610) 935-5000 x226
A.C.E. College Information Fair
November 6, 2010
USTA Billie Jean King National Tennis Center
Flushing, NY
Linda Mann: (914) 697-2385
USTA Eastern College Showcase Day
November 7, 2010
USTA Billie Jean King National Tennis Center
Flushing, NY
Julie Bliss: (914) 697-2229
USTA New England College Day Forum
November 7, 2010
College of the Holy Cross
Worcester, MA
David Zeutas-Broer: (508) 366-3450 x22
USTA Mid-Atlantic College Showcase
November 20, 2010
The College of William & Mary
Williamsburg, VA
Bonnie Vona: (703) 556-6120 x17
USTA/PTM College Tennis Showcase
November 21, 2010
Methodist University
Fayetteville, NC
Kelly Gaines: (336) 882-8577
Keep up to date with future sessions and showcases by monitoring this page on the USTA College Tennis Website.
Leave a Comment
More Recruiting 101 Articles
14-Apr-2015
Spring Signing Week '15: Recruiting Strategy and Tips for Unsigned Seniors
Signing Week is underway, and it is an exciting time for players and their families who are making college commitments. But what happens when you don't have a college secured? There is no reason to panic. The signing period that starts this week runs through August, and hundreds more players will commit during this time. You just need to know how to best proceed...
9-Apr-2015
Countdown: SFA Interviews Virginia Tech Coach Thompson
In his 17th season as the Virginia Tech Men's Tennis Coach, Jim Thompson has done his fair share of recruiting. He sat down with SFA to discuss different aspects of the recruiting process and what he looks for in potential recruits.
6-Apr-2015
Countdown: Three Recruiting Pitfalls to Avoid
It is that time of the recruiting process again where the majority of student athletes are about to make the decision on what university to attend. This time can be filled with anxiety involving recruiting visit experiences, unexpected scholarship shortfalls, and admission uncertainties. So - what are the three common recruiting pitfalls that students encounter year in and year out? Read to find out...