Showcase Announcements
Upcoming Collegiate Information Sessions, Showcases and Forums
by USTA, 17 October 2010
Many people are curious about college tennis and the college recruiting process. When should I get started? How does it all work?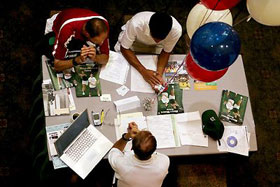 There are lots of educational opportunities, but one great way to get started is through introductory information sessions. All across the country, USTA Sections and other organizations are hosting such information sessions, showcases, and forums to educate players and parents on college tennis and recruiting.
The USTA College Tennis Website includes a page with links to upcoming events about college tennis. Here are some events coming up in November:
USTA Middle States College Showcase
November 6, 2010
Arthur Ashe Youth Tennis & Education Center
Philadelphia, PA
Michael Kennedy: (610) 935-5000 x226
A.C.E. College Information Fair
November 6, 2010
USTA Billie Jean King National Tennis Center
Flushing, NY
Linda Mann: (914) 697-2385
USTA Eastern College Showcase Day
November 7, 2010
USTA Billie Jean King National Tennis Center
Flushing, NY
Julie Bliss: (914) 697-2229
USTA New England College Day Forum
November 7, 2010
College of the Holy Cross
Worcester, MA
David Zeutas-Broer: (508) 366-3450 x22
USTA Mid-Atlantic College Showcase
November 20, 2010
The College of William & Mary
Williamsburg, VA
Bonnie Vona: (703) 556-6120 x17
USTA/PTM College Tennis Showcase
November 21, 2010
Methodist University
Fayetteville, NC
Kelly Gaines: (336) 882-8577
Keep up to date with future sessions and showcases by monitoring this page on the USTA College Tennis Website.
Leave a Comment
More Recruiting 101 Articles
13-Apr-2016
Spring Signing Week '16: Who Really Gets Recruited?
The recruiting process for college tennis players is no different from companies looking to hire new employees. It includes research, evaluation, interviews, comparisons, negotiations and offers. College tennis coaches they are very careful in selecting recruits who are the best possible fits for their teams. Here are some of the things they are looking for ...
12-Apr-2016
Spring Signing Week '16: How Much Should Team Rankings Matter?
Rankings. They have kept you on edge throughout your junior tennis career, but now that you are looking at different colleges and their tennis programs, you are on the other end. As you go through your list of candidate schools, you wonder to yourself how much the rankings of the teams you are considering really matter. Recruiting expert Marcia Frost takes on this question ...
31-Mar-2016
Countdown: David Geatz Interview on Recruiting
Since I am in the college recruiting business, I am frequently answering questions from parents and potential student athletes about college tennis and the recruiting process. I thought I would change things up and provide some value by getting someone else's perspective. Therefore, I interviewed University of Pennsylvania Head Coach David Geatz, who has a ton of experience and success in college tennis.