Showcase Announcements
Upcoming Collegiate Information Sessions, Showcases and Forums
by USTA, 17 October 2010
Many people are curious about college tennis and the college recruiting process. When should I get started? How does it all work?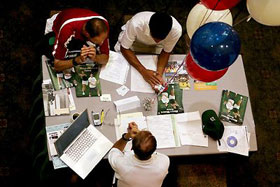 There are lots of educational opportunities, but one great way to get started is through introductory information sessions. All across the country, USTA Sections and other organizations are hosting such information sessions, showcases, and forums to educate players and parents on college tennis and recruiting.
The USTA College Tennis Website includes a page with links to upcoming events about college tennis. Here are some events coming up in November:
USTA Middle States College Showcase
November 6, 2010
Arthur Ashe Youth Tennis & Education Center
Philadelphia, PA
Michael Kennedy: (610) 935-5000 x226
A.C.E. College Information Fair
November 6, 2010
USTA Billie Jean King National Tennis Center
Flushing, NY
Linda Mann: (914) 697-2385
USTA Eastern College Showcase Day
November 7, 2010
USTA Billie Jean King National Tennis Center
Flushing, NY
Julie Bliss: (914) 697-2229
USTA New England College Day Forum
November 7, 2010
College of the Holy Cross
Worcester, MA
David Zeutas-Broer: (508) 366-3450 x22
USTA Mid-Atlantic College Showcase
November 20, 2010
The College of William & Mary
Williamsburg, VA
Bonnie Vona: (703) 556-6120 x17
USTA/PTM College Tennis Showcase
November 21, 2010
Methodist University
Fayetteville, NC
Kelly Gaines: (336) 882-8577
Keep up to date with future sessions and showcases by monitoring this page on the USTA College Tennis Website.
Leave a Comment
More Recruiting 101 Articles
21-Oct-2014
Countdown: Trending Toward Early Verbal Commitments
In the college tennis recruiting scene, it is becoming more and more common to hear of verbal commitments to colleges occurring far earlier than in recent history. In tennis, it is no longer unheard of to see a player committing to a college during the first half of the junior year. The prevailing message in the past has been to take one's time. But while that remains sound advice, players should probably start engaging in their search process earlier.
15-Oct-2014
Countdown: College Prep Camps and Showcases
College tennis showcases are growing in popularity, mainly because of the elimination of some USTA national tournaments and reduced draw sizes. If you want to get recruited for a college tennis scholarship, exposure is a key component to the process. When deciding whether to attend a showcase, parents and players always have a lot of questions and concerns. This article talks about how showcases work and how to maximize your opportunities.
11-Oct-2014
Countdown: College Placement Tips
Mark Weil of the Weil Tennis Academy has shepherded hundreds of junior tennis players through the college recruiting process, and he has collected many valuable experiences during that time. Today, in our first Countdown to Signing Day article, Weil scattershoots over college tennis recruiting, talking about how to approach recruiting - and how to make yourself an attractive recruit to college coaches.