Halbauer Seizes Opportunity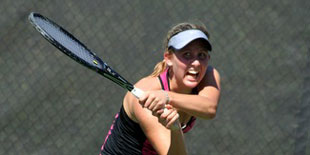 17-year old Ellie Halbauer discovered something about her game at the USTA Pro Circuit's 50K, Tennis Classic of Macon event in October, and it is something that all young tennis players would do well to remember - sometimes it's easier to play when you are down. Story
| | |
| --- | --- |
| The Hot 100 features 100 boys and 100 girls who have been playing outstanding tennis. These players have substantially improved their rankings over the past month. | |
Connect with Prince on Facebook. Become a fan, post on their wall. Click here to start.
College tennis is a goal for many players and parents, and they should learn about the recruiting process. Weil Tennis Academy is proud to sponsor Recruiting 101 - with articles about recruiting, eligibility, and more.
| | | |
| --- | --- | --- |
| Campus Showdowns are one-day, short-format tournaments open to juniors, college players, professionals, and adults. These events give junior players a chance to compete against college competition on a college campus. | | |
Click here for a complete
Showdown Schedule
Jurgen Melzer

DUNLOP Biomimetic F 3.0 Tour
Was: $210.00 Now: $99.00
Review, Feedback, Demo, Video

Grigor Dimitrov

WILSON 2014 Pro Staff 95S
Was: $250.00 Now: $119.00
Feedback, Demo, Video

Andy Murray

HEAD Graphene Radical Pro
Was: $210.00 Now: $189.95
Review, Feedback, Demo, Video

Mikhail Youzhny

HEAD Youtek IG Extreme Pro 2.0
Was: $190.00 Now: $99.95
Review, Feedback, Demo, Video
Help build our following.
Follow us on Facebook

Since 2011, Lisa Stone has been writing about all things junior tennis from a parent's perspective at
Parenting Aces
. Tune in to her
radio call-in show
each Tuesday at 11am ET.
Faces in the top one-hundred:
Genesis Thunder Power Racquet
A full size video with all related links is available on our store's
YouTube Channel
. To purchase from Tennis Express or to find out more,
Click Here
!
Gorin Tennis is excited to sponsor Roundtable Articles - featuring comments from top coaches and recent graduates on various recruiting topics.
Babolat Pure Strike
Are you looking for more response & precision? Introducing the Babolat Pure Strike.
Bishops Gate Tennis Academy is proud to present preview and wrap-up articles of top junior tennis tournaments from around the country.
Get an overview of why TennisRecruiting.net is the premier site for junior tennis.

Follow college tennis with the ITA - the governing body that oversees all levels of men's and women's varsity collegiate tennis.
Talk Tennis provides lively forums for the discussion of junior and college tennis. Here are the latest topics from the message boards.
| | |
| --- | --- |
| Photo galleries are proudly presented by Southern California's own Advantage Tennis Academy. | |
Solfire is the proud sponsor of Recruiting Class Rankings for college tennis teams. Check out the top classes from across the country - and see how your team stacks up.

Dunlop Sports is the proud sponsor of the National Showcase Series, a set of USTA-sanctioned tournaments open to players from all sections. Compete against players outside of your district or section - and earn credit towards your Tennis Recruiting ranking.
Click here for the complete
Series Schedule
Smith Sterns Tennis Academy is proud to present the College Commitment Lists. Check out the latest commitments here - and the full listings below.
Full Listings: Boys' Commits & Girls' Commits
Smith Stearns Tennis Academy
- training young players with a true passion for tennis since 2002.

In each episode of
Inside College Tennis
, Tony Minnis takes you on an "official visit" to one of your favorite schools - telling the compelling stories of collegiate tennis success, adversity and opportunity.

The USTA's Tennis On Campus program is designed to provide college students with opportunities for team camaraderie, social networking, and rivaled competition through tennis without the rigors of a varsity program.
| | | |
| --- | --- | --- |
| TennisRecruiting.net has been your home for the Fall Signing Period in October and November. Check out all the great features and profiles we brought you during our Countdown to Signing Day and Fall Signing Week '14 coverage. | | |