News & Features
Event Schedule
National Showcase Tournament Series
TennisRecruiting.net is excited to work in conjunction with Dunlop on a series of tournaments called National Showcases presented by Dunlop. These tournaments are USTA-sanctioned junior tournaments open to players from all sections. National Showcase tournaments are designed to give a broad range of players the chance to compete outside of their districts and sections - and these tournaments will count towards Tennis Recruiting rankings.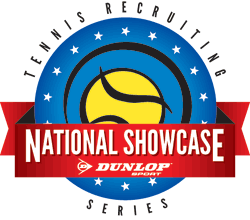 National Showcase tournaments are "open" tournaments. Entries for these tournaments will be open to all USTA players, regardless of residence. The bulk of these tournaments take place during the summer or on long holiday weekends to accommodate travel.
All events in National Showcase tournaments will count in Tennis Recruiting rankings. Note that these tournaments are not on the USTA national schedule - they are sanctioned by sections or districts, and so players competing from other sections will not earn USTA ranking points. But they will absolutely count at TennisRecruiting.net. Further, players who compete in these tournaments and win at least one singles match will become National Players for the purpose of determining event quality for other tournaments.
Tennis Recruiting has sought out well-respected tournament directors with a history of running strong, high-quality tournaments. These directors are interested in running open tournaments to meet a need in light of recent changes to the junior competition format. The goal of these National Showcase tournaments is to provide additional opportunities for players to compete in other parts of the country.
Dunlop and Tennis Recruiting are excited to bring juniors more opportunities for tennis tournament play.
National Showcase Series Schedule
Here is the current schedule of National Showcase Tournaments, presented by Dunlop. Additional tournaments are added to the schedule as their USTA sanctions are finalized.
We hope that you will consider playing in one of these tournaments. Lastly, here are some principles of these National Showcase tournaments:
All events in a National Showcase tournaments will count for Tennis Recruiting national rankings.
A player who competes in one of these events and has a win - in the main draw or a consolation event - will become a Tennis Recruiting National Player.
Entry into these events is open to all USTA players, regardless of residence.
Acceptance will start with the USTA National Rankings - followed by the USTA sectional and district rankings.
We have had a lot of positive feedback about these tournaments since we announced them in 2012 - and we look forward to many more such tournaments in the future.
For more information, check out our Frequently Asked Questions.
About Dunlop
Dunlop is proud to work in conjunction with Tennis Recruiting as the presenting sponsor of the National Showcase Tournament Series.
Power Up - Harness the Power of Nature With Dunlop
Dunlop has an incredible heritage as one of the oldest tennis brands in the industry. Over the years it has been a leader in innovation; from the original Maxply Fort and Injection Moulded Max 200G to today's range of Biomimetic racquets, technology has been at the forefront of Dunlop's product range. Dunlop has a stable of legendary players from Rod Laver to Steffi Graf to John McEnroe who've reached the pinnacle of the sport with Dunlop equipment.
Dunlop USA is headquartered in Greenville, SC, and the company's product line includes tennis racquets used by ATP and WTA stars Nicolas Almagro, Tommy Robredo and Dominika Cibulkova to name a few. Dunlop also produces world-class tennis balls, which are played in top tournaments around the world, including ATP events in Monte Carlo, Madrid, Rome, Barcelona, and many more. Other top products include Black Widow string, which produces incredible power and stunning spin and U-Sweat overgrips.
Connect with Dunlop on Facebook, Twitter, and YouTube.
Leave a Comment
More Special Features
26-Nov-2014
Breakdowns Before Breakthroughs
Andre Agassi survived. So did Novak and Serena. And it brought Andy Murray to tears on center court at Wimbledon It is considered one of tennis' greatest challenges. The phenomenon called breakdowns before breakthroughs.
8-Oct-2014
Interview with USTA National Collegiate Coach Stephen Amritraj
Stephen Amritraj joined the USTA as a National Coach in January of this year and was recently named its National Collegiate coach. Amritraj played at Duke from 2002-2006, and after a brief stint on the tour, began coaching ATP professionals in Southern California, where he grew up. Colette Lewis of ZooTennis.com talked with Amritraj about the USTA Collegiate Team program which assists American college players as they transition to professional careers.
23-Aug-2014
Premiere of Inside College Tennis with Tony Minnis at Wichita State
The Bill Rodman Production Shoppe has completed production of the 4th episode of Inside College Tennis and premieres on Tennis Channel featuring Wichita State University. The show premieres tonight, Saturday, August 23rd at 10pm ET, on The Tennis Channel. Meet Colin Foster, Head Women's Coach and Brad Louderback, Head Men's Coach is this episode and come to understand why each coach says: "Our team is a like family."