News & Features
Event Schedule
National Showcase Tournament Series
TennisRecruiting.net
National Showcase
series of tournaments. These tournaments are USTA-sanctioned junior tournaments open to players from all sections. National Showcase tournaments are designed to give a broad range of players the chance to compete outside of their districts and sections - and these tournaments will count towards Tennis Recruiting rankings.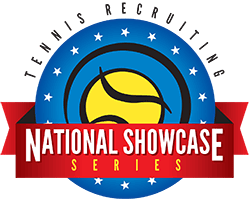 National Showcase tournaments are "open" tournaments. Entries for these tournaments will be open to all USTA players, regardless of residence. The bulk of these tournaments take place during the summer or on long holiday weekends to accommodate travel.
All events in National Showcase tournaments will count in Tennis Recruiting rankings. Note that these tournaments are not on the USTA national schedule - they are sanctioned by sections or districts, and so players competing from other sections will not earn USTA ranking points. But they will absolutely count at TennisRecruiting.net. Further, players who compete in these tournaments and win at least one singles match will become National Players for the purpose of determining event quality for other tournaments.
Tennis Recruiting has sought out well-respected tournament directors with a history of running strong, high-quality tournaments. These directors are interested in running open tournaments to meet a need in light of recent changes to the junior competition format. The goal of these National Showcase tournaments is to provide additional opportunities for players to compete in other parts of the country.
National Showcase Series Schedule
Here is the current schedule of National Showcase Tournaments. Additional tournaments are added to the schedule as their USTA sanctions are finalized.
Starts
Tournament
Events
Contact
7/10
MENDHAM SUMMER CHAMPIONSHIPS
Mendham, NJ
BG 16-18
L. Dwojewski
7/11
GEORGIA JUNIOR OPEN
Rome, GA
BG12-18
R. Sasseville
7/13
21ST COSTA MESA SUMMER CLASSIC
Costa Mes, CA
BG12-18
H. Lloyd
7/18
DTS COLLEGE RECRUITING TOURNAMENT
Milton, MA
BG18
T. Donovan
7/24
L1 SPORTIME SCHENECTADY SUMMERTIME CHAMPIONSHIPS
Schenectady, NY
BG12-18
P. Green
7/31
HUDLOW JR. OPEN CHAMPIONSHIPS
Norcross, GA
BG12-18
C. Chapin
8/08
TENNISRECRUITING.NET TEAM CHAMPIONSHIPS
Roswell, GA
BG16-18
J. Weaver
8/13
L1B EMPIRE CHALLENGER
Goshen, NY
BG16-18
A. Roberts
8/14
ST. LOUIS JR. SUMMER OPEN
St. Louis, MO
BG12-18
J. Dippold
9/11
GREENSBORO SEPTEMBER JR. OPEN
Greensboro, NC
BG12-18
M. Falcon
9/18
SOUTH CAROLINA STATE JR. OPEN
Charleston, SC
BG12-18
T. Simpson
9/25
ATA FALL OPEN AND SHOWCASE
Austin, TX
BG12-18
B. Notis
10/16
GREENSBORO OCTOBER JR. OPEN
Greensboro, NC
BG12-18
M. Falcon
11/07
FAYETTEVILLE ROTARY JUNIOR OPEN
Fayetteville, NC
BG12-18
F. Barragan
11/21
GEORGIA THANKSGIVING JR. OPEN
Norcross, GA
BG16-18
C. Chapin
11/21
BROWARD TURKEY BOWL LEVEL 7
Coral Springs, FL
BG12-18
L. Wolfe
11/21
ATLANTA THANKSGIVING JR. OPEN
Atlanta, GA
BG12-14
T. Berne
11/27
WESTERN STATES JR. OPEN
Tucson, AZ
BG12-18
M. Houh
12/26
COSTA MESA INTERCOLLEGIATE CLASSIC
Costa Mesa, CA
BG18
H. Lloyd
We hope that you will consider playing in one of these tournaments. Lastly, here are some principles of these National Showcase tournaments:
All events in a National Showcase tournaments will count for Tennis Recruiting national rankings.
A player who competes in one of these events and has a win - in the main draw or a consolation event - will become a Tennis Recruiting National Player.
Entry into these events is open to all USTA players, regardless of residence.
Acceptance will start with the USTA National Rankings - followed by the USTA sectional and district rankings.
We have had a lot of positive feedback about these tournaments since we announced them in 2012 - and we look forward to many more such tournaments in the future.
For more information, check out our Frequently Asked Questions.
Leave a Comment
More Special Features
28-Jun-2015
Mid-Atlantic College Showcase in Boyds, Maryland
On Saturday, July 11, the Montgomery TennisPlex will host its 2015 College Tennis Showcase, giving USTA Mid-Atlantic high school players a chance to learn about college tennis and interact with coaches. The showcase will be held at the Montgomery TennisPlex in Boyds, Maryland, and will include both information and on-court sessions.
26-Jun-2015
An Interview with Martin Blackman, General Manager USTA Player Development
If there are hats Martin Blackman hasn't worn in his decades associated with the sport of tennis, they'd be difficult to spot. Named General Manager of USTA Player Development in April, Blackman has a resume that includes experience as player, coach and administrator. Colette Lewis of ZooTennis.com talks with Blackman about a host of topics related to junior and college tennis.
9-Jun-2015
USTA Gives Position on Use of Periscope and Meerkat Live Streaming Apps
Less than three months after the release of live streaming video apps in Periscope and Meerkat, sports organizations and networks around the world are giving their positions and setting policy on how these convenient but controversial apps can be used by fans and others in attendance at their events. Rick Limpert discusses their use in the tennis world.