News & Features
Event Schedule
National Showcase Tournament Series
TennisRecruiting.net is excited to work in conjunction with Dunlop on a series of tournaments called National Showcases presented by Dunlop. These tournaments are USTA-sanctioned junior tournaments open to players from all sections. National Showcase tournaments are designed to give a broad range of players the chance to compete outside of their districts and sections - and these tournaments will count towards Tennis Recruiting rankings.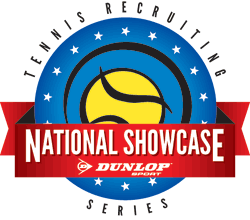 National Showcase tournaments are "open" tournaments. Entries for these tournaments will be open to all USTA players, regardless of residence. The bulk of these tournaments take place during the summer or on long holiday weekends to accommodate travel.
All events in National Showcase tournaments will count in Tennis Recruiting rankings. Note that these tournaments are not on the USTA national schedule - they are sanctioned by sections or districts, and so players competing from other sections will not earn USTA ranking points. But they will absolutely count at TennisRecruiting.net. Further, players who compete in these tournaments and win at least one singles match will become National Players for the purpose of determining event quality for other tournaments.
Tennis Recruiting has sought out well-respected tournament directors with a history of running strong, high-quality tournaments. These directors are interested in running open tournaments to meet a need in light of recent changes to the junior competition format. The goal of these National Showcase tournaments is to provide additional opportunities for players to compete in other parts of the country.
Dunlop and Tennis Recruiting are excited to bring juniors more opportunities for tennis tournament play.
National Showcase Series Schedule
Here is the current schedule of National Showcase Tournaments, presented by Dunlop. Additional tournaments are added to the schedule as their USTA sanctions are finalized.
Starts
Tournament
Events
Contact
2/13
SPORTIME SCHNECTADY PRESIDENT'S CUP
Schnectady, NY
BG16-14
P. Green
3/27
ATA SPRING OPEN AND SHOWCASE
Austin, TX
BG18-12
B. Notis
3/28
GEORGIA ALABAMA OPEN
Dothan, AL
BG18-16
D. Bryan
3/28
GEORGIA ALABAMA JUNIOR OPEN
Bainbridge, GA
BG14-12
T. Thompson
4/03
HARRY GILBERT'S EASTER OPEN
Daytona Beach, FL
BG18-12
H. Gilbert
4/11
BLUEGRASS SPRING JR. OPEN
Louisville, KY
BG18-12
C. Mather
4/23
115TH OJAI VALLEY JR. TOURNAMENT
Ojai, CA
G18BG16-14
C. Fugle
4/24
HUDLOW JR. HARDCOURTS
Norcross, GA
BG18-12
C. Chapin
5/23
NORTH GEORGIA OPEN CHAMPIONSHIPS
Rome, GA
BG18-12
R. Sasseville
6/22
LA JOLLA JR. TENNIS TOURNAMENT
La Jolla, CA
BG12-18
B. Davis
6/26
TENNISRECRUITING.NET OPEN
Minneapolis, MN
BG12-18
M. Hemmer
6/29
WILBUR FOLSOM MEMORIAL JR. OPEN
San Diego, CA
BG12-18
A. Podney
We hope that you will consider playing in one of these tournaments. Lastly, here are some principles of these National Showcase tournaments:
All events in a National Showcase tournaments will count for Tennis Recruiting national rankings.
A player who competes in one of these events and has a win - in the main draw or a consolation event - will become a Tennis Recruiting National Player.
Entry into these events is open to all USTA players, regardless of residence.
Acceptance will start with the USTA National Rankings - followed by the USTA sectional and district rankings.
We have had a lot of positive feedback about these tournaments since we announced them in 2012 - and we look forward to many more such tournaments in the future.
For more information, check out our Frequently Asked Questions.
About Dunlop
Dunlop is proud to work in conjunction with Tennis Recruiting as the presenting sponsor of the National Showcase Tournament Series.
Power Up - Harness the Power of Nature With Dunlop
Dunlop has an incredible heritage as one of the oldest tennis brands in the industry. Over the years it has been a leader in innovation; from the original Maxply Fort and Injection Moulded Max 200G to today's range of Biomimetic racquets, technology has been at the forefront of Dunlop's product range. Dunlop has a stable of legendary players from Rod Laver to Steffi Graf to John McEnroe who've reached the pinnacle of the sport with Dunlop equipment.
Dunlop USA is headquartered in Greenville, SC, and the company's product line includes tennis racquets used by ATP and WTA stars Nicolas Almagro, Tommy Robredo and Dominika Cibulkova to name a few. Dunlop also produces world-class tennis balls, which are played in top tournaments around the world, including ATP events in Monte Carlo, Madrid, Rome, Barcelona, and many more. Other top products include Black Widow string, which produces incredible power and stunning spin and U-Sweat overgrips.
Connect with Dunlop on Facebook, Twitter, and YouTube.
Leave a Comment
More Special Features
20-Jan-2015
Racquet Customization a Growing Trend in Junior and College Tennis
As if tennis parents, junior and college tennis players didn't have enough expense in buying frames, strings, shoes and high tech apparel, many are choosing to shell out even more cash to have their racquets customized to preferred specifications.
16-Jan-2015
Eight Intriguing Questions for 2015
It's January... so it must be time for another edition of "Intriguing Questions" from columnist Colette Lewis. Today, in the tenth article in as many years, Colette poses eight questions about junior and college tennis that should be answered over the coming months.
9-Jan-2015
An interview with Nick Saviano
Nick Saviano began his storied coaching career at age 28 after winning two NCAA titles at Stanford and playing the ATP circuit for several years. After 15 years with the USTA, Saviano started his own tennis academy, where he can still be found feeding balls to eight-year-olds with grand slam dreams. Colette Lewis got the chance to talk with Saviano about many topics around tennis coaching and the game in general.