News & Features
Event Schedule
Tennis Recruiting National Showcase Series
by TennisRecruiting.net
The Tennis Recruiting Network is excited to announce a new series of tournaments called National Showcases. Tournaments in the National Showcase Series are USTA-sanctioned junior tournaments open to players from all sections. These tournaments are designed to give a broad range of players the chance to compete outside of their districts and sections - and these tournaments will count towards Tennis Recruiting rankings.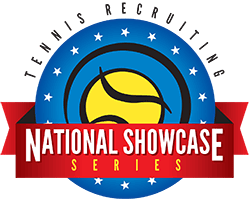 National Showcase tournaments are "open" tournaments. Entries for these tournaments will be open to all USTA players, regardless of residence. The bulk of these tournaments take place during the summer or on long holiday weekends to accommodate travel.
All events in National Showcase tournaments will count in Tennis Recruiting rankings. Note that these tournaments are not on the USTA national schedule - they are sanctioned by sections or districts, and so players competing from other sections will not earn USTA ranking points. But they will absolutely count at TennisRecruiting.net. Further, players who compete in these tournaments and win at least one match will become National Players for the purpose of determining event quality for other tournaments.
Tennis Recruiting has sought out well-respected tournament directors with a history of running strong, high-quality tournaments. These directors are interested in running open tournaments to meet a need in light of recent changes to the junior competition format. The goal of these National Showcase tournaments is to provide additional opportunities for players to compete in other parts of the country.
Showcase Schedule
Here is the current schedule of National Showcase tournaments. Several more open tournaments will be added to this 2013 schedule as their USTA sanctions are finalized.
Starts
Tournament
Events
Contact
5/25
NORTH GEORGIA OPEN
Rome, GA
BG18-12
R. Sasseville
5/30
MOBILE MEDICAL SERVICES OPEN
Las Vegas, NV
BG18-12
M. Saperstein
6/07
ALBANY NATIONAL SHOWCASE
Albany, NY
BG18-12
P. Green
6/24
LA JOLLA JR. CHAMPIONSHIPS
La Jolla, CA
BG18-12
B. Davis
6/25
NEWPORT NEWS OPEN
Newport News, VA
BG18-12
S. Dearth
6/28
TENNISRECRUITING.NET OPEN
Minneapolis, MN
BG18-12
M. Hemmer
6/29
GATOR BOWL
Jacksonville, FL
BG18-12
R. Jenks
7/01
WILBUR FOLSON MEMORIAL OPEN
San Diego, CA
BG18-12
A. Podney
7/13
GEORGIA JUNIOR OPEN
Rome, GA
BG18-12
R. Sasseville
7/15
COSTA MESA SUMMER CLASSIC
Costa Mesa, CA
BG18-12
H. Lloyd
7/20
DTS COLLEGE RECRUITING OPEN
Cambridge, MA
BG18
T. Donovan
7/26
LAKELAND SHOWCASE OPEN
Niles, MI
BG18-12
M. Brown
7/27
NORMAN NAT'L SHOWCASE OPEN
Norman, OK
BG18-12
D. Minihan
8/02
HUDLOW JR. OPEN
Norcross, GA
BG18-14
C. Chapin
8/09
SANTA CLARA BRONCO OPEN
Santa Clara, CA
BG18-12
J. Scalese
8/09
KANSAS CITY OPEN JUNIORS
Kansas City, MO
BG18-12
S. Hanover
8/16
ST. LOUIS JR. SUMMER OPEN
St. Louis, MO
BG18-12
J. Dippold
9/06
GREENSBORO SEPTEMBER JR. OPEN
Greensboro, NC
BG18-12
M. Belangia
9/21
BLUEGRASS FALL JR. OPEN
Louisville, KY
BG18-12
C. Mather
9/28
ST. LOUIS JR. FALL OPEN
St. Louis, MO
B18-12
J. Dippold
10/11
GREENSBORO OCTOBER JR. OPEN
Greensboro, NC
BG18-12
M. Belangia
11/22
GEORGIA THANKSGIVING OPEN
Norcross, GA
BG18-16
C. Chapin
11/22
ATLANTA THANKSGIVING OPEN
Norcross, GA
BG14-12
T. Berne
11/29
WESTERN STATES JR. OPEN
Tucson, AZ
BG18-12
M. Houk
We hope that you will consider playing in one of these tournaments. Lastly, here are some principles of these National Showcase tournaments:
All events in a National Showcase tournaments will count for Tennis Recruiting national rankings.
A player who competes in one of these events and has a win - in the main draw or a consolation event - will become a Tennis Recruiting National Player.
Entry into these events is open to all USTA players, regardless of residence.
Acceptance will start with the USTA National Rankings - followed by the USTA sectional and district rankings.
We are excited to get started with these - and we look forward to many more such tournaments in the future.
For more information, check out our Frequently Asked Questions.
Leave a Comment
More Special Features
9-May-2013
Ramp It Up - New Academy Opens in Southern California
The Home Depot Center in Carson, California, site of the USTA Training Center-West, has a new source of activity this spring with the opening of the RAMP Tennis Academy.
6-Feb-2013
Teah Flynn Organizes Groundbreaking Tennis Relay
For a 15 year old, Teah Flynn has done more community service than most adults, logging hundreds of volunteer hours raising funds for charities, walking dogs owned by disabled people, and producing PSAs. On February 9, Flynn, a two-star sophomore from Farmington, Arkansas, will host her most ambitious volunteer project so far - a Tennis Relay to raise money for genomic cancer research.
17-Jan-2013
Eight Intriguing Questions for 2013
Another year... and another edition of "Intriguing Questions" from columnist Colette Lewis. Today, Colette poses eight questions about junior and college tennis.
Lotto Raptor Ultra IV Shoe Review

To purchase this product or for a much more detailed written review, Click Here!


Follow college tennis with the ITA - the governing body that oversees all levels of men's and women's varsity collegiate tennis.