News & Features
Event Schedule
National Showcase Tournament Series
TennisRecruiting.net
National Showcase
series of tournaments. These tournaments are USTA-sanctioned junior tournaments open to players from all sections. National Showcase tournaments are designed to give a broad range of players the chance to compete outside of their districts and sections - and these tournaments will count towards Tennis Recruiting rankings.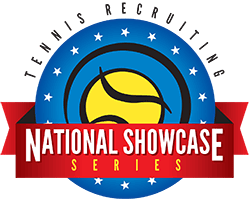 National Showcase tournaments are "open" tournaments. Entries for these tournaments will be open to all USTA players, regardless of residence. The bulk of these tournaments take place during the summer or on long holiday weekends to accommodate travel.
All events in National Showcase tournaments will count in Tennis Recruiting rankings. Note that these tournaments are not on the USTA national schedule - they are sanctioned by sections or districts, and so players competing from other sections will not earn USTA ranking points. But they will absolutely count at TennisRecruiting.net. Further, players who compete in these tournaments and win at least one singles match will become National Players for the purpose of determining event quality for other tournaments.
Tennis Recruiting has sought out well-respected tournament directors with a history of running strong, high-quality tournaments. These directors are interested in running open tournaments to meet a need in light of recent changes to the junior competition format. The goal of these National Showcase tournaments is to provide additional opportunities for players to compete in other parts of the country.
National Showcase Series Schedule
Here is the current schedule of National Showcase Tournaments. Additional tournaments are added to the schedule as their USTA sanctions are finalized.
Starts
Tournament
Events
Contact
4/23
115TH OJAI VALLEY JR. TOURNAMENT
Ojai, CA
G18BG16-14
C. Fugle
5/15
TENNISRECRUITING.NET ROANOKE VALLEY JR. OPEN
Roanoke, VA
BG12-18
D. Ragsdale
5/23
NORTH GEORGIA OPEN CHAMPIONSHIPS
Rome, GA
BG18-12
R. Sasseville
6/13
NEWPORT NEWS OPEN
Newport News, VA
BG18-12
S. Dearth
6/22
LA JOLLA JR. TENNIS TOURNAMENT
La Jolla, CA
BG12-18
B. Davis
6/26
TENNISRECRUITING.NET OPEN
Minneapolis, MN
BG12-18
M. Hemmer
6/29
WILBUR FOLSOM MEMORIAL JR. OPEN
San Diego, CA
BG12-18
A. Podney
7/11
GEORGIA JUNIOR OPEN
Rome, GA
BG12-18
R. Sasseville
7/13
21ST COSTA MESA SUMMER CLASSIC
Costa Mes, CA
BG12-18
H. Lloyd
7/18
DTS COLLEGE RECRUITING TOURNAMENT
Milton, MA
BG18
T. Donovan
7/31
HUDLOW JR. OPEN CHAMPIONSHIPS
Norcross, GA
BG12-18
C. Chapin
8/08
TENNISRECRUITING.NET TEAM CHAMPIONSHIPS
Roswell, GA
BG16-18
J. Weaver
8/14
ST. LOUIS JR. SUMMER OPEN
St. Louis, MO
BG12-18
J. Dippold
9/11
GREENSBORO SEPTEMBER JR. OPEN
Greensboro, NC
BG12-18
M. Falcon
9/18
SOUTH CAROLINA STATE JR. OPEN
Charleston, SC
BG12-18
T. Simpson
9/25
ATA FALL OPEN AND SHOWCASE
Austin, TX
BG12-18
B. Notis
10/16
GREENSBORO OCTOBER JR. OPEN
Greensboro, NC
BG12-18
M. Falcon
11/21
GEORGIA THANKSGIVING JR. OPEN
Norcross, GA
BG16-18
C. Chapin
11/21
ATLANTA THANKSGIVING JR. OPEN
Atlanta, GA
BG12-14
T. Berne
11/27
WESTERN STATES JR. OPEN
Tucson, AZ
BG12-18
M. Houh
12/26
COSTA MESA INTERCOLLEGIATE CLASSIC
Costa Mesa, CA
BG18
H. Lloyd
We hope that you will consider playing in one of these tournaments. Lastly, here are some principles of these National Showcase tournaments:
All events in a National Showcase tournaments will count for Tennis Recruiting national rankings.
A player who competes in one of these events and has a win - in the main draw or a consolation event - will become a Tennis Recruiting National Player.
Entry into these events is open to all USTA players, regardless of residence.
Acceptance will start with the USTA National Rankings - followed by the USTA sectional and district rankings.
We have had a lot of positive feedback about these tournaments since we announced them in 2012 - and we look forward to many more such tournaments in the future.
For more information, check out our Frequently Asked Questions.
Leave a Comment
More Special Features
21-Mar-2015
Former College Stars, Juniors Take BNP Paribas Open Challenge
It's one of the longest of longshots in tennis. Winning six or seven straight matches to reach just the qualifying stage of an ATP or WTA tennis event is considered a longshot. Thousands now try it each summer with the USTA's U.S. Open National Playoffs, and a couple hundred more try it each year in Indian Wells, Calif., as the people behind the BNP Paribas Open host the BNP Paribas Open Challenge. Several junior and college stars are among them.
9-Mar-2015
College Coaches Forum
Some junior tennis tournaments include college forums where junior tennis players and their parents can learn about the college recruiting process. One such forum took place at the USTA Southern Sectionals in Rome, Ga., earlier this year. Get some of the tips from that forum - and find out what they are all about...
28-Feb-2015
Talking with Michael Joyce - Part 2
Colette Lewis of ZooTennis.com got the chance to talk with former tennis player and now coach Michael Joyce earlier this month in Midland, Michigan at the $100,000 Dow Corning Tennis Classic. This is Part 2 of their conversation.