Where Are They Now?
Harry Cicma Goes One-on-One with John Isner
by
Harry Cicma
, 13 December 2010
NBC Sports
, managed by
MDTOHM Design
John Isner is many things, but included on the list is "poster boy for college tennis".
American tennis fans - and college fans in particular - have loved watching Isner's development since leading the University of Georgia to the NCAA title in 2007. He has made great strides in his game, and his rankings reflect that progress - since turning pro in 2007, Isner's year-end ranking has gone from 106 (2007) to 144 (2008) to 34 (2009).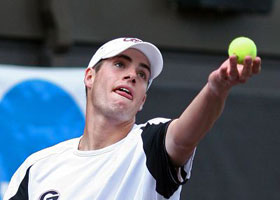 Former
UGa
standout and ATP Pro John Isner
© Doug Wrege, TennisRecruiting.net
Isner currently stands at No. 19 on the
ATP World Tour Ranking List
, with hopes to climb higher in 2011.
Harry Cicma of NBC Sports recently chatted with Isner about college and pro tennis.
Questions and Answers
Harry Cicma (HC): I remember interviewing you as a top college player at Georgia, and now here you are - near the top in the world and rising.
John Isner (JI): I wouldn't have thought three years ago that I'd be in this position. During my senior year in college, I knew that I would play pro tennis, and I thought that Top-100 would have been a good accomplishment.
I started to see my game improve a lot from there. I am now into the Top 20, and there's no reason to stop there. I'm going to keep climbing, and my ultimate goal is the Top 10.
HC: One of the big reasons for your improvement has to be be Craig Boynton and Saddlebrook Academy, right?
JI: It's actually the only reason. Last March, I was ranked 150, and I wasn't playing well at all. I started working with Craig exclusively - I think my ranking has climbed steadily ever since.
I owe that all to Craig and Saddlebrook. It's really the perfect training ground for me. For example, today I worked out my legs, and it was brutal. Even though you're in the gym, the humidity and the heat - it really starts to get to you. But if I want to be in the top 10, I have to continue to get stronger and get fitter, and that's what Saddlebrook allows me to do.
When I first came out of college, I did did really well, I knew then that I could make a living at this game, and I had a nice first year in 2007. But then I regressed - I had a sophomore slump in 2008. I went back to the drawing board, started working harder on the practice courts, getting in more matches. Last year - my third year on tour - was a lot better than 2008.
I hope that these recent trends - the improvements in 2009 and 2011 - continue throughout the rest of my career.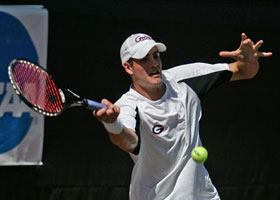 Isner thinks all U.S. juniors should go to college
© Doug Wrege, TennisRecruiting.net
HC: You chose to go to college. What is it about college tennis that should be attractive to top players?
JI: Most tennis players ranked in the Top 150 did not go to college. However, I think for the Americans, to play college should be an easy choice - the default choice.
I think every American should go to college for at least one to two years. The only example of a player who has made it big without going to college is Sam Querry, but he's a different story.
For me I knew college tennis was the right choice. I didn't even have aspirations to go pro after high school - I just wanted to have a college scholarship. I went to University of Georgia, which is the greatest tennis school you can choose. My game improved so much there, and they gave me everything I needed to succeed as a professional, just like I now have here [at Saddlebrook].
College is also a luxury for guys like myself [as well as Amir Delic and James Blake] - the academic experience takes a little bit of the pressure off. We all knew starting out that if it doesn't work out on the tennis court, we can fall back on our college degrees. That is comforting - and it's something that 98% of the players on the tennis tour don't have.
About Haviland Tennis Academy
We are honored to have Haviland Tennis Academy as the presenting sponsor of our Where Are They Now? article series at TennisRecruiting.net.
Haviland Tennis Academy is a new junior academy located in Greenville, S.C. We have a beautiful new tennis center that boasts 4 clay courts, 3 fast hard courts, and 3 slow hard courts. Additionally, all courts have lights for night play.
Our facility is dedicated to our junior program, unlike academies that are run out of membership clubs or parks, so there are never members occupying courts or getting in the way of our training sessions. We pride ourselves on having one of the most elite coaching staffs in the world, as our coaching staff is comprised of former Top 10 world ranked juniors, Junior Orange Bowl Champions, Junior Grand Slam Champions, College All-Americans, and formerly-ranked - as well as currently-ranked - ATP pros.
We offer all this while remaining one of the most affordable academies in the United States. Students at Haviland Tennis Academy can attend academy training sessions for 3 hours a day 6 days a week, have weekly private lessons, and get tournament coaching several times a month for a fraction of what it costs to attend just the academy training sessions at the majority of academies around the country. With top-notch coaching, a collection of world class players to train with and spar against, and extremely affordable prices, Haviland Tennis Academy offers everything an aspiring player needs to take his or her game to the highest levels.
Connect with Haviland Tennis Academy on Facebook and Instagram - or on their website.
Leave a Comment
More "Where Are They Now?" Features
29-Aug-2016
Conversation with Two-Time NCAA Singles Champion Amber Liu Chang
Amber Liu Chang was a two-time NCAA singles champion and three-time team champion while at Stanford from 2002 to 2006. By now, she expected to be well-established in the business world. But while on the WTA Tour, she was coached by former French Open champion Michael Chang, and the two are now married with three children. Todd Holcomb got the chance to catch up with Liu Chang and talk about her tennis career, advice for young players, and the joys of the life she did not anticipate.
10-Aug-2016
Rose Continuing To Blossom In Pros
Malika Rose referred to herself as a wildcard when searching for a school to play collegiate tennis at. With the help of Chris Young and Jamea Jackson, the Brooklyn, New York native become a catalyst for the rise of the Oklahoma State Cowgirls, who stormed their way to an NCAA runner-up finish this year. Now back on the pro circuit after a near-yearlong injury layoff, Rose is eager to prove she's no thorn.
27-Jun-2016
Talking with Former Stanford Standout Hilary Barte
Hilary Barte, the No. 1-rated women's tennis recruit in the class of 2007, won two doubles national titles and one team championship while at Stanford, where she played No. 1 singles and doubles for all four seasons (2008-2011). Barte had a combined singles and doubles record of 258-63, and she was an eight-time All-American. We talked recently with Barte about her new career as a real-estate agent, her days as a junior, college and professional tennis player, and how tennis prepared her for that profession.
About Harry Cicma
When it comes to college tennis, Harry Cicma is your man. Cicma covers tennis and other athletic stories for
NBC Sports
, writing articles and producing video segments.
He is co-founder and host of World Tennis a weekly tennis show on NESN, and host of of Tennis Live Radio's College Corner.
Cicma competed as a junior in USTA/New England and went on to play college tennis at Rutgers University. As a professional, Cicma competed at the ATP Newport tournament and the San Jose Siebel Open. He reached a career-high #75 in the ATP doubles team rankings and #1262 in the ATP Entry System.
In media, Cicma has run the gamut. He has worked for NBC, CBS, ABC, ESPN, FOX Sports Net, the Tennis Channel, and World Team Tennis. Cicma has announced NCAA sports as well as the US Open Tennis Championships on both TV and radio.