Recruiting Feature
2012 Top Mid-Major Women's Classes
by TennisRecruiting.net, 8 June 2012
On Monday, the Tennis Recruiting Network published its list of the top men's mid-major recruiting classes. Today, we take a look at the women.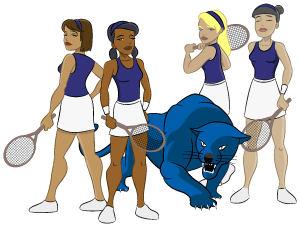 More than 750 girls are on the commitment lists at TennisRecruiting.net, and the bulk of these commitmets are to schools outside the so-called "high major" conferences that are affiliated with Bowl Championship Series conferences in football. In tennis, we consider the high majors to be the ACC, Big East, Big 10, Big 12, Pac 10, and SEC - as well as the Ivy League.
The rankings in this article include all teams outside of those conferences.
Top 25 Mid-Major Women's Recruiting Classes (through May 21)
TennisRecruiting.net is excited to present the Top 25 Mid-Major Women's Recruiting Classes for 2012. This list is based on commitments reported on or before May 21, 2012. As is our policy, these rankings do not consider incoming transfer students.
So here they are - the Top 25...
Also Receiving Consideration
We reviewed the resumes for more than 50 teams for these rankings. Teams that received strong consideration and almost made our list are (alphabetically) as follows: Ball State, Davidson, East Carolina, Emory, Gonzaga, Hofstra, Middlebury, Navy, Toledo, and Williams.
On the Prowl
Fifth-year head coach Miha Lisac has been steadily building the women's tennis program at his alma mater, Georgia State University. The Panthers earned their first-ever trip to the NCAA tournament in 2009, and they narrowly missed repeating that feat again when they lost a thrilling four-hour match to VCU in the finals of the CAA tournament. Georgia State finished the year ranked No. 69 in the Campbell/ITA team rankings.
Lisac is bringing in a recruiting class with two strong women -
Natallia Vavulina
of Belarus and
Linn Timmermann
of Germany - that should contribute to the lineup right away. Vavulina has been ranked as high as No. 112 by the ITF, and she has competed in the Australian Junior Tennis Open. Timmermann arrives at GSU after four years at
Saddlebrook
in Florida. She has posted a 33-2 record over the past year.
Lisac is excited to bring both of these recruits and transfer Jocelyn Ffriend to the program. He commented in a school release:
"They fit in with our team very well, they are great students and are top-notch individuals, which we are always thrilled to add to the program."
The UT Arlington Mavericks also received strong support as a top class with their trio of international recruits. All three recruits were highly ranked in their respective countries.
Tulane (No. 3), Cal Poly (4), and Stony Brook (5) round out the Top 5.
State Breakdowns
While these 25 programs come from fifteen different states and the District of Columbia, the Golden State once again leads the way.
Three of these ranked recruiting classes hail from California, including Cal Poly (No. 4), UC Irvine (6), and the University of the Pacific (23).
Other states with multiple teams in the rankings are Colorado, Idaho, Louisiana, Massachusetts, New York, Texas, and Virginia, all with two ranked recruiting classes apiece.
Conference Call
Four conferences lead the way with three ranked classes apiece: the Atlantic 10, Big West, Mountain West, and SoCon.
Welcome Aboard, Welcome Back
Seven of these twenty-five programs are making their first-ever appearances in our recruiting class rankings, and some of them are making grand entrances. Making their first appearances are Georgia State (No. 1), Texas Arlington (2), Old Dominion (10), Boise State (11), Louisiana (19), Drake (22), and Pacific (23).
At the other extreme, Boston University (No. 8) is making its sixth straight appearance in these rankings and have appeared in every Mid-Major recruiting class rank list except for the inaugural one in 2006.
Coming Next Week - NCAA D-III Rankings
Next week we wrap up our recruiting class ranking season with a look at the top NCAA Division III programs. We kick things off Monday with a look at the Top 25 men.
Leave a Comment
More Recruiting Class Rankings
28-Jan-2013
Top Women's Classes - 2013 Winter Rankings
Spring Signing Day is a little over two months away, and coaches are busy locking up their recruits. A number of highly-ranked seniors have already made their college choices - they have made verbal commitments or signed during the Fall Signing Period. Find out which women's teams are on top at this point - as The Tennis Recruiting Network proudly presents its Top 25 Women's College Tennis Recruiting Classes of 2013.
21-Jan-2013
Top Men's Classes - 2013 Winter Rankings
The end of January is right at the midway point between the fall and spring signing periods. High school seniors across the country made formal commitments in November, and dozens more make verbal commitments every week. With more than 750 commitments in the books, this is a great time to take stock of how programs are doing. Today, the Tennis Recruiting Network is proud to bring you the Top 25 Men's College Tennis Recruiting Classes.
15-Jun-2012
2012 Top NCAA Division III Women's Classes
The Tennis Recruiting Network wraps up its spring recruiting class rankings with a look at the D-III women. Today we present our list of the Top 25 NCAA D-III women's recruiting classes for 2012. At the top of our rankings sits a Purple Cow... with it's feet up, smoking a cigar.