Player Advice
Why We Play and Why We Succeed
by Paul Thomson, Drake Women's Tennis, 26 September 2011
"Success is not the key to happiness. Happiness is the key to success. If you love what you are doing you will be successful."
- Albert Schweitzer
Why do we do what we do? Is it the thrill, perhaps the challenge, or maybe it's the reward? I remember the catch phrase "The thrill of victory or the agony of defeat." For many of us, these two elements drive our motivations. We train, condition, practice, eat healthy (at least try to) all in order to walk out onto the field of battle anticipating the thrill of victory. Many times, however, we fall short. If we are true competitors, the agony of defeat should drive us to do more, to go further and train harder for the next challenge.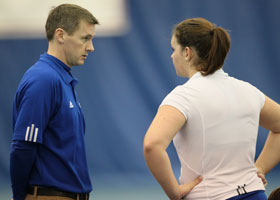 Coach Thomson with his
Drake
Team
courtesy, Drake Athletics
But is this why we truly push ourselves through the pain? Is this the real reason we scrape and fight through the mental fatigue and emotional rollercoaster of sports or even life? For some, perhaps, it is. But I contend that to perform at our best and to experience that ecstasy, it must be simply for the fulfillment of what we do. If we are to be truly rewarded in victory or defeat, it must be solely for the love or passion it brings us.
There are events in life that we do only because we absolutely have to (working to pay bills and to put food on the table, etc.). What I am talking about are the things that we do not out of necessity but out of desire. These are the things that drive us personally.
The same is true for athletes themselves. To be completely successful, they have to first love what they do. Whether it's tennis, golf or football, it must be a passion. Otherwise it becomes a meaningless job. Loving the game means that the winning feels good and the losing hurts. Winning builds confidence, and losing builds true courage. Success in competition is not always measured in wins and losses, but in what those wins and losses do to us. The fulfillment from our love of what we do is a reward in itself.
I had several players who were never as successful as they could have been because they were consumed with the product of winning and not the process of the love of the game. One player in particular was among the hardest-working in training, practice, fitness and preparation that I have ever seen. She wasn't as naturally gifted as others, but she was a decent athlete. During practice, her effort, determination and will were beyond any I have seen. This is where she made up the difference.
When it came to playing matches however, tennis became burdensome and work-like. Her training sessions were intense, productive and passionate. They were exciting for her. But when match day rolled around she downshifted. The fun left and her suffering began.
I finally had to ask her why she was playing. Was it because she wanted to and loved it or because others told her that is what she was supposed to do? Did she think that she is going to let others down regardless of how stellar or poorly she actually performs? Where did these pseudo expectations come from?
If we truly love what we do - a sport, hobby or a career - then the expectations of others should not matter. But if the reason is for anyone other than ourselves (or God), then we are in for the wrong reasons. I have told my players time and time again that they should never have a bad day playing tennis. They can have an off day but not a bad day. Why, you ask? Because they get to do something that a million other people would give their big toe to be able to do daily. It's like what Mike Singletary said: "Do you know what my favorite part of the game is? The opportunity to play."
My player never had these problems with any other activities. She always played to do the best she could, but the outcome never seemed to matter. Here is the kicker: the best she could. Tennis was obviously in her. It was a part of her heart and soul. The game took on so much meaning for her that she had lost sight of why she was doing what she did. It was not to be the best in the world, the country or even in the conference. She wasn't even competing to be the best on the team although she could easily be that. She lost sight of the fact that the best an individual can ever do is being the best he or she can possibly be. And to play because she loves the game. Anyone that has read the book
Open
is familiar with the Andre Aggasi's struggles through is career and why he played the game. I was happy to read that in the end he found peace in the game and in life. It's what we all need.
Our success, growth and development depends on no one else but ourselves alone. Measure yourself only by who you are and what you do. If people and players would become the best at being themselves before they put themselves up against others, then others would never stand a chance. Love what you do and do what you do because of the passion. Play to win and be a champion but pace yourself by your improvements and milestones. But most important, remember why you are playing the game.
Paul Thomson is head coach of women's tennis at Drake University.
Leave a Comment
More Player Advice
1-Aug-2016
A Daily Mental Plan That Might Just Work
Focus ... Concentrate ... Stay in the present ... these are all words and terms we use when coaching players from time to time. We have difficulty understanding why they get distracted and lose focus during various stages of their matches or in practice. But how many tennis players have a daily mental routine or practice? Not just a plan before or during matches - but an actual daily practice to strengthen their minds and emotions?
8-Jul-2016
How to Win Without Your A Game
When you look at the world's top players, isn't it amazing how often they are in the quarters, semis, and finals of Grand Slam tournaments? How is it possible for them to be that consistent time after time? How do they bring their "A game" when it matters the most? The reality is that the top players understand that the key to consistency and playing well has to do with how to act when they don't have their A game.
4-Jul-2016
How to Enjoy the Pressure of Competing
One of the most common issues that comes up during my early sessions with top junior tennis players is the overwhelming pressure they feel before and during matches. On a positive note, many junior players look for ways to improve their mental performance and stop the worrying. But the problem goes beyond mental skills - many juniors just don&apos't enjoy the competition. Here are three things players can do to enjoy tournament play - and perform at a higher level.
About Paul Thomson
Paul Thomson has spent over 20 years in tennis, with ten years experience in college tennis coaching - the past eight of which have been spent as head coach. He was the 2008-09 SAC Women's College Coach of the year. Thomson, certified through the PTR, has experience as a tour and high school coach and club/academy instructor. He has also worked in grass roots tennis community tennis development. Thomson is currently doing freelance writing and working on his first book.