Player Advice
Up the Middle, Solve the Riddle
by Paul Thomson, Drake Women's Tennis, 18 November 2011
I have been around tennis for more than a quarter-century. It's amazing enough to be able to say I have done something for more than 25 years and rather than feeling old I like to think of myself as mature and experienced. The greatest thing I have been able to appreciate throughout my career is how athletics, particularly tennis, mirrors life and its challenges.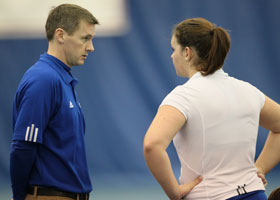 Coach Thomson with his
Drake
Team
courtesy, Drake Athletics
I have had the fortune of watching and learning from some of the greatest coaches and leaders in the country -
Notre Dame
's Bob Bayliss,
Brevard College
's Paul Hamilton and Dan Vonk, a high school coach in southern Georgia who leads by example and has made such a positive mark on his small community. They are among my role models.
Another one of my biggest influences is former Clemson Coach Chuck Kriese. He's a guy who's not afraid to let others learn from his mistakes as well as his successes. He's a coach and leader who has forgotten more about tennis than most of us know. From him I've picked up coaching strategies and thought, but the biggest lesson I learned is how to be a good leader, coach and father. Coach Kriese always teaches "process over product." Focus on the little things, the details. Tennis, as well as life, is not a cluster of big events. It is comprised of a series of little events that lead to the big events. It's not as much being focused on the goal but the steps we take to reach the goal. I call it ABC tennis and by that I mean "small things, big results."
Tennis is a very difficult game. It tries our patience and can strengthen our resolve. Anyone who has ever played it can tell you how frustrating and humbling the game is. It's a game that teaches players how to lose. Only one of 64 players in a tournament will finish with a win. Over three sets a player can make more balls, win more points and more games than his opponent and still lose. Players are on an island by themselves, fighting, scraping, and battling not only their opponents (self vs. other) but their own nerves, emotions and fatigue (self vs. self) and the elements (self vs. nature). Players battle as others do in their everyday lives--other businesses or personal adversaries (self vs. other) guilt, anxiety, doubt in ourselves (self vs. self) and even the weather can throw a wrench (self vs. nature).
Tennis, like life, is a struggle. It's a game of discipline and of choices. When a player is reckless or undisciplined the unforced errors are certain to come back to haunt him. Tennis and life both have ebbs and flows and ups and downs. Pressure, stress of performance and dealing with tough losses and defeat are eerily similar. Tennis and life are both challenges of "Doing the Right Things," and not just "Doing Things Right."
We all had coaches growing up who had their catch phrases. We didn't always understand them but they still stick in our brains. Two coaches come to my mind. The first was a high school football coach. Every morning of two-a-days we heard "last cool day ladies, last cool day." These seven words rang in my ears during my high school career. Of course it was August, 100 degrees in the shade, and about 75 percent humidity.
What did these words mean? Was there a hidden value here or was he just being cute? The best I can figure is what Humphrey Bogart once said, "Things are never so bad that they could not become worse."
The second saying is a bit more germane. An old tennis pro friend of mine always said "up the middle, solve the riddle." In tennis terms this made a lot of sense. Attacking the players up the middle can cause confusion, takes their angles away, is a higher percentage shot, and can set up easier poaches. So up the middle, solve the riddle it was, and it worked most of the time. The net strap was always the target zone. This was the low part of the net and we were hitting through our opponents versus hitting around them and risking more errors.
My players have heard me say the same thing a thousand times: "up the middle, solve the riddle." I try to get them to grasp the concept of attacking the opposing doubles team and to put themselves in the best position to win the point. "Don't hit around them, hit through them," I say. Taking the highest percentage shot and hitting a bigger ball to a bigger target will yield better results a higher percentage of the time. Simply put, make more easy, basic shots and make them better.
Everyday we face strife, difficulty and conflict. These issues may be very acute and severe or very mild. Nevertheless we still have to deal with them. The "up the middle, solve the riddle" line is a reliable way to approach these. Let's face it, life is painful. The world is a tough place. We can let pressure and suffering beat us down or we can strengthen ourselves and use them to grow.
I am not sure if my players have figured out this life concept of "up the middle, solve the riddle" yet. After all, it took me until well into my career before I began to apply it to life and not just tennis. A great challenge in coaching is getting players to realize that the issues, struggles and solutions that they face on the courts can almost always be applied to real-life situations. The ones who "get it" are the ones who almost always make the right decisions and play the highest percentage shots for the rest of their lives. They will not rely on junk or hitting around their targets or challenges. These select few will take life straight up, head on and in a responsible manner.
Sometimes we try to pass the buck on to someone else and let them handle it. Sometimes we just wait to see if it will go away. In tennis terms we take bad angles and hit around our opponents instead of through them. "Up the middle, solve the riddle" is direct and steadfast. As tough as it may be to do, it is the best way to deal with life's difficulties as well. Steering around the issues will only make them worse and more difficult to deal with. Just like hitting around your opponents creates errors and gives away points. If we do not start to take our problems head on we will never learn how to deal with them in our everyday lives. Then we face two issues - the problem and the fear of dealing with the problem.
Recently on my team I encountered the issue of chemistry and leadership roles. I had players who wanted to step up and say things that needed to be said but they were afraid of hurting feelings and causing even more issues. They feared the conflict involved. But sometimes conflict resolution has to be dealt with conflict. We don't start conflict just because we enjoy the outcome or seeing others fight among each other. But as a friend once said, "If you don't stir the beans they are going to burn." Saying what needs to be said and getting issues out in an open forum is the only way for the team to deal with them, even if it means causing some brief controlled conflict. Otherwise problems fester and boil and the issue never goes away. Players taking leadership roles, stepping up, leading by example, and saying what needs to be said when it needs to be addressed is an important part of team chemistry. It is also important for players and coaches to able to say what they need to without torment about hurting someone's feelings, but without the intentions of hurting someone's feelings. As coaches we have to know that every player is different. The players will be and should be treated fairly but will not always be treated equally because of their differences. Players and coaches alike can build their life skills and become better leaders by working through the trials and tribulations of tennis as an individual or team sport.
My friend Chuck Kriese is an old school no-nonsense person and coach. I admire him and what he has done greatly. I would feel very fortunate to accomplish only some of what he has done as a coach and a leader to others. He tells the story of "The Black Door" in his lectures. It's the parable of a Middle Eastern general who gives his prisoners the option of the firing squad and certain death or taking the black door. The point of the story is that no prisoner ever chose the black door. Why? Because the fear of what was behind the black door was far greater than taking a bullet and know a quick death was at hand. The fear of the unknown is often greater than what is right in front of us. Finally, one of the general's guards asked, "Sir, what is behind the door?" The general replied, "It is freedom."
As people in life or players on the courts we fear the unknown, pain, suffering, conflict. Avoid it, and in turn never learn how to deal with it. Courage is the ability to go forth and perform even in the face of fear. Courage is like confidence. It comes from success. We can never gain or experience that success without taking conflict and suffering head on. On the courts, we will never experience victory without playing the game. It is okay to be afraid and to be fearful, if we are willing to face those fears. As Dr. M. Scott Peck puts it, "The absence of fear is not courage. The absence of fear is some sort of brain damage." Take on new challenges. Play better opponents. Play to win and work for success but be willing to lose and more so learn from the losses and use the tough experiences to become more complete.
Take your opponents, conflicts and life head on. Go up the middle to solve the riddle. Do it consistently and with purpose. It's trial and error. We learn from challenges and failures. We become comfortable by dealing with the uncomfortable. We grow as players, coaches or individuals by champing up not chumping out. We will never be able to teach our players, students or own children how to manage life's difficulties if we ourselves dodge the issues. Twenty-five years later I am still learning these lessons and how to best deal with players, teams and life. I don't always get it right the first time and probably never will.
Tennis teaches me life every day. I get new modules and lessons of knowledge every time I step onto the courts. It's up to all of us what we do with those lessons and how we pass them along to our players, teams and own children.
Paul Thomson is head coach of women's tennis at Drake University.
Leave a Comment
More Player Advice
27-Nov-2016
Building A Game: The Tennis Imagination
Junior tennis abounds with players adept at contemporary tennis: an attrition-based, narrowly-focused baseline game. This mode certainly generates outcomes in the form of match wins, rankings and scholarships. But what about a long-term, sustainable process for staying engaged with the tennis? Talk of strokes - that is, groundstrokes - is plentiful. But talk of a playing style - the rich literature - is minimal.
21-Nov-2016
Go With the Flow
You will often hear at a junior tennis match, "I was so in the zone today," or "How is this guy zoning so hard out there?" If you are talking about yourself, it's a compliment. If you were referring to your opponent, you were basically saying they were playing above their level. Let's take a look at what these phrases really mean - and why they allow players to perform at their best.
16-Nov-2016
Shutting Off The Thinking Mind in Tennis
Meet the Thinking Mind. Many junior recognize its presence more and more as the college playing years are right around the corner. Players often become tight in the presence of college coaches at tournaments, in showcases, and on college visits. Here are four tips to overcoming the thinking mind - and taking control of your thoughts at this critical time.
About Paul Thomson
Paul Thomson has spent over 20 years in tennis, with ten years experience in college tennis coaching - the past eight of which have been spent as head coach. He was the 2008-09 SAC Women's College Coach of the year. Thomson, certified through the PTR, has experience as a tour and high school coach and club/academy instructor. He has also worked in grass roots tennis community tennis development. Thomson is currently doing freelance writing and working on his first book.