Player Advice
What a Feeling!
by Paul Thomson, Drake Women's Tennis, 2 January 2012
Have you ever been in the perfect zone, felt the mojo... or even just been in the groove? It's that point in your game where everything else is absent; no crowd noise, no idle thoughts in your head, nothing in your vision accept the ball. It's a state of Zen a place of total consciousness, your body is calm and your mind at peace. It's a magical place. It's a euphoric feeling that some never reach. But those that do - and can do it consistently - are the ones who can take their games to the next level. This zone comes from extensive training and developing the ability to be comfortable in any situation. It is done by being focused - not on the thought process of the moment, but by the awareness and the sensation of the moment.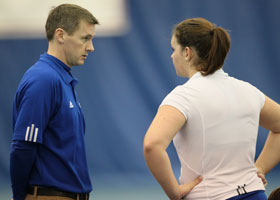 Coach Thomson with his
Drake
Team
courtesy, Drake Athletics
Tennis is a game of skill, strategy, physical toughness and mental and emotional focus. But tennis is also very much a game of feeling. For years I have heard coaches use the term "action-reaction" in regards to what to do next on the court. I have never really liked that model. I teach "action-response" - which I think is a more fitting description of the battles on the tennis courts. A reaction is knee jerk... spur of the moment... unplanned... and often uncontrolled. A response is a trained, learned, conditioned, result to what is in front of you. This comes from hours of training not just hitting balls but by being aware of what it feels like while you are training and by seeing the results. It's the difference between being in a burning building and running around not knowing where the emergency exits are and breathing in smoke, versus calmly walking down the stairs, staying as low as you can below the smoke, getting out, and calling 911.
This is precisely why players must train hours upon hours hitting different balls in different situations on the practice courts. They are not just getting better at ball striking. They are ingraining those responses into their conscious self. Players - the very good ones - know by experience and feel what ball to hit back or shot to take based on court position, spin of the ball, angle, depth, height etc. They don't have to think about it or process it. They feel it. They feel it by knowing where they are on the court, their balance, body position, and from being in that same spot thousands of times before and programing the right responses into their games. They pay attention to details during training and from previous experiences on the courts.
Even at the club level I try to teach players to play by feel and to take the thinking out of the game. There is just too much to process on the court to think about what you are doing. Just in hitting the ball there are so many things to consider: set up early, bend your knees, control the back swing, adjust your feet, eye on the ball, head down, racquet face closed, early contact, brush up the back of the ball, hit on the rise or on the drop or out of the air, follow through, recover, and on and on. Then there is direction, cross court or up the line, heavy or flat, come in to the net stay or stay back. Get the point? It's way too overwhelming to have to think about all of these elements while the ball is in play. It often develops into paralysis by analysis which leads to further breakdowns.
Players often don't get or understand that every ball, every step-out drill, every follow through, every recovery step is important for the development of that ability to be able to feel the game. When I am working with my college players - and even the club players - I try to get them to make sure to be aware of where they are on the court, what their body feels like when they make a great shot or miss a ball badly. Then I have them focus on recalling what they saw as a result. Then we put the two together. I think it's important for them to be able to feel why something went right or wrong instead of just seeing it when right or wrong. Especially so they can fix the mistakes, because I believe if they can feel it they should be able to make self-corrections.
I watch players hit ball after ball into the next without making any adjustments to their swing, contact point, or footwork. Then they will go the other way and over-adjust, putting the next five shots into the fence. These are very simple examples, but it is true for top players missing shots in matches as well because they are not in position to hit the ball they are trying to. They often have no awareness of where they are in the point, and they check out. How many times have we seen players on the courts where you can look at their faces and tell that they are processing every shot, move, and step they or their opponents take? Players see one ball make a move and then mid-shot change their minds and make an error because they were thinking. It happens all of the time - and most often in critical point situations. It's as simple as "I have to make this shot, I have to make this shot" vs. being familiar with having been there before and knowing how it feels to finish by that conditioned impression and therefore being comfortable doing it.
I have seen many coaches tell players to relax and just make balls. They tell players to not focus on winning points - but to focus on just hitting a better ball. That may work for some and is sound advice. But the best results I have seen are when coaches get players moving. The movement frees up their bodies and minds which in turn eliminates the need and distraction if thinking. The responsiveness comes out and players can then settle in. Again this is why the training aspect is so important to player's development. It is not just practice. It's training! This is why every set up, swing, recovery, step-out recovery is so important - and why everyone has to be perfect in the training element. This is why awareness of court positioning and presence is so vital in practice sessions. It's developing the players' senses and abilities to recognize where they are and why but also conditioning them how to respond instinctively vs. mentally to a shot, particular a ball or match situation.
This concept isn't always easy to teach - primarily because coaches have no control over the varying levels of a player's ability of sensation and awareness. Relating to some players is more difficult than others. Some get it naturally; others, not so much. The trouble is we as coaches can't do for them what they have to be able to do and pick up on their own. Whether they are in drills or point play, I work with players to take the thinking out as long as the ball is in play. After their turn in the drill or between drills or after the point is over, during change overs and between sets is when I tell them to do their thinking and cognitive recognition. I have them process what is going right and wrong. Analyze what the points and drills feel like and what the points look like as a result. It's a matter of reinforcing the response model by asking them what they felt, saw and learned - to help them preserve in their bodies what just happened.
I can tell a player what I saw and heard as much as I want to. But until they actually retain the sensations of the drill, point or the experience the cognizance will not go as deep. Again it's about knowing our players personalities and the way they do think and relate to things. This makes it easier to relate instruction and communicate to them in order to help them develop a more complete court presence. Q&A and even video review between sessions, drills and games is a great way for you to let them know what you saw and to help make corrections. But it's also a great way to help them develop the perception to be able to feel what they saw and experienced so they can begin to make those self-corrections and play by instinct; The process of being sensory not cerebral.
There's a story about a young player whose mom drove him to practice every day for three years. They always drove the same route to and from practice. Over the course of three years this amounted to about 1000 trips to and from practices. Finally he turned sixteen and his parents got him a scooter. His first time to practice on his own he got lost. His coach was irate. "Why were you so late? You have never been late before." "I got lost." "LOST!" "You're been here a thousand times. How could you get lost?" "This was the first time I ever drove myself." We can't control the perception and awareness of our players, but we can surely train them to be more perceptive to the feel of the game. We can mold them to the point of being comfortable on the court in any given situation so the instinct and feel of the game comes out and then mental walls go away. It doesn't even have to be "The Zone." But when players can get into a groove, oh what a feeling it can be, for the players and the coaches!
Paul Thomson is head coach of women's tennis at Drake University.
Leave a Comment
More Player Advice
27-Nov-2016
Building A Game: The Tennis Imagination
Junior tennis abounds with players adept at contemporary tennis: an attrition-based, narrowly-focused baseline game. This mode certainly generates outcomes in the form of match wins, rankings and scholarships. But what about a long-term, sustainable process for staying engaged with the tennis? Talk of strokes - that is, groundstrokes - is plentiful. But talk of a playing style - the rich literature - is minimal.
21-Nov-2016
Go With the Flow
You will often hear at a junior tennis match, "I was so in the zone today," or "How is this guy zoning so hard out there?" If you are talking about yourself, it's a compliment. If you were referring to your opponent, you were basically saying they were playing above their level. Let's take a look at what these phrases really mean - and why they allow players to perform at their best.
16-Nov-2016
Shutting Off The Thinking Mind in Tennis
Meet the Thinking Mind. Many junior recognize its presence more and more as the college playing years are right around the corner. Players often become tight in the presence of college coaches at tournaments, in showcases, and on college visits. Here are four tips to overcoming the thinking mind - and taking control of your thoughts at this critical time.
About Paul Thomson
Paul Thomson has spent over 20 years in tennis, with ten years experience in college tennis coaching - the past eight of which have been spent as head coach. He was the 2008-09 SAC Women's College Coach of the year. Thomson, certified through the PTR, has experience as a tour and high school coach and club/academy instructor. He has also worked in grass roots tennis community tennis development. Thomson is currently doing freelance writing and working on his first book.