Website News
TennisRecruiting.net - Back and Ready
by Dallas Oliver, 29 December 2011
The TennisRecruiting.net website took an unexpected hiatus over the past couple days due to some hardware issues. However, we are now back online and ready to go.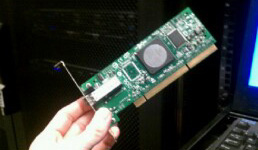 The Culprit
Thanks to everyone for their patience during this time. We were all out of town for the holidays when the problems started late in the day on December 26th. We tried to diagnose and fix remotely, and then we cut vacations short to head back to Atlanta to address the problem on the 27th. The website was finally back online on December 28th at 9:40pm Eastern time.
You can see the culprit in the photo above. An adapter card that sits between our web server and our redundant storage array failed, and our backup card did not work either. We were able to obtain a new card and get our system working with the help of the good people of Reliant Technology. They were able to get someone out to our facility early yesterday afternoon.
As we come back online, we want to make you aware of a few things...
Extending Subscriptions: Due to the outage, we are adding a week to all subscriptions that expired on or after December 26th. Among other things, this extension will allow subscribers whose subscriptions would have lapsed during the outage to take advantage of the renewal rate.
Reminders: With the extension of the subscriptions, note that you may receive one extra email reminder about expirations.
Profile Pages: While the site was down, we were unable to build player profile pages. Before asking us about an out-of-date profile, please check the timestamp on the bottom of the profile - "Page Updated On" - and make sure that your page has been rebuilt since the outage.
Thank You! Thanks to everyone for being so patient with us. After we diagnosed the problem and realized that it would take some time to replace the hardware, we put up a "Technical Difficulties" page to let our users know about the issues. We still received calls, but they were primarily from well-wishers and people who were offering us help. Thanks again for understanding during our time of crisis.
With all that said, this has been a valuable learning experience for our company. We have always backed up our data and stocked replacement hardware, but all plans have holes. We will learn from this experience and take steps to ensure that this sort of thing does not happen again.
Leave a Comment
More Website News
19-Jul-2017
Fall Star Ratings Period Starts Next Week
Twice a year, TennisRecruiting.net updates its Star Ratings - sometimes known as "The Stars". Our next update to the Star Ratings comes in late September - and those ratings will be based on players' highest rankings during the next eight weeks - from the week of July 24 to the week of September 11, 2017. We invite players to review their player records to ensure accurate ratings.
20-Jun-2017
TRN Hires Rhiannon Potkey as Content Strategist
The Tennis Recruiting Network (TRN), a premier source of information for junior and college tennis, is excited to announce that veteran journalist Rhiannon Potkey has joined TRN in the role of Content Strategist. Potkey will be responsible for creating, writing and editing content at TRN.
2-May-2017
Now Open ... May Madness Bracket Challenge
Nothing beats the excitement of the NCAA tournament! For college tennis fans, May is the time for Madness, and this is your chance to demonstrate knowledge of the game. With the right combination of skill and luck, you can earn bragging rights - and great prizes - by making your picks for the Big Dance!