Press Release
APRIL FOOLS: TennisRecruiting.net Purchases ESPN
by TennisRecruiting.net, 1 April 2012
Rumors have been swirling for months, and they have been distracting to the American sports world. In February, ratings for the Super Bowl were lackluster. March Madness? An afterthought. Sports fans around the country all seem to be asking the same question... "What is going on between TennisRecruiting.net and ESPN?"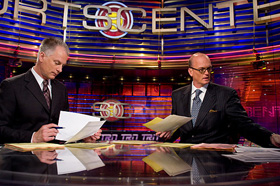 Anchors prepare for the new TRN-branded SportsCenter
The wait is over. Today, April 1, 2012, officials from The Tennis Recruiting Network (TRN) and ESPN are ready to announce the terms of their pending merger. Yes, it's true - TennisRecruiting.net has acquired rights to the ESPN Family of television networks - as well as all of its print and internet properties.
"What can I say? We're very excited," said Dallas Oliver, Vice President of Business Development at TRN. "Things have been going well for us, and we were looking to expand through acquisition. We first thought about making a move for Zootennis, but our considerable market research determined that ESPN had the more recognizable brand."
ESPN, which launched in 1979 and has been recently valued at just a hair over $8 billion, was originally trying to remain an independent entity - but their management team saw the writing on the wall.
"It's not like we really had a choice," said ESPN President John Skipper. "Sure, we have ESPN, ESPN2, ESPN3, ESPN8, ESPNU, ESPNews, ESPN Classic, ESPN Desportes, our 3D properties, ESPN Mobile, ESPN The Magazine, and the ESPN.com website. But TennisRecruiting has the Hot 100 and the RPI. How are we supposed to compete with that?"
Both parties announced that the deal - whose financial terms have not yet been disclosed - will be finalized by the end of the day today, April 1, 2012.
The mood at ESPN headquarters in Bristol, Conn. has been mixed. While some of the sportscasters are somber, others have expressed optimism about the new opportunities. When longtime anchor Scott Van Pelt was asked about the recent developments, he responded with enthusiasm.
"Honestly, I'm having a hard time containing my excitement," said Van Pelt. "I have always been a big fan of the athleticism and majesty of twelve-and-under tennis. I can't wait to hear Stuart Scott shout out 'Boo-yah!' on SportsCenter after a moonball winner."
As management of the Worldwide Leader in Sports moves south to Marietta, Ga., officials at TRN claim that they will not be making wholesale changes. However, there will likely be some tweaks.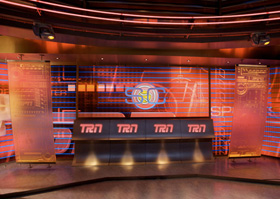 Crews are working around the clock to rebrand sets
"ESPN has done a pretty good job with their brand, and we obviously don't want to mess with that," said Oliver. "But we certainly see a lot of possible synergies with junior tennis. For example, with all the various TV networks in place, I think we can make a pretty good case for putting the Hardcourt Nationals onto 'The Ocho.'"
The entire tennis community is excited about this breaking story. However, at press time today, April 1, 2012, officials from the USTA, WTT, ITA, ITF, NCAA, and John McEnroe all declined to comment.
Leave a Comment
More Website News
19-Jul-2017
Fall Star Ratings Period Starts Next Week
Twice a year, TennisRecruiting.net updates its Star Ratings - sometimes known as "The Stars". Our next update to the Star Ratings comes in late September - and those ratings will be based on players' highest rankings during the next eight weeks - from the week of July 24 to the week of September 11, 2017. We invite players to review their player records to ensure accurate ratings.
20-Jun-2017
TRN Hires Rhiannon Potkey as Content Strategist
The Tennis Recruiting Network (TRN), a premier source of information for junior and college tennis, is excited to announce that veteran journalist Rhiannon Potkey has joined TRN in the role of Content Strategist. Potkey will be responsible for creating, writing and editing content at TRN.
2-May-2017
Now Open ... May Madness Bracket Challenge
Nothing beats the excitement of the NCAA tournament! For college tennis fans, May is the time for Madness, and this is your chance to demonstrate knowledge of the game. With the right combination of skill and luck, you can earn bragging rights - and great prizes - by making your picks for the Big Dance!