Ask the Experts
Talking with MaliVai Washington
by
Harry Cicma
, 24 May 2012
Follow Harry on
Twitter
MaliVai Washington is well-known in the tennis world. After a stellar junior career where he competed against the likes of Sampras, Agassi, Courier, and Martin, Washington attended the University of Michigan, where he was the top-ranked player in the NCAA before turning pro after his sophomore year. Best known for reaching the finals at Wimbledon in 1996, Washington now serves as a tennis analyst for ESPN.
Contributor Harry Cicma recently caught up with Washington at the National Tennis Center in New York, where they discussed a host of topics.
Questions and Answers
Harry Cicma (HC): We're here with tennis star - and former Michigan Wolverine - Mal Washington.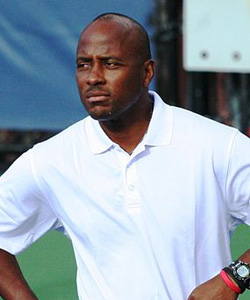 MaliVai Washington (MW):
I'm thrilled to be here right now at the
National Tennis Center
, helping my friend, Katrina Adams, with her
Harlem Junior Tennis and Education Program
. I'm a big believer of using the sport of tennis and education to reach out and help kids. It's the life skills that the kids learn. So the opportunity to come up here and influence the youth - there is no better cause.
HC: The Tennis Hall of Fame has 5 inductees: Jennifer Capriati, Gustavo Kuerten, Mike Davies, Randy Snow and Manuel Orantes. What are your thoughts about Guga getting inducted?
MW: I've known Gustavo since 1997, and he is a great guy. I first met him at a Davis Cup match in Brazil. I've always had so much respect for Guga since playing him in 1997. I was actually rooting for him when he won his three French Open titles at Roland Garros. He has so much charisma, and when you meet him - he's the nicest guy that you'll ever meet.
HC: And you mentioned that you were inspired on the courts by one of the inductees?
MW: Seeing Manuel Orantes win the US Open in 1975 was an inspiration. I remember his match against Jimmy Connors - it was one of the first premiere pro matches that I recall watching and following. That is something I always remember.
Orantes was a hard worker and always had a lot of class.
HC: What are your thoughts on Jennifer Capriati being inducted?
MW: Great player. She had great accomplishments earlier in her career, and she has a fantastic comeback story. To have had the success that she had - through all of her trials and tribulations - to win at Roland Garros and get a couple of major titles - that was just a great accomplishment for her. And it shows that if you can persevere through tough times, good things can happen.
HC: You've had such a great career, making the Finals of Wimbledon along with other strong results. What's new with you now?
MW: Everything is going great. I just coached my son's baseball game this past weekend - we lost in the championship game, and it's fun spending time on the baseball field with him. My daughter is training on the tennis courts, so it's very rewarding and fun to spend time with her as well.
I also am staying busy with my Foundation in Jacksonville, so things are busy and things are going great.
Leave a Comment
More Special Features
7-Dec-2016
Don't Pass on Playing in a Pro Am
While it may not possess the prestige of a national tournament or high school state tournament, it is possible that one of the most important matches you might play, even as a junior, could be in a pro am. While it might seem trivial, it can be a unique chance to make a lasting friendship - or a chance to catch the eye of a college tennis coach.
7-Oct-2016
ImRecruitable College Showcase Events Nov 30 to Dec 1
ImRecruitable will host its 5th Annual College Tennis Showcase November 30th and December 1st 2016 at Patch Reef Park Tennis Center in Boca Raton, FL. This unique, one-of-a-kind event combines both on-court training with college coaches as well as showcase match play in front of observing coaches. This event allows players the opportunity to gain maximum exposure and networking with college coaches.
30-Sep-2016
What an Agent Does: Interview with Topnotch Management's Sam Duvall
Sam Duvall played high-level tennis as a junior outside of Louisville, Ky., and he played college tennis at Bates College. As a senior, Duvall had an internship at Octagon, a sports management firm. After several years at SFX, Duvall started his own firm, Topnotch Management. Colette Lewis of ZooTennis.com spoke with Duvall about many issues around sports management - and what advice he would give top juniors and their families.
About Harry Cicma
When it comes to college tennis, Harry Cicma is your man. Cicma covers tennis and other athletic stories for
NBC Sports
, writing articles and producing video segments.
He is co-founder and host of World Tennis a weekly tennis show on NESN, and host of of Tennis Live Radio's College Corner.
Cicma competed as a junior in USTA/New England and went on to play college tennis at Rutgers University. As a professional, Cicma competed at the ATP Newport tournament and the San Jose Siebel Open. He reached a career-high #75 in the ATP doubles team rankings and #1262 in the ATP Entry System.
In media, Cicma has run the gamut. He has worked for NBC, CBS, ABC, ESPN, FOX Sports Net, the Tennis Channel, and World Team Tennis. Cicma has announced NCAA sports as well as the US Open Tennis Championships on both TV and radio.