Recruiting Feature
2013 Top Mid-Major Men's Classes
by TennisRecruiting.net, 10 June 2013
Two weeks ago, TennisRecruiting.net began publishing its annual recruiting class rankings.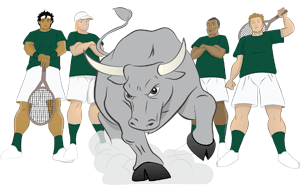 We continue our rankings today with a look at the top college recruiting classes from the "mid-major" programs - programs outside of the ACC, B1G, Big 12, Ivy League, PAC-12, and SEC.
Many mid-major schools compete at a very high level. In Division I post-season play, Memphis and Pepperdine both advanced to the championship site in Illinois, while Japie De Klerk of Tulsa and Pepperdine's Sebastian Fanselow both advanced to the semifinals of the singles competition. Mid-major schools have won national titles in the singles, doubles, and team events at the D-I level.
Many quality teams also compete in Division II, Division III, NAIA, NJCAA, and CCC - where they vie for national titles every year.
Top 25 Mid-Major Men's Recruiting Classes (through May 24)
Today, the Tennis Recruiting Network is excited to present the Top 25 Mid-Major Men's Recruiting Classes for 2013. The mid-major conferences for tennis include programs from the America East, American Athletic, Atlantic 10, Atlantic Sun, Big East, Big Sky, Big South, Big West, CAA, C-USA, Great West, Horizon, MAAC, MAC, MEAC, Missouri Valley, Mountain West, Northeast, Ohio Valley, Patriot, SoCon, Southland, SWAC, Summit, Sun Belt, WCC, and WAC conferences from NCAA Division I - as well as all programs outside of NCAA Division I.
As is our policy, in these rankings we did not consider incoming transfer students.
Let's take a look at the Top 25...
Honorable Mention
Other men's programs that received strong consideration from our experts are (listed alphabetically): Carnegie Mellon, Central Florida, Chicago, Ferris State, Gardner-Webb, Georgia Southern, Kennesaw State, Pacific, UNC Wilmington, Wash U. - St. Louis, Williams.
Running with the Bulls
Head coach Matt Hill and his South Florida program pulled in the first ranked recruiting class in school history last month. The Bulls checked in at No. 10 in our overall spring rankings. Today, we give USF the nod as the top mid-major recruiting class. Roberto Cid, Alexandru Gozun, Vadym Kalyuzhnyy, and Finn Meinecke make up a four-man class that has multiple recruits with ATP ranking points.
The Pepperdine Waves follow up their Final 8 run in the NCAA Team tournament with a strong class of their own. Head Coach Adam Steinberg's squad will welcome Blue Chip senior Stefan Menichella along with a pair of 4-Star recruits - Alex Giannini and Alexander Solonin. The three recruits all hail from California.
The North Florida Ospreys occupy the No. 3 position in our rankings, while Boise State (No. 4) and Cal Poly (5) round out the Top 5.
State Breakdowns
The 25 schools in our recruiting class rankings represent 14 states and the District of Columbia.
Talent-rich California always makes a strong showing in our rankings, and 2013 is even stronger than usual. Six programs from the Golden State appear in our rankings. In addition to Top-5 programs Pepperdine (No. 2) and Cal Poly (5), California is represented by UC Santa Barbara (11), UC Davis (15), Fresno State (17), and CMS (24).
There are four other states with two recruits apiece: Florida, Maryland, New York, and Virginia. Florida's ranked programs (South Florida and North Florida) both appear in the Top 3.
But perhaps most impressive is that there are two programs from the District of Columbia - George Washington (No. 7) and Georgetown (13).
Conference Call
The 25 recruiting classes come from 16 different NCAA Division I conferences and two D-III conferences.
With all those California schools in the rankings, it comes as little surprise that the Big West leads all conferences with three ranked programs: Cal Poly, UC Santa Barbara, and UC Davis.
Five conferences follow with with two ranked classes apiece, including the America East, Atlantic 10, Conference USA, Mountain West, and Patriot League.
D-III Preview
We will have a lot more to say about NCAA Division III schools next week in our Division III rankings, but D-III powerhouses Amherst and Claremont-Mudd-Scripps appear in our rankings in the No. 21 and No. 24 spots, respectively.
Coming Wednesday... The Women
Looking for the women's list? Come back this Wednesday. On June 12th, Tennis Recruiting will release its ranking of the top 25 women's mid-major recruiting classes. Shortly afterwards, we will wrap up this ranking season with our lists of the top NCAA Division III programs.
Leave a Comment
More Recruiting Class Rankings
22-May-2017
Top Men's Classes - 2017 Spring Rankings
Today we release our spring rankings of the Top 25 Men's Recruiting Classes. A rash of recent commitments have moved a number of programs up the list - including two previously unranked classes who are now in the Top 10. One thing that hasn't changed on our list is that the top class overall is heading to Berkeley this fall ...
6-Feb-2017
Top Women's Classes - 2017 Winter Rankings
Spring Signing Day is just over two months away, and coaches are busy finalizing their recruiting classes. A number of highly-ranked seniors have already made their college choices - they have made verbal commitments or signing NLIs during the Fall Signing Period. Find out which women's teams are looking good at this stage - as The Tennis Recruiting Network and ArrowBar proudly present the Top 25 Women's College Tennis Recruiting Classes of 2017.
30-Jan-2017
Top Men's Classes - 2017 Winter Rankings
Late January is a great time to take a look at college recruiting. More than 850 seniors have made their college choices, and recruiting classes are really shaping up. How is your favorite team doing? Let's find out ... as Tennis Recruiting and ArrowBar bring you the Top 25 Men's College Tennis Recruiting Classes for 2017.