College Feature
Talking with Florida's Thornqvist and Embree
by
Harry Cicma
, 7 June 2012
Follow Harry on
Twitter
Last month, the University of Florida capped off its second straight NCAA Championship with a win over UCLA. Lauren Embree earned the decisive fourth point that clinched the championship for the second time in as many years.
Harry Cicma, who served as color analyst at the NCAA Championships in Athens, talked with Embree and Gator Head Coach Roland Thornqvist.
Questions and Answers
Harry Cicma (HC): The University of Florida has now won the national championship two years in a row. How does it feel to win it again this year?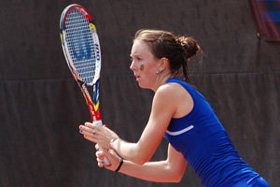 Lauren Embree of Florida Clinched for
Florida
courtesy, Florida Athletics
Lauren Embree (LE):
It's amazing. I still can't believe it just happened again - to go back to back. I'm just so happy - and so proud of my teammates. Last year, I said it was a dream come true. Now it's another dream come true. Our team has worked so hard, and I feel like we just played so well. I'm just proud of them.
Roland Thornqvist (RT): It's much more difficult to do it the second time around - there's no question about that. I could tell that our "Gator mountains" and grass workouts paid off in the semifinals because we looked fresh in the finals. We looked fresh today - I was happy to see that. We played amazing tennis from start to finish in singles and all three doubles, and I'm really really proud of the team.
HC: How proud are you of Lauren Embree, winning the final match, with all the pressure, and for the title?
RT: The last ten minutes of the match, I was just hoping and thinking - and waiting (laughs). I thought that it was going to come, but those were ten long minutes.
But Lauren had been in this situation before. She always comes through on the big points, and I had all the faith in the world that she was going to come through.
HC: How are you both going to celebrate after this Championship?
LE: Right now we're just taking it all in. I'm not really sure what we'll do, but we'll see.
RT: They are competitors. We'll celebrate with a dinner, let it sink in, and then keep moving forward.
Leave a Comment
More College Coverage
1-Aug-2017
Thompson Twins Double As Head Coaches
After forming a strong doubles team at Notre Dame, twins Christian and Catrina Thompson are now Division I women's head coaches. Christian is in her fifth season at Denver and Catrina was recently hired to lead Minnesota.
11-Jul-2017
Swain Jumps from D3 to USC
After presiding over a Division III tennis dynasty at Williams College, Alison Swain was named the head women's coach at USC. Her rare jump from Division III to a major Division I program is being tracked by many across the country.
7-Jul-2017
Tennessee Coaches Share VFL Bond
Former Tennessee players Chris Woodruff and Alison Ojeda have returned to their alma mater to take their first head coaching jobs. The two have formed a tight bond that extends to their teams as they attempt to build the programs back into national contenders again.
About Harry Cicma
When it comes to college tennis, Harry Cicma is your man. Cicma covers tennis and other athletic stories for
NBC Sports
, writing articles and producing video segments.
He is co-founder and host of World Tennis a weekly tennis show on NESN, and host of of Tennis Live Radio's College Corner.
Cicma competed as a junior in USTA/New England and went on to play college tennis at Rutgers University. As a professional, Cicma competed at the ATP Newport tournament and the San Jose Siebel Open. He reached a career-high #75 in the ATP doubles team rankings and #1262 in the ATP Entry System.
In media, Cicma has run the gamut. He has worked for NBC, CBS, ABC, ESPN, FOX Sports Net, the Tennis Channel, and World Team Tennis. Cicma has announced NCAA sports as well as the US Open Tennis Championships on both TV and radio.