Player Advice
The Good, The Bad, and The Ugly
by Paul Thomson, Drake Women's Tennis, 1 October 2012
As a kid growing up in the south, I used to listen to Skip Carrey on the radio calling the Atlanta Braves games on a local AM radio station. Even then at a young age, I had a strong appreciation for his dry wit and almost arid sense of humor.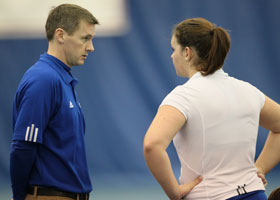 Coach Thomson with his
Drake
Team
courtesy, Drake Athletics
Carrey did a wonderful job of painting a picture of the action. But one of the lines that he would say that I have never understood is, "And he strikes out on a terrible pitch." This statement was, of course, referring to a batter swinging at a ball in the dirt or way outside of the strike zone. To this day I have never understood why anyone would call a pitch that caused a batter to strike out a terrible pitch. Maybe the ball flew over the batter's head, ricocheted off the back stop, and forced the catcher to throw the batter out at first. But if the pitch fooled the batter - and he struck out - didn't the pitch do what it was meant too? Sounds like a good pitch to me. So why was it so terrible?
In tennis I see players frame or miss-hit balls for a winner all of the time. Players line up and take big swings only to have the ball tick the net tape and barely drop over the net to win the point. I saw Roddick miss-hit a service return recently in Atlanta that ended up as a twisting oddly spinning lob that dropped in for a winner as his opponent was coming in behind his serve. Roddick handled this well. More times than not, however, I see the reaction of juniors and college players as, "That was awful - how did I miss that so badly?" They shake or hang their heads in disbelief that they missed that poorly. What they sometimes don't take into consideration is that they won the point. Well, you won the point. Take the good with the bad and the ugly.
What's even more frustrating to watch, however, are players that beat themselves up for not winning every point. Or the players who react so negatively for doing everything right and playing well only to see their opponent win that point. Others, still, spend time worrying about style points and taking shots unnecessary to win points. In turn, they make errors and give points away they cannot afford to lose.
Brad Gilbert wrote a book and made a very good career out of Winning Ugly. Some of my best wins as a player and coach have been ugly wins. Those go a lot further sometimes in our growth and development as players and coaches than the matches where everything goes right. I think it is very important for players to take the "shank-you very much," "Shank-enstein," or "count-shankula" shots and appreciate their value just as much as the "clean winners." I have talked about creating our own luck, and sometimes the shanks and miss-hits that go our way are part of that luck.
A big problem I see with many junior players - as well as some college players - is that they have the idea that they have to win every point by hitting winners when more times than not the best option is to force errors or simply give the other player the opportunity to miss. It is rare for a player to hit enough winners to put another player away, but they can almost always make enough balls. Our team works with an equal error ration. This is pretty standard tennis. Basically a player wants his unforced errors and winners to be balanced; 12/14, 14/13 etc. Then they want the majority of points to come from forced errors.
There was a player on my men's team a few years ago who made an entire college career out of doing just that. He was small, he wasn't very strong, and he was certainly not physically intimidating. But he racked up victory after victory doing his thing. Call him a pusher, wall or backboard. But he won by running every ball down, getting every ball back, and by not taking shots he couldn't make or would going to get him into trouble.
I often chart matches to show players where they are winning and losing points and to demonstrate to them where the momentum flow changes in their matches. While on his court one day, I charted two sets: four winners, seven unforced errors and he won 6-2 6-2 against a guy twice his size and twice the athlete. His opponent was beside himself. He could not it figure out: "Why am I losing to this kid?" You could see it all over his face.
I see matches like this all of the time. A player is literally pulling his hair out or beating himself with his tennis racquet in frustration. Frustration wastes both physical and mental energy, but that is another story for another article. As I think back on my player's career, I am not sure I can remember many matches that he "won." But I remember many times when he made the other guy lose his marbles - and eventually lose the match.
He averaged about fifteen wins per season over four years. His only weapons were his consistency, hustle and discipline. But he also knew and accepted his limitations, and that ultimately became his greatest strength. In a nutshell, he used his lack of weapons and style to take weapons away from other players, and in the end, he won ugly.
His victories came ugly. He was perfectly okay with that, and he sometimes seemed to revel in it. He was not cocky about it, but he had a lot of confidence. Why? Because he was smart, and he knew that style points don't count. He did what he did, and he did it well and complete. He was a player that was never going to beat you, but, undeniably, he knew how to let and make the other guys lose.
Players and coaches alike should realize and accept that they cannot win with what they do not have. And that's perfectly okay. In tennis - and in life - we have to work with what we have been given and within our limitations.
There is no substitute for hustle and heart. If you combine those attributes with smarts and discipline, then you have a winner. One of my favorite sayings is, "Talent doesn't sweeten the tea." It's the work that goes along with what you have. Players and coaches need to work with their strengths and they should not hide their weaknesses, but rather recognize and admit them. That admittance then also becomes strength, and that can translate into a person's biggest ally.
Paul Thomson is head coach of women's tennis at Drake University.
Leave a Comment
More Player Advice
27-Nov-2016
Building A Game: The Tennis Imagination
Junior tennis abounds with players adept at contemporary tennis: an attrition-based, narrowly-focused baseline game. This mode certainly generates outcomes in the form of match wins, rankings and scholarships. But what about a long-term, sustainable process for staying engaged with the tennis? Talk of strokes - that is, groundstrokes - is plentiful. But talk of a playing style - the rich literature - is minimal.
21-Nov-2016
Go With the Flow
You will often hear at a junior tennis match, "I was so in the zone today," or "How is this guy zoning so hard out there?" If you are talking about yourself, it's a compliment. If you were referring to your opponent, you were basically saying they were playing above their level. Let's take a look at what these phrases really mean - and why they allow players to perform at their best.
16-Nov-2016
Shutting Off The Thinking Mind in Tennis
Meet the Thinking Mind. Many junior recognize its presence more and more as the college playing years are right around the corner. Players often become tight in the presence of college coaches at tournaments, in showcases, and on college visits. Here are four tips to overcoming the thinking mind - and taking control of your thoughts at this critical time.
About Paul Thomson
Paul Thomson has spent over 20 years in tennis, with ten years experience in college tennis coaching - the past eight of which have been spent as head coach. He was the 2008-09 SAC Women's College Coach of the year. Thomson, certified through the PTR, has experience as a tour and high school coach and club/academy instructor. He has also worked in grass roots tennis community tennis development. Thomson is currently doing freelance writing and working on his first book.