College Feature
Q &amp A with Hartford Head Coach Michael Louis
by
Harry Cicma
, 9 October 2012
Follow Harry on
Twitter
Michael Louis is entering his second year as the head coach of the University of Hartford men's and women's tennis teams. Louis is a first-time head coach at the Division I collegiate level after spending seven seasons as the assistant men's tennis coach at the University of Connecticut.
Harry Cicma talked with Coach Louis about his goals and experiences coaching college tennis.
Questions and Answers
Harry Cicma (HC): What are your goals for the upcoming season as the Head Coach of both the Hartford Men's and Women's teams?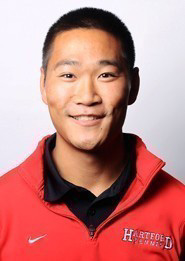 Michael Louis (ML):
The goal is always to provide an environment where our players can grow - both as individuals and athletes. In the classroom, last season both men's and women's teams achieved collective GPA's of above 3.0. We want to continue with that success in the classroom, and as student-athletes, that is their primary goal.
On the court, I think the players any time you ask them, "What are your goals for this season?" they'll always answer in terms of winning. We've tried to not put the emphasis on the wins and losses this year. The expectation to win every time we step on the court is always present. Every individual on this team is a competitor, and the drive to win is what motivates them to work hard.
At the start of the season, I ask my players, "What is our everyday?" In other words, what is our identity as a team - every time we step onto the court? Every practice our players take that responsibility to heart and work hard for each other. For us, that's the key to finding our way this season.
HC: What are you most excited about, as a second year Head Coach in Division I?
ML: The players. We have a great group of young men and women. Last season, coming in as a new head coach, I think the team and I were trying to find our way and figure things out. There was definitely an adjustment for the players - new coach and new philosophy. I knew I had to work to earn their trust and respect. The second half of last season I think we were really starting to find our way. This season we're all on the same page and I'm excited to get started.
HC: How will your experiences on the court at UConn, help you while coaching Hartford?
ML: My four years as a student-athlete at UConn are some of my best memories. I was very fortunate to have been a part of a great group of guys and have a great coach. That's what I want for my players here at Hartford. They are a part of an environment where they can compete at a high level and build friendships.
I know that we play a long season, but I also know how quickly it flies by. I want my players to be able to appreciate and enjoy the opportunity they have as student-athletes here at the University of Hartford.
HC: How has the Assistant Coaching experience at UConn helped as well?
ML: Having played for UConn, I was very fortunate to be able to start my coaching career in an environment where I was very comfortable - and alongside a head coach I greatly respect in Glenn Marshall.
Nothing truly prepares you for the responsibilities of being a head coach except for becoming a head coach. But my time at UConn gave me the chance to gain confidence in my decision making and to find my own coaching style.
As a head coach, the decisions you make are not going to make everyone on your team happy. I've learned how to embrace and handle that concept with my players. I know that every day I have to continue to hold myself accountable for my decisions - and how they affect my players and both teams.
HC: What are the strengths of your Hartford Program thus far as a whole?
ML: I would have to say the resiliency of my players. Coming in as a first year head coach and taking over a program, I couldn't be happier with the teams I had around me. For them, having to transition from one coach to another, I know must not have been easy for them. Collectively, they held together through the change, and I think they embraced the challenges we faced along the way.
Last year as a team we had to work to build a foundation of respect and support for one another. We have that foundation in place today, and the successes we will have will be because of the players.
Leave a Comment
More College Coverage
1-Aug-2017
Thompson Twins Double As Head Coaches
After forming a strong doubles team at Notre Dame, twins Christian and Catrina Thompson are now Division I women's head coaches. Christian is in her fifth season at Denver and Catrina was recently hired to lead Minnesota.
11-Jul-2017
Swain Jumps from D3 to USC
After presiding over a Division III tennis dynasty at Williams College, Alison Swain was named the head women's coach at USC. Her rare jump from Division III to a major Division I program is being tracked by many across the country.
7-Jul-2017
Tennessee Coaches Share VFL Bond
Former Tennessee players Chris Woodruff and Alison Ojeda have returned to their alma mater to take their first head coaching jobs. The two have formed a tight bond that extends to their teams as they attempt to build the programs back into national contenders again.
About Harry Cicma
When it comes to college tennis, Harry Cicma is your man. Cicma covers tennis and other athletic stories for
NBC Sports
, writing articles and producing video segments.
He is co-founder and host of World Tennis a weekly tennis show on NESN, and host of of Tennis Live Radio's College Corner.
Cicma competed as a junior in USTA/New England and went on to play college tennis at Rutgers University. As a professional, Cicma competed at the ATP Newport tournament and the San Jose Siebel Open. He reached a career-high #75 in the ATP doubles team rankings and #1262 in the ATP Entry System.
In media, Cicma has run the gamut. He has worked for NBC, CBS, ABC, ESPN, FOX Sports Net, the Tennis Channel, and World Team Tennis. Cicma has announced NCAA sports as well as the US Open Tennis Championships on both TV and radio.