College Feature
Countdown: King, van Overbeek Mobilize Community
by
Colette Lewis
, 25 October 2012
University of Michigan's Evan King and University of Florida's Bob van Overbeek thought the tweets they were seeing about the format changes in NCAA Division I tennis, which included eliminating a full third set in singles competition, were jokes.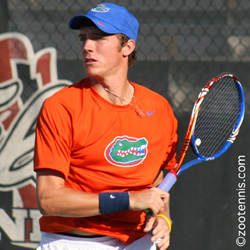 "I thought it was a prank," said van Overbeek, of Boca Raton, Fla. "Another player I was tweeting about it said, well, I guess we don't need to go on those 6 a.m. runs anymore with no third set. I was like yeah, ha. And then Evan messaged me later in the day, saying, did you see these tweets? And I said, yeah, I think they're joking. And he said no, (
Georgia
head coach) Manny Diaz is tweeting about it."
Once the two seniors confirmed the tweets by reading the report the NCAA Division I Men's and Women's Tennis Committee released on August 15th, they spent 45 minutes chatting on Facebook before deciding to start a Facebook group. Where the longtime friends stood on the changes was evident, with the group titled *Official* Against the changes to NCAA tennis, but their interest was as much about raising visibility for the issue as ranting against it.
"There was probably an announcement on the fourth page of the NCAA site, but it wasn't like we would want it to be, so we spread it, and when everyone saw what was actually in the document, it was, why are they doing this?" said van Overbeek, who believes 95 percent of tennis student-athletes were against the changes. "We didn't want a revolution or anything, we just wanted the information to be out there."
"We wanted to spread awareness about it, it was pretty hush," said King, who was playing in a Futures tournament when the news broke. "Everyone was out of school, so no one was paying that much attention to it - it kind of snuck under the radar.
"We were outraged," King admitted. "If the rules were passed, it would have changed the game completely. I think the level of college tennis would have dropped significantly, because juniors wouldn't take it as seriously. It was kind of a big deal and we wanted to rally the troops a little bit."
Rally them they did, with the Facebook group going from a few hundred members on the first day to over 8,000 just a few days later.
King said the first few comments on the wall were critical in making the Facebook page a credible communication hub.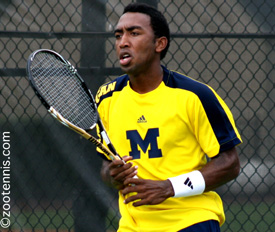 "You can have Facebook groups and there can be people who take them seriously, and post insightful stuff, or you can have people who just say, this is stupid, but with no reasons," said King, who is from Chicago, Ill. "The first couple of people who commented on it spoke their opinions and sounded intelligent, and that really helped it blow up. It started good conversation, good communication back and forth."
Once the Facebook base was established, former Division I player Rich Blumenfeld, a friend of van Overbeek's and a recent graduate of George Washington University, suggested a twitter event with the hashtag #SaveCollegeTennis as another way to raise visibility. Four days after the changes were revealed, the event succeeded in getting the hashtag trending, and with supporting tweets from John Isner, the Bryans, Bradley Klahn, Steve Johnson, Mallory Burdette and Nicole Gibbs, the issue began to attract the attention of the general tennis press, with both the New York Times and Sports Illustrated examining the firestorm.
King also points to the success 2012 NCAA champion Nicole Gibbs of Stanford had at the WTA New Haven Open at Yale as an important factor in calling attention to the student-athlete opposition.
"I think it was awesome that Nicole Gibbs was doing so well over the summer," said King. "She's a huge advocate for college tennis, and she kept getting asked about it in her press conferences. She became the face of saving college tennis, being the reigning NCAA champion and showing she could do stuff on the pro tour - I thought that was awesome."
With Facebook and Twitter keeping the issue in the forefront and an online petition against the changes circulating, it didn't take the Division I Tennis Committee long to reconsider. Within a week, the match tiebreaker in lieu of a third set and the reduction of doubles from eight games to six had been removed from the committee's recommendations, and at a September NCAA Cabinet meeting, various other committee recommendations, including no warm-ups, shorter changeovers and a Final Four instead of a Sweet Sixteen, were tabled.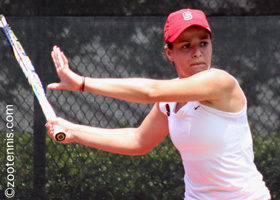 King gives social media most of the credit for this outcome.
"It was social media that pretty much did this, spreading awareness, keeping everyone together and in constant communication with one another," King said.
"I don't know what would have happened if the student-athletes didn't react the way we did, and the coaches didn't react the way they did," King continued.
"I'm not talking about Bob and I specifically, but the student-athletes definitely made a difference. They weren't consulted in the initial changes, so I think we did something pretty special in trying to save the thing that we love and work 20 hours a week to do on top of school and everything. It was cool."
Neither King nor van Overbeek believe any changes are necessary in the Division I college tennis format, although van Overbeek understands the sport is facing challenges, mentioning the number of programs being dropped, particularly on the men's side.
"I like it the way it is, but that's my opinion," said van Overbeek, who, like King, played No. 1 singles for his team last season.
"If they want to look at the format, that's fine. I'm not sure what the best change would be; maybe if they go no-ad in doubles that would eliminate 20 minutes. And that's done in the pros. But other than that I don't know many changes you can make. That's the problem with baseball and tennis, there's no timer, that's what you get into with the sport.
"I hope they do come up with changes to make college tennis more popular," said van Overbeek, who would like to see a Division I Coaches Summit devoted to the topic. "Not because I really care about people watching, but I know that with popularity comes a little more money, comes a little more likely the sport will stay around for longer."
King also voiced his support of changes that would strengthen college tennis.
"If they could find a way without changing the game to get more publicity and popularity that would be awesome," he said. "Sometimes you'll play a dual match and they'll have 20 people out there. But I don't have any specific ideas on how to make that happen. I think if you love tennis, you love tennis, and if you don't, you don't. It doesn't matter if the changeovers are 60 or 90 seconds, if you warm up or don't warm up."
Both King and van Overbeek said they heard from many top juniors who wouldn't consider attending college if a third-set tiebreaker was introduced, but with that threat now over, they are looking to those juniors to take over leadership of the movement created by the crisis.
"We love college tennis," said King. "We'll definitely keep in touch with it, but I think it works better when the face is a current athlete and I think it's for the next generation to handle it."
Boys' Turn Tomorrow
Last week we took our first look at the Blue Chip girls. Tomorrow, the boys will get their turn. We have been keeping close tabs on the Blue Chip boys, and we talk about their leanings and commitments.
So make sure to visit the website tomorrow - and in the coming weeks as well, as we celebrate the Countdown to Signing Day.
Leave a Comment
More College Coverage
22-Aug-2014
Musings on Proposed ITA/NCAA Division I Format Changes
The ITA recently announced a number of changes to NCAA Division I competition starting this fall. The most notable changes are a move to "no-ad" rather than traditional scoring and shortening doubles from an eight-game pro set to one standard six-game set. These changes have been met with strong feelings on both sides, and there are many coaches and players on both sides of this debate. This article offers our thoughts - in the context of many other articles on the issue.
21-Aug-2014
ITA Announces New Division I Dual Match Format
The ITA will be inaugurating a new, shorter dual meet format for Division I college tennis beginning at the start of the 2014-15 season. Highlighting the format changes are switches to no-ad scoring from regular scoring, one set of doubles rather than an 8-game pro set and no warm-up with opponents.
24-Jun-2014
American Collegiate Invitational to Debut at US Open
When sixteen American collegians take the courts late in the second week of this year's American Collegiate Invitational at the US Open, they will enjoy the same perks and surroundings as professionals Serena Williams and Rafael Nadal. The college players will not share in the millions of dollars of prize money, but they can collect something the pros cannot - a guarantee of entry for the following year.
About Colette Lewis
Colette Lewis
has covered topflight U.S. and international junior events as a freelance journalist for the better part of a decade. Her work has earned her contracts with such organizations as the Tennis Channel, USTA Florida and the Junior Orange Bowl, as well as
TENNIS
,
SMASH
,
USTA
,
Tennis Championships
and
Racquet Sports Industry
magazines. Lewis is active on
Twitter
, and she writes a weekly column right here at TennisRecruiting.net.
Lewis, based out of Kalamazoo, Michigan, has seen every National Championship final played there since 1977, and her work on the tournament's ustaboys.com website led her to establish ZooTennis, where she comments on junior and college tennis daily.