College Feature
Q &amp A with Former Brown Standout James Cerretani
by
Harry Cicma
, 3 December 2012
Follow Harry on
Twitter
Contributor Harry Cicma recently caught up with ATP doubles player and former Brown standout James Cerretani. They talked about life on the ATP tour and his children's foundation.
Questions and Answers
Harry Cicma (HC): How is life on the ATP Tour going?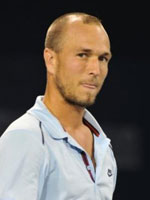 courtesy, James Cerretani
James Cerretani (JC):
Life on the tour has been going well. Working hard and always striving to grow as a player and a person have been my goals on tour. The 2012 season brought with it many special moments once again, highlighted by another quarterfinal run at Wimbledon. There is something special about that tournament - something mystical in the air there that really gets my motor running. I really love and cherish it there.
Off court, I was also elected to my first term on the ATP Player Council. It's been an honor working closely with board member Justin Gimelstob, council members Roger Federer, Mahesh Bhupathi, Eric Butorac and others to make sound decisions that will foster the overall growth and health of the sport. We have arguably the most engaged group of council members in the history of tennis, and this is exciting for the future of the game, as we are working to ensure that players rights are preserved and looked after. Its been another way for me to give back to the game I love. I am very thankful for this opportunity.
HC: What are you most excited about for the 2013 season?
JC: In 2013, I am looking forward to continuing to make progress in my game and off court with Player Council issues. Grand Slams will always be the most special events, but I am making it my goal in 2013 to have more consistent results as well throughout the season. I am confident that through hard work, I can achieve this goal.
On the Council, there are always several issues on the table. Most notably, we are working very hard to increase prize money for the players. I'm pleased to say that we have achieved this goal for the upcoming 2013 Australian Open, and the PM is being allocated more heavily towards the early rounds where it is needed the most. That's an exciting thing, as we have worked to maximize the financial viability of the maximize number of players. This is an unprecedented occasion in men's tennis, as all previous increases were felt only in the later rounds.
The players on tour all work hard, and they appreciate the efforts of the board and newly elected council members. We talked amongst each other almost every day, its a pretty cohesive group, so we are able to find the comprehensive solutions to problems that aaffect a wide range of players and interest groups.
HC: What do you have going on now off the court with your Foundation?
JC: Since 2009, I have given my time to Tenacity to help inspire kids in Boston to continue playing tennis. It's been a cool learning experience for me as well, and I have built some great working relationships with their staff. Last year, we hosted our first small charity event to raise money for Tenacity. The event was small, but it was a huge success as we built our brand into something that people really enjoy and want to get involved with. There were lots of smiles on the kids' faces, and the fans really enjoyed of tennis and laughs.
This summer, I also gained experience working with former world #1 Don Johnson at his Jimmy V Tennis Charity Event in North Carolina and with the PCF Charity Event in South Hampton, N.Y. during the time of the US Open. These experiences have all inspired me to create my own initiative that will enable me to reach out to people that I can help along their way. This is my drive, to help kids and people in need live better lives.
So I have created the JC Scholarship Foundation, which aims to generate funds for kids in need that want to pursue a collegiate tennis career and/or have aspirations to play on the ATP Tour. I think it is the perfect blend of tennis and education - both of which I value very much. And I believe that all people and tennis players can benefit in life from having a strong sense of education and how it can open an oyster of opportunities for them once their playing days are over.
I am very exciting about this process, and I hope very much that with the help of so many people already, we can build it into something special and productive.
HC: Andre Agassi and Andy Roddick both have done a lot with their Foundations. How much have fellow Americans like them inspired you with yours?
JC: Andre Agassi and Andy Roddick were special tennis players, and they also have done an immense amount of work to give back to the sport that has given them everything. I think this is pretty cool to see, and I admire them both for their efforts.
Andre in particular has this magical aura that surrounds him that has enabled him to positively impact the lives of so many. This is a gift that I think comes from within, and it would be an honor and privilege to work with them in any capacity at some point in the future
HC: What advice would you give a college tennis player looking to get a top degree, like you did at Brown, while also aiming for a pro tennis career?
JC: Work hard, play with passion, always believe in yourself, and surround yourself with positive people that inspire you to be the best version of yourself. Those are my top four keys for success in anything you do.
I think that given my experience having played college tennis, getting a degree and moving on to the tour, I have a lot to offer kids that might have similar goals. To be honest, I never really wanted to be an ATP pro initially.
As a kid playing, I remember there being many doubters that said it wasn't possible or that it was too tough. That was discouraging. So I went to school and was happy to be getting an education to set up my future - while still competing at a high level in the game I loved. It was in college where I discovered this sense of camaraderie with my teammates, and that was what pushed me to really excel at my game. They inspired me to grow. And it was at school, that I developed a strong sense of self too. I think this is an important skill to have while traveling the world.
College can equip players with invaluable skills that will enable them to travel the world confidently as they attack their tennis goals. And it's relaxing to know that you have a college degree in your back pocket. You see this more and more today, as my tour friend John Isner is now the top ranked American and world #14 ranked singles player. Everyone knows that he is also a college graduate.
Leave a Comment
More College Coverage
28-Sep-2015
The Buckeye Tree of College Tennis Coaches
The Ohio State University tennis program has produced some of the most successful collegiate players in the nation - but they have also produced some outstanding coaches. The "Buckeye Tree" of coaches can be traced back to one man, Ty Tucker, who has been the Buckeyes Head Men's Tennis Coach since 1999 and Director of Tennis since 2012.
25-Sep-2015
UCLA Sweeps Titles at American Collegiate Invitational
The second annual American Collegiate Invitational, held in the final days of the US Open Championships, had more than its share of weather issues and UCLA Bruins. The women's final, with Robin Anderson defeating Chanelle Van Nguyen 6-4, 6-4, was an all-UCLA contest finished indoors, while Mackenzie McDonald managed a 6-2, 7-5 victory in the final over Vanderbilt's Gonzales Austin, the only non-Bruin to reach either final.
21-Aug-2015
Bobby Reynolds Starts New Chapter at Oklahoma
A stellar playing career at Vanderbilt prepared Bobby Reynolds for a successful decade on the ATP tour. Now he is returning to college tennis - this time as a coach. Reynolds is joining men's head coach John Roddick as his assistant at the University of Oklahoma.
About Harry Cicma
When it comes to college tennis, Harry Cicma is your man. Cicma covers tennis and other athletic stories for
NBC Sports
, writing articles and producing video segments.
He is co-founder and host of World Tennis a weekly tennis show on NESN, and host of of Tennis Live Radio's College Corner.
Cicma competed as a junior in USTA/New England and went on to play college tennis at Rutgers University. As a professional, Cicma competed at the ATP Newport tournament and the San Jose Siebel Open. He reached a career-high #75 in the ATP doubles team rankings and #1262 in the ATP Entry System.
In media, Cicma has run the gamut. He has worked for NBC, CBS, ABC, ESPN, FOX Sports Net, the Tennis Channel, and World Team Tennis. Cicma has announced NCAA sports as well as the US Open Tennis Championships on both TV and radio.