Special Feature
Ramp It Up - New Academy Opens in Southern California
by
Colette Lewis
, 9 May 2013
The Home Depot Center in Carson, California, site of the USTA Training Center-West, has a new source of activity this spring, with the opening of the RAMP Tennis Academy.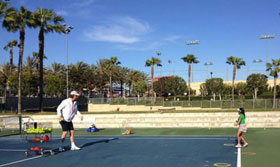 The four principals - Rick Buchta, Andrew Laing, Marc Lucero and Patrick Nagle, whose first initials form the academy's name - submitted a proposal to USTA Player Development, who was seeking a private entity to provide programming at the suburban Los Angeles site. After their bid was selected, RAMP tennis became a reality, with the academy opening April 15th.
Laing, Lucero and Nagle all worked as USTA coaches at the Carson facility before the decision to privatize, while Buchta, an investor and businessman in nearby Manhattan Beach, has stayed involved in tennis in many capacities since his playing days at Loyola Marymount. Laing and Nagle, both of whom worked for Jose Higueras's Palm Springs academy prior to joining the USTA staff in Carson, played collegiately at Sonoma State.
Lucero, RAMP's Director of Tennis, played at Boston College and was assistant women's coach at Princeton from 2004-2007. In addition to his work with young juniors, Lucero has worked with many professional players the past five years, including Ryan Harrison, Sam Querrey, and most recently, Canadian Eugenie Bouchard, now in the WTA Top 100.
I spoke with Lucero last month about the new academy, its focus and goals.
Questions and Answers
Colette Lewis (CL): What age group are you targeting with RAMP?
Marc Lucero (ML): One of our big focuses is going to be on the younger group, under 12. We see programs with a bunch of little kids running around, and you have very inexperienced coaches working with them often times. We want to flip that. Coaches with a background in development can start these kids out in the right way, so whatever their goals are we can provide them with a good base to build their games on in the future. Our mission is just to have a ton of little kids come out in the afternoons.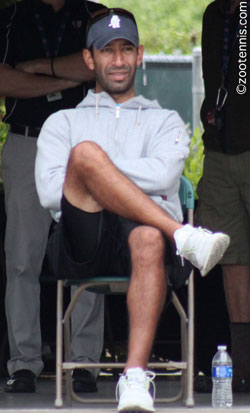 CL: Southern California has plenty of academies now. What do you think will distinguish RAMP in a crowded market?
ML: I think people will see that our coaches are highly motivated, passionate about the game, and I think that's going to rub off on the players that we work with. We want to go that extra mile, and I've always been one who works like crazy. Sometimes it makes me tired or makes me nuts, but I love tennis and I find myself thinking about tennis at the most random times. When people visit our program or see us at tournaments, I want them to see how much we care, how the values we have show up in our players when they watch them compete.