Clay Court Championship Week
CiCi Bellis Wins Title at Girls 16s Clays
by Sonny Dearth, 25 July 2013
Special from the
Newport News (Va.) Daily Press, HRVarsity.com
Catherine "CiCi" Bellis seemed so fresh in the second set, one of her post-match comments seemed incredible.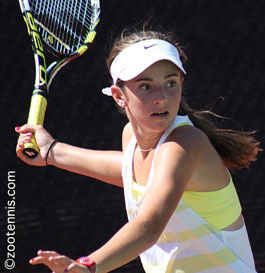 "I've never done any off-court conditioning," the wispy Northern Californian said after wearing down
Katerina Stewart
of Miami 7-5, 6-1 in about 80 minutes July 21 to win the USTA Girls 16 Clay Court Championships' singles crown at
Virginia Beach Tennis and Country Club
. "That's because my on-court drilling is so taxing and intense."
The 5-foot-5, 100-pound Bellis, seeded No. 1 despite being one of the youngest players in the field, won all 12 singles sets she played in the annual eight-day event. She said that surprised her.
"I thought if not before (the final), then today for sure," Bellis said. "Every match I was nervous."
Tournament director Laurie Hackbirth, who has helped run the event since its arrival in southeastern Virginia in 1987, said it was the first matchup of the top two seeds she could remember in at least 15 years.
Bellis, home-schooled since fifth grade in the San Francisco Bay Area city of Atherton, said this was the most meaningful of the four USTA gold balls she has won. She often plays four to five hours per day, six days a week - sometimes with collegians, sometimes with coaches, sometimes with men.
Stewart, a rising 11th-grader who turned pro last year, and Bellis were clearly the top players in the draw of 192. Neither lost more than four games in a set until their championship clash in about 85-degree weather, before a larger-than-usual crowd of several dozen spectators.
For a while, it was an Instant Classic between two players whose dental braces - but not their game - show their relative youth. Bellis recently turned 14, and Stewart celebrated her 16th birthday during the week.
"The caliber of play was exceptional," Hackbirth said.
With Bellis usually hitting flatter and playing closer to the baseline, they traded big groundstrokes, moved laterally with flair and occasionally hit deft underspin drop shots.
Bellis held serve at love and broke for 2-0. But Stewart surged ahead 3-2, winning 12 of the next 13 points, and held her serve for a 4-2 advantage. Playing with the heavy spin she models after her favorite big-time player, Rafael Nadal, "Killer Kat" seemed in control.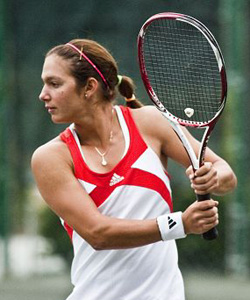 That was unfamiliar territory for Bellis, ranked as the nation's No. 1 rising ninth-grader on the Babolat College Recruiting Lists.
"I told myself to calm down and play my game," she said. "Wait for the right shot and be aggressive."
Bellis held at love, then hit a pair of winners to move to break point. Stewart netted an ill-timed drop shot to surrender her serve, leveling the set at 4.
At 4-all, Stewart went ahead love-40 and would hold five break points. But Bellis brushed aside all of them, including four on winners, and held for 5-4 on her first game point.
Stewart used a couple of big topspin forehands to pull even at 5, but Bellis recovered from a 15-30 serving predicament to get to 6-5, belting a forehand down-the-line winner that skidded off the baseline.
Finally, at 5-6, Stewart blinked. She was pulled well off the court and sailed a backhand far beyond the baseline for 15-40, then saw another backhand stray three feet wide on set point.
After briefly taking a break in VBT&CC's new indoor center to compose herself before the second set, Stewart broke for 1-0 and led 40-15 on her serve, but Bellis then took over. She rallied to break for 1-all, socked a pair of backhand down-the-line winners to hold for 2-1, then capitalized on a Stewart double fault and errant forehand to break for 3-1.
By that stage, Stewart seemed a half-step slow during tough rallies. She unsuccessfully tried to compensate with squash-like underspin saves.
The outcome looked inevitable. After Stewart missed a groundstroke wide to end the match, the pair shared a warm hug at the net.
Despite the defeat, Stewart was smiling soon afterward.
"It was definitely a great tournament," she said. "I played very well overall. (Bellis) deserved to win; she played very well. She took away my game - all credit to her.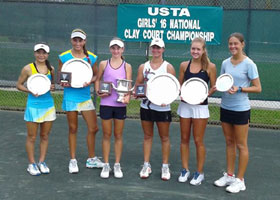 "In the second set, I was a little bit more sluggish than usual. She took control. That was a grind, that first set: a lot of work."
Stewart also can reflect on the work she put in to take the doubles crown with fellow Miami resident Adriana Reami, the sixth-place singles finisher. On July 20, a day before the singles title match, the co-ninth seeds rallied from a 4-1 second-set deficit to beat No. 2 seeds Meghan Kelley of Falmouth, Maine, and Alexa Bortles of Alpharetta, Ga., 3-6, 7-5, 6-2.
"It was very exciting," Stewart said. "That was a tough match, and that was my partner's first gold ball. We've known each other since we were little kids."
Alexa Graham of Garden City, N.Y., who said she was playing her first 16s Super National, took third place with a 6-0, 6-3 victory over Kelley.
"I've been playing all day, and especially since school was out," said Graham, who was 6-1 for the week, including victories against four seeds. "I've been working especially a lot on clay courts. From the round of 32 on, all the wins were great."
In the round of 32, Graham - a co-No. 17 seed - upended No. 3 Emma Higuchi of Los Angeles 3-6, 7-6 (8-6), 6-2. Higuchi bounced back by winning seven matches to take fifth place, capturing the back-draw championship by defeating Reami 6-1, 6-1.
Higuchi received the Sportsmanship Award.
"This was an exceptionally tough decision," Hackbirth said, complimenting the teens on their attitudes. "Watching the camaraderie of the girls has been really unbelievable. We're extremely thankful the weather has held out, except for the heat. A lot of the other groups weren't so fortunate."
Stewart said she next will play the USTA Girls 18 Nationals and International Tennis Federation events, as well as Junior Fed Cup in September.
Bellis' plans include representing the U.S. in the World Team Championships next month in the Czech Republic. She already knows success in Europe, having won events in England and France.
Tell that to people who saw her in Virginia Beach, and they won't be surprised.
Tomorrow... The 18s Division
We wrap up our coverage of Clay Court Championship Week tommorrow with the 18s divisions. Gary Curreri and Colette Lewis team up to bring you coverage of the boys and girls, respectively. It all starts with the boys - first thing tomorrow morning.
Take a look at our full coverage schedule, and make sure to check out any articles you might have missed:
Leave a Comment
More Tournament Features
25-Jul-2014
Stewart's Streak Continues in Girls 18s Clays
When Katerina Stewart lost in the quarterfinals of a pro tournament back in March, she couldn't have known she would go the next four months without losing a match, and only one set. When Stewart defeated Kennedy Shaffer 6-1, 6-3 in the final of the Girls 18s Clay Courts, she not only collected a first singles gold ball on her favorite surface, but also extended her winning streak to 34 matches in professional and junior competition.
25-Jul-2014
Paul Repeats Win at Boys 18 Clays in Delray
Some things at the Delray Beach Tennis Center never change - high temperatures, rain delays, and Tommy Paul winning. "I always play really well here," said Paul at the end of the USTA Boys' 18 National Clay Court Championships. Paul wrapped up his second consecutive USTA Gold Ball at the Clays...
24-Jul-2014
Liu Leads California Contingent in Girls' 16
A few miles from the ocean, Southern Californians dominated the USTA Girls 16 National Clay Court Championships, taking the top three places in singles and the runner-up honors in doubles. The ATLANTIC Ocean, that is. Not the Pacific. During the tournament week, dozens of spectators gathered at Virginia Beach Tennis and Country Club to see which Californian would earn the gold ball in singles - and the answer was Claire Liu.
About Sonny Dearth
Sonny Dearth is a writer and copy editor, primarily for the sports section, at the Daily Press newspaper and
dailypress.com
Web site in Newport News, Va.
Dearth has more than 30 years of experience in tennis. He is a former state high school champion who has served as a volunteer assistant coach in Virginia, where he started for four years at James Madison University in the late 1980s. He has competed in a few USTA national junior and adult events.