Recruiting 101
Thomson on Scholarship Questions
by Paul Thomson, 10 September 2013
As a college tennis coach, I spend a large amount of my time recruiting. I have the fortune of being able to travel all of the country - and sometimes even different parts of the world. Everywhere I go, I get to see new places and meet new people. Many of the people I meet are academy pros or other college coaches. The wealth of information I am able to pick up is immense. I have discussions about scheduling tactics, player development, how to stretch a budget, and recruiting methods and practices. These conversations go a long way in the success of being a head coach.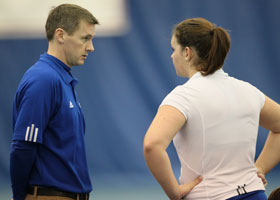 Coach Paul Thomson addresses frequent recruiting questions
The other group of people I get to meet are the players - and families of players - who I am recruiting or who want to be recruited. Without fail and like clock-work, players and their parents ask me the same questions over and over. Families are always interested in the ins and outs of what they can expect - not just during the recruiting process but also what is expected of players and what happens from year to year once a player is in a particular program. I have been graciously asked to address these topics by Tennisrecruiting.net. This submission will answer some frequent questions about the scholarship process:
How do coaches generally distribute the scholarships they have?
Is a player's scholarship likely to go up or down over the course of four years?
On average, what is the players' (or parents') cost per year?
In the next submission, I will address questions about the expectations of players by coaches and teammates after they have signed a scholarship and have joined their team.
Please make note. The one thing in common to the answers of all of these questions is that there is no exact across-the-board response. In all cases the answers should be preceded by, "It all depends." Coaches have different resources, needs and requirements. No two programs - and no two players - are exactly alike. The same coach and program often has different resources and needs one year to the next. Sometimes these differences can be true from one semester to the next. Things happen in a blink of an eye that can unexpectedly free up or consume resources for coaches.
How do coaches generally distribute the scholarships they have?
There are basics that are going to apply to just about every situation. Men's and women's coaches are going to distribute their scholarships in the best way to help make their programs and student-athletes successful. I myself have coached both men and women at the collegiate level. Never have I had a men's or women's program that was fully funded - which, at the D-I level means 4.5 scholarships for the men or 8 for the women. Even working with a fully-funded men's program can be a challenge. Parents and players, please do be advised: regardless of what you hear from other parents and teaching pros, most D-I and D-II programs are not fully funded!
A coach is generally going to give the most money to his top players. These are individuals that are highly sought-after by many programs. Often where the player signs comes down to scholarship amount. There are factors that influence scholarship awards that can limit or benefit a coach. Many schools have merit or academic money along with athletic scholarships. Players and parents should make sure to always ask coaches if such funds are available. Other coaches have quotas, or a minimum number of players, that their school requires them to carry. Personally, some coaches feel safer to carry more players for depth and to safeguard against injury issues. Some public institutions are located within a state that provides scholarships or grants for students who go to school in state rather than out of state. The Hope Scholarship in Georgia and Palmetto Scholarship in South Carolina are examples that encourage local recruits to stay close to home, and they allow coaches to allocate their athletic scholarship dollars to out-of-state or international players.
Academic scholarships provide more options for coaches. Consider a player out of high school who has a 3.5 GPA and a 1200 on the math and verbal sections of the SAT. A coach at a school that awards merit or academic money can use those academic achievements to build a scholarship package. For example, consider a university whose total grant in aid is $20,000. A stud recruit who might play No. 1 in the lineup with high grades and test scores might qualify for $10,000 in merit money - which is a 50% ride right there. The coach then has the option of using up to $10,000 of athletic money to get his No. 1 recruit up to a full ride if he chooses. The coach is also able to save some athletic money to invest in his other studs.
Another player who does not have the same academic scores may be from a less-affluent family that can only afford to pay $2000 or so of tuition to send the player to college. The coach may decide to put that player on, say, $17,000-$18,000 of athletic money to get that player in, even if he only ends up playing No. 3 or 4 in the line-up. The No. 1 player is on $10,000 of athletic money but still a full ride with academics. The No. 3/4 player ends up on more athletic money but is lower in the line-up, but the player, team and coach still benefit.
The more players a coach has that qualify for academic money, the further his athletic scholarships can go. This lets him distribute money and carry more players - or to better fund the ones that don't qualify for academic aid. As previously stated, however, most men's coaches or non-fully funded women's coaches are going to start at the top and work their way down the line-up. They will distribute their scholarship money based on availability and need. Remember too that in men's tennis, a coach can carry as many players on athletic scholarship as he/she wants to. Women's tennis is a numbers sport and even a fully-funded program can only have eight players receiving athletic scholarship funds.
Is a player's scholarship likely to go up or down over the course of four years?
The likelihood of a player's scholarship going up or down over the course of his playing career is contingent on some of the same variables - the coach, program needs, and resources. However, it also depends a lot on the player himself. In a nutshell, players have to perform on the courts and in the classroom.
Typically, a player on a 65% scholarship will stay at a 65% scholarship in proportion to the rise in tuition of the university for the duration of his collegiate career. If the freshmen full grant-in-aid is $10,000, a player on 65% will receive $6500. If full grant-in-aid goes up to $11500 for sophomore year, a player still on 65% would receive $7475. However, I have seen some programs where the scholarship did not increase as tuition increases. This will leave a slightly lower percentage of scholarship from year to year - and a slightly higher balance for the player and family.
When funds are available, a coach has the ability and discretion to increase a player's scholarship from one year to the next. I have seen scholarships decreased as well. These changes can be performance-based, or they can depend on the financial situation of a player's families and how much that coach wants to keep the player in question if for whatever reason the family can no longer pay the balance of the tuition. A player's scholarship cannot be increased or decreased during a current school year. It can be removed, however, if a player is deemed ineligible because of academics or getting into trouble. Keep in mind, too, that a scholarship cannot be cut during the year if a player is injured and unable to compete.
I have been in and around college athletics for a long time. There have been instances where I have seen coaches cut a player's scholarship simply because he has found a better "fit" for his program. Sometimes players and programs end up not being the right fit for each other. Hopefully in that situation a coach with do all that he can to help said player find a better situation. Parents and players have to remember that there are many expectations of college coaches, and they are often under a great deal of pressure to produce and to win. It is our responsibility as coaches to what is right for our programs and players. Sometimes that means working with a player to find them another program. Players want to compete, be "in the game," and have a good experience. Coaches are expected to compete, win, and produce. Sometimes these changes are necessary.
In the past, an athletic scholarship has been a year to year renewable contract between the university and student-athlete. Just recently however, the NCAA passed new legislation that says a student-athlete can be signed to a four-year scholarship. Again, "can be." This is a situation that is up to the universities themselves and can even be decided on a case-by-case basis. There are benefits and drawbacks as with any "contract." Be sure to ask the coaches recruiting you how their universities handle NLIs.
On average, what is the players' (or parents') cost per year?
Universities have different ways of distributing scholarships. Some give a flat percentage towards the total cost or Grant in Aid (GIA). Others may give percentages towards each separate expense; 40% of tuition 20% room/board and full books. Others may award full tuition but room/board and books are up to the family. Therefore, the cost that a player/family will have to pay is going to be different in every situation. It is all but impossible to answer as a whole and will be a case-by-case situation. The factor here will be the cost of the university in relation to the amount of all scholarship money offered to a player, athletic aid, merit funds, in-state grants, etc.
The cost of books is a variable expense and can go up or down from one semester to the next based on types classes and class load. The cost of room and board is also a factor and can be a variable or fixed expense. Is the player living in a dorm on campus with a meal plan or is he living off campus in an apartment with four other guys who all share rent, utilities, and food bills? What is the total cost for one year versus the percentage of scholarship? One player may have a 50% scholarship offer at a university that is only $10,000 per year. Another may have a 70% offer from a school that is $50,000 per year. The second player has a larger scholarship but is still paying more out of pocket.
The financial end of recruiting and awarding scholarships is far from an exact science. I do not believe that coaches are out to cheat players and families. Coaches have to budget and plan how to distribute their funds just as a family has to plan with a monthly budget. In each situation, unexpected expenses come up. Each player and family need to ask tough questions to each coach they talk to during the recruiting process - because every coach will have a different answer based on his or her given situation at that particular time.
About Wilson
Wilson Tennis is proud to sponsor the Recruiting 101 series of articles at TennisRecruiting.net.
Connect with Wilson on Facebook, Twitter, Instagram, and YouTube - or on their website.
Leave a Comment
More Recruiting 101 Articles
8-Nov-2016
Fall Signing Week '16 : I Didn't Sign an NLI - Now What?
So you did not get the spot or the scholarship you had been hoping for; maybe you turned down offers to wait for something else or you may have found yourself not receiving any scholarship offers this time around. I know this can feel quite disconcerting, and you may feel like all is lost. I am here to tell you all is not lost, and that it is all going to work out just fine for you.
7-Nov-2016
Fall Signing Week '16: What the FAFSA Changes Mean for Recruiting
In a rare move, deadlines changes been made to the Free Application for Federal Student Aid, better known as FAFSA. These modifications have an impact on money available for financial scholarships, which can also change timing in the recruiting process. Recruiting expert Marcia Frost breaks down the changes ...
3-Nov-2016
Countdown: Drawing Attention from College Coaches
Dear Coach - My name is David Mullins and I started playing tennis at the age of 10. It all started when my father took me to a local park and threw some tennis balls to me. Since then ... blah, blah, blah, blah ... I cannot tell you how many times I received letters like this from players - telling me their entire tennis and life histories. I am here to tell you that college coaches do not care about any of this, well, at least not initially.
About Paul Thomson
Paul Thomson has spent over 20 years in tennis, with ten years experience in college tennis coaching - the past eight of which have been spent as head coach. He was the 2008-09 SAC Women's College Coach of the year. Thomson, certified through the PTR, has experience as a tour and high school coach and club/academy instructor. He has also worked in grass roots tennis community tennis development. Thomson is currently doing freelance writing and working on his first book.