Recruiting 101
Why Division II?
by Peter Green, 24 September 2013
Many people think of NCAA Division II athletics as a stepping stone that schools take when they want become Division I programs, but Division II is much more than that.
First of all, what are the requirements for a school to be D-II? They have to support a minimum of 10 sports, including at least four men's programs and at least five women's programs. Students must take 16 core courses - it was 14 core course until this year - and maintain at least a 2.0 GPA. [1]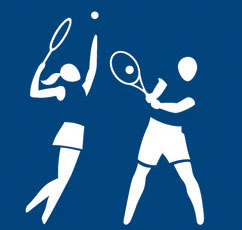 For years, colleges and universities in Division II were defined by what they were not. They were not Division I - with its outsized athletic budgets and national news media attention. They were not Division III - with its reputation for rigorous academics and a ban on athletic scholarships.
"We didn't know who we were," said Chuck Ambrose, the president of Pfeiffer University in North Carolina and a former chairman of the Division II Presidents Council. "We didn't know where we were headed. We suffered from a middle-child syndrome." [2]
The Division II emphasis is on balance, with the objective of providing student-athletes a comprehensive program of learning and development. Student-athletes are encouraged to achieve excellence in their sport, in the classroom and in their community. [3]
Very few of the 100,000 NCAA student-athletes competing at the 300 Division II schools in the United States and Canada receive a full athletics grant that covers all of their expenses, but most of them will receive some financial aid to help them through school. [3]
Academic Philosophy
Division II's philosophy calls for a comprehensive program of learning and development in a personal setting. Division II provides growth opportunities through academic achievement, learning in high-level athletics competition and development of societal attitudes in service to community. The balance and integration of these different areas of learning opportunity provide Division II student-athletes with a path to graduation while also cultivating a variety of skills and knowledge for life ahead. [4]
Division II athletics are based on the following attributes: learning, service, passion, resourcefulness, and balance. Guiding principles include:
Promoting the academic success of its student-athletes, measured in part by an institution's student-athletes graduating at least at the same rate as the institution's student body. This past year, Division II student-athletes on average graduated at a 7 percent higher rate than the total student population at Division II schools.
Participating in intercollegiate athletics benefits the educational experience of its student-athletes and the entire campus community.
Preparing student-athletes to be good citizens, leaders and contributors in their communities.
In the Tennis Coaches' Own Words - Selected Quotes

Chad Berryhill - Ferris State University
Playing D-II is a great option because it still provides tough competition but gives players who may not make a line-up in D1 an opportunity to play. I also think it is a great option because you can find a program that competes for conference championships every year and NCAA berths.

Mark Dolan - Le Moyne College
I have coached at all three levels. The Division II philosophy seems to be geared towards academics being first and foremost and yet we still have many of the same tools Division 1 possess.. In a way, the Division II mentality takes the best of the D-I and D-III and melds them together. For the potential student athlete that has made the decision that academics is first, Division II gives them the level of competition they desire and can be comfortable knowing that their academics will not be overly strained by their commitment to tennis.

Brett Karpman - Queens University of Charlotte
Division II tennis represents an unbelievable balance of education and athletics, while being able to offer incredible financial packages combining academic and athletic monies. I believe the slightly shorter playing season and reduced travel allow student to thrive in the classroom being able to foster stronger relationships with professors which translates into internships and jobs. The level of Division II is improving by the year and features an extremely large percentage of international players. Many programs choose to travel together (men's and women's squads) which adds to team spirit/pride and overall enjoyment

Carolina Mayorga-Perry - Rockhurst University
I think D-II offers a better balance of academics, athletics and the social aspects of a well rounded college experience. You can play tennis at a very high level and improve your game as well as do everything else a non-athlete student can do.

Matt Santen - University of Charleston
I enjoy coaching at the D-II level because I am able to give student-athletes an opportunity to go to a quality school that they might not otherwise have been able to afford. We don't give players "full-rides" but what I am able to do is put together a package of athletic money, academic money and need based money that makes a college education affordable. Players on my team are not going on the pro tour, but they are getting a great education that will equip them to be an accountant or a teacher or be pharmacist or start a business or go to graduate school.

Albert Stroble - Chestnut Hill College
I believe Division II provides a prospective student-athlete with the perfect blend of academic rigor and tennis competition. Division II schools enable serious tennis players to excel at high level of tennis as well as attaining a quality education in the classroom.
Many students who do not consider Division II schools probably should consider them. Hopefully this article will give some of them a better understanding of Dvision II tennis.
Notes
[1] About.com - What does NCAA Division I, II or III mean?
[2] Katie Thomas (NY Times) - Balancing Act May Help Division II Define Itself
[3] NCAA Division 2 Web Page - About Division II
[4] Barry University Web Page - Inside Athletics - About Division II
About Wilson
Wilson Tennis is proud to sponsor the Recruiting 101 series of articles at TennisRecruiting.net.
Connect with Wilson on Facebook, Twitter, Instagram, and YouTube - or on their website.
Leave a Comment
More Recruiting 101 Articles
26-Jun-2017
Everything is Amazing and No One is Happy
Everything is amazing and no one is happy. I find it troubling that a high percentage of collegiate tennis players are quite unhappy with their student-athlete experiences. They have been told that their college days will be the best days of their lives, but they fail to understand that they can only be the best days of their lives if they are willing to go through some adversity.
1-May-2017
The Relevance of College Rankings
Last month I asked if the coach matters when deciding where to take your tennis talents. This month I am turning my attention to college rankings - and asking if they should hold any relevance when making a final college decision.
13-Apr-2017
Spring Signing Week '17: Realistic Expectations When Choosing a College
You might not remember that first time you hit a perfect tennis shot, but your parents probably do. They were thinking about whether you would be a tennis star - or, at least, whether there was a college scholarship in your future. By now you may be more realistic about your chances of going straight to the pros, but it is important to also keep your expectations realistic when it comes to where you are going to play college tennis.
About Peter Green
Peter has taught tennis in the Albany, New York area for more than 15 years and is currently employed at
Sportime - Schenectady
. He is also an Assistant Coach at Sage College. He has coached for the
Eastern Section
at National Zone Team Championships for most of those years. His work with junior players includes anything from 5-year-old beginners to nationally-ranked juniors as well as working with adult players. Peter is a regular contributor to the
Times Union (Albany) Tennis Blog
.