Commentary
My Take on College Tennis
by Marc Lucero, 25 September 2013
Special from
RAMP Tennis
I want to start this piece by making one thing very clear so that there is no doubt about where I stand: I love college tennis. I have had a great experience as a player, coach, and now as a fan. I loved being the last player on court at 3-3 in a dual match and heading into a 3rd set breaker. I have seen some epic matches in the last couple years in person, maybe the most memorable being Stanford vs Virginia men at Stanford two years ago. I've sat in front of my laptop watching live scores change for women's tennis matches. All of this being said, I think we need to be open to a change in the format in order to preserve the future of the sport in the changing landscape of college athletics.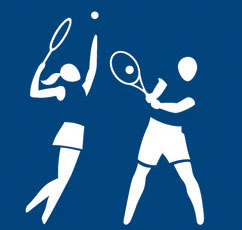 Conferences are being consolidated and have larger geographic footprints. This makes travel more intensive and expensive. More dollars are at stake in the big sports (football and basketball) and as a result more dollars are being invested in them. Women's tennis is pretty safe because of the need for Title IX compliance. Men's tennis worries me. It is a small team, not many scholarships, and generally not many fans. Yes there are some programs that engage the community and have support. But these are the outliers.
Lets take a look at soccer. Soccer has gone from being a niche sport to a mainstream sport. College soccer is on ESPN's family of networks. Evening college soccer games on weekends get nice family crowds and tons of kids running around in their soccer club sweatshirts wanting to be the players on the field someday. Why can't this be tennis? Especially if Ten And Under Tennis helps get this wave of new players- they will need somewhere to go and watch some good tennis close to home. What gets kids engaged and what do parents look for? Activities that are fun (let the product speak for itself but make it exciting), inexpensive, and not too long of a time commitment.
College tennis matches are pretty long, especially when two evenly matched teams square off. Doubles pro-sets can take over an hour. Add a 10 minute intermission and then singles matches that will easily take two hours, three if there are some good three setters. So its easy for a match to push four hours. For someone not participating in the match, this is a pretty long time. I have a very hard time watching a full match these days. I will either watch doubles and leave after a set of singles, or arrive for the end of doubles and watch the singles. But to sit through a whole regular season match is hard work. And I watch a lot of tennis.
One of the biggest problems I see with college tennis is that the doubles point can be so exciting. Why is this a problem? Because there is so much energy, so much passion, and so much drama while its being settled and then a team goes up 1-0 and then NOTHING for ten minutes. Then singles begins and everything starts over and things don't get exciting for another hour. When I watch a match I actually get tired watching the singles warmups and the first couple service games.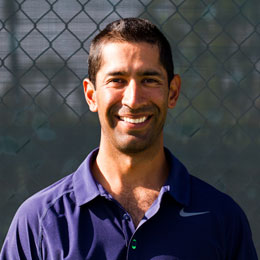 Lucero believes that improvements are possible - and perhaps necessary - for college tennis
courtesy,
RAMP Tennis
Am I for short sets? No. Am I for match tie-breaks in lieu of third sets in singles? HELL no. The integrity of the scoring format is important and should remain, especially in singles. Best of three tiebreak sets. Period. If college is going to be a pathway to professional tennis, this needs to stay as is. Almost all scoring formats in the other sports are the same in the college and pro levels. Four downs to make ten yards, touchdowns are six points. Baskets are two points, three from way downtown. Three outs per inning, three strikes make an out, one run if you hit the ball over the fence. Are there minor rule differences in all these sports from college to pro? Yes, but they do not affect the integrity of the scoring and how winners and losers are determined. Same as tennis. Doubles is slightly different but the essence is the same.
I would love to see some format where singles and doubles are played simultaneously. Most stadiums and facilities are six courts so for this to be done it would have to be some combination of singles and doubles that makes sense, maybe three singles and three doubles or four singles and two doubles or five singles and one doubles. In these formats you have a minimum of seven players playing to a maximum of nine players playing. A lot of teams have one doubles specialist playing in the current format, maximum two. So there are the same number of players in a match or possibly more under this format. But back to the point of timing. This way you have doubles pro-sets ending about 60-75 minutes into the match, with the first points going on the board and things getting exciting. You could even have doubles play two full sets (no-ad) with a match tiebreak, just like the pros. But I like the pro-set since it puts points on the board right before singles starts to wind down. At this point, first sets should be done in the singles and the momentum can continue because singles is quickly getting into crunch time. There is no buzzkill. The excitement generated by doubles can keep building. And a match will end in a timely manner. We can get creative and figure out how to break a tie, maybe weigh the doubles more, maybe doubles is worth two points since there are two players. But this basic structure, six courts playing simultaneously, I think is a great one.
Obviously the problem is that players cannot play both singles and doubles in the same dual match. From a developmental point of view this is a major issue as the transition and front court skills learned and practiced in doubles really make a difference in the singles games of a lot of college players, particularly recent players that have moved on to professional tennis. These skill sets have also been very beneficial to college players that have had success in doubles at the pro level. But the argument can be made with doubles still a significant part of the dual match and still a component of the fall season, there will still be an emphasis on doubles in practice. There is also the fun factor for the players. A lot of players like to play not just singles but doubles too. I don't know if this is a stretch to compare it to pitchers that want to hit too but get Designated Hitter'd for instead? Or wide receivers that want to play defensive back also? Yes it is fun to go up and swing the bat. Or try to get an interception. At lower levels you can do both. Invariably, as you reach higher levels, you are forced to focus on what you do best, and can only do one.
Do we shorten the dual matches with the goal of getting matches on TV? No. Getting on TV is a nice thing and would be a great infusion of money. Networks need content and new networks keep popping up. Having some positive cash flow (anything really) from media rights would help team budgets and help legitimize the sport when Athletic Directors look at their departments. But in reality college tennis's format doesn't lend itself to traditional television. Six different courts are too hard to follow on one channel. You either need a DirecTV-type set up where you have seven different channels showing different courts, which is not going to happen, or you need to watch online where you can keep an eye on the scoreboard and jump from court to court at your convenience. I think if the profile of college tennis continues to rise, it will get on television, it just seems to be the natural evolution that schools can leverage conference expansion, the television/broadcast contracts that get renegotiated with them, and network expansion to get more and more sports televised.
It is imperative that college tennis engages the community and is relevant in the communities. Providing a product that is fun and exciting, and appeals to die-hards, club players, and just regular sports fans is the challenge that we face and must embrace. More sports and teams will be cut, that is clear. We do not want tennis to go the way a lot of sports supported only by die-hards (wrestling, etc) have gone.
I could probably keep going here and fill a book. But I will spare you. We need to be proactive and think about how college tennis can evolve to survive and thrive in the changing landscape of society and college athletics while preserving the integrity of the game.
Leave a Comment
More Special Features
22-Dec-2014
Halbauer Makes the Most of Opportunity in Macon
17-year old Ellie Halbauer discovered something about her game at the USTA Pro Circuit's 50K, Tennis Classic of Macon event in October, and it is something that all young tennis players would do well to remember - sometimes it's easier to play when you are down.
15-Dec-2014
DTS College Exposure Series
The 2015 DTS College Exposure Series kicks off with the 10th Annual DTS Southern California Showcase January 3rd & 4th at the Claremont Colleges in Claremont, CA. Other lefs in the series will be held next summer in New Haven and Boston. Events in the series are the longest running of their kind - boasting an impressive list of college coaches. These college exposure events prove to be an invaluable resource for both student-athletes and college coaches.
10-Dec-2014
Minor Leagues of Tennis a Proving Ground for Officials as Well as Players
Known mainly for his booming voice over a Stadium Court microphone and his laid back demeanor, chair umpire Jake Garner is the face of tennis officiating here in the United States. But in October, Garner took a break from his regular duties to head to Macon, Ga., to observe and scout officials at a 50K women's pro event - which is good news for tennis players of all levels...
About Marc Lucero
Marc Lucero is one of the founders of
RAMP Tennis
based in Carson, Calif.
Lucero is a former USTA Coach, working for USTA Player Development for four years. While with the USTA he was responsible for all aspects of the development of his assigned players. This included formulating developmental plans, planning/conducting daily practices, tournament scheduling, and coordinating fitness with the strength and conditioning staff. Lucero has coached Nicole Gibbs since 2010, and in 2012 Gibbs won the NCAA singles title and the Denver 50k Pro Circuit event, her first professional singles title at that level.
While with the USTA, Coach Lucero spent time assisting with many young pros, among them Sam Querrey and Ryan Harrison. He also traveled extensively to Regional Training Centers around the country, evaluating young players (ages 7-12), conducting regional camps, and teaching the USTA philosophy to parents and coaches. Prior to the USTA, Lucero was a traveling coach on the women's tour. Before that, he spent three years as the women's Assistant Coach at Princeton University.
He is USPTR certified and also holds USTA High Performance Coaching Education and USTA Sports Science certifications. Coach Lucero played Division I tennis at Boston College and graduated from the Carroll School of Management Honors Program with a degree in Economics.