Ask the Experts
Talking with UCLA's Robin Anderson
by
Harry Cicma
, 17 November 2013
Follow Harry on
Twitter
NBC's Harry Cicma was one of the announcers at the USTA/ITA Indoor Intercollegiate Championships last week in New York.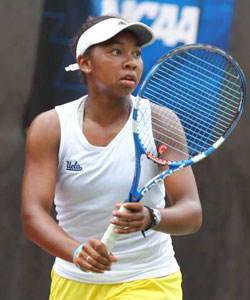 While at the event, Cicma got the chance to spend time with defending champion Robin Anderson of
UCLA
. Anderson, who is from Matawan, New Jersey, enjoyed her homecoming to the New York area, and she pushed her win streak at the Indoors to nine matches in reaching the final. However, Anderson dropped the championship match by a score of 6-3, 6-2 to Jamie Loeb, the freshman phenom from
North Carolina
.
Check out what the UCLA junior had to say...
Questions and Answers
Harry Cicma (HC): You had a great run at the ITA National Indoor Championships. How does this help your confidence going into the spring season?
Robin Anderson (RA): I played much better this year than I did last year and I'm excited for the season and as long as I keep improving I think I have a good chance to do well this season.
HC: What was it like competing at Flushing Meadows, as a New Jersey Native?
RA: It's pretty awesome to come home. I played the juniors here, I have played qualies of the women's tour here, and I have played college tennis here.
HC: Growing up in the Eastern Section, how did the NYC and NJ competition prepare you for top Division I college tennis?
RA: Toward the end of my junior career I didn't play many Eastern tournaments, but growing up here was Christina McHale and other girls from the section who were pretty good. So the competition growing up was pretty helpful and made me better.
HC: What are your goals for the upcoming spring season with UCLA?
RA: I want to try to do the best I can and keep improving. Hopefully, by the time I get to the NCAAs, I can help my team win the team NCAA - and I will try to win the individual NCAAs.
HC: What advice would you give a young player looking to play high-level college tennis?
RA: I would say just to keep working hard. Hard work pays off, and you shouldn't ever get discouraged. If tennis is something you really want to do, then just keep going for it.
Leave a Comment
More College Coverage
3-Dec-2014
Considering NCAA Division III Tennis
At Tennis Recruiting, one of our early New Year's resolutions is to provide more and better coverage of Division III tennis. Toward that end, we sought out the best - and today is the first feature article from our friends at Division3Tennis.com. Check out this introductory article - which provides some advice on how to approach the recruiting process with a focus on D-III schools...
19-Sep-2014
First American Collegiate Invitational Popular Addition to US Open
Any tournament with a prize that could include a US Open main draw wild card will draw the top college players regardless of its venue. Put that event at the USTA Billie Jean King National Tennis Center during the second week of the US Open and interest surges, as it did for the inaugural American Collegiate Invitational earlier this month.
22-Aug-2014
Musings on Proposed ITA/NCAA Division I Format Changes
The ITA recently announced a number of changes to NCAA Division I competition starting this fall. The most notable changes are a move to "no-ad" rather than traditional scoring and shortening doubles from an eight-game pro set to one standard six-game set. These changes have been met with strong feelings on both sides, and there are many coaches and players on both sides of this debate. This article offers our thoughts - in the context of many other articles on the issue.
About Harry Cicma
When it comes to college tennis, Harry Cicma is your man. Cicma covers tennis and other athletic stories for
NBC Sports
, writing articles and producing video segments.
He is co-founder and host of World Tennis a weekly tennis show on NESN, and host of of Tennis Live Radio's College Corner.
Cicma competed as a junior in USTA/New England and went on to play college tennis at Rutgers University. As a professional, Cicma competed at the ATP Newport tournament and the San Jose Siebel Open. He reached a career-high #75 in the ATP doubles team rankings and #1262 in the ATP Entry System.
In media, Cicma has run the gamut. He has worked for NBC, CBS, ABC, ESPN, FOX Sports Net, the Tennis Channel, and World Team Tennis. Cicma has announced NCAA sports as well as the US Open Tennis Championships on both TV and radio.