Ask the Experts
Talking with UCLA's Robin Anderson
by
Harry Cicma
, 17 November 2013
Follow Harry on
Twitter
NBC's Harry Cicma was one of the announcers at the USTA/ITA Indoor Intercollegiate Championships last week in New York.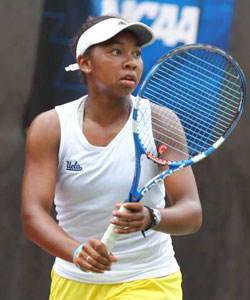 While at the event, Cicma got the chance to spend time with defending champion Robin Anderson of
UCLA
. Anderson, who is from Matawan, New Jersey, enjoyed her homecoming to the New York area, and she pushed her win streak at the Indoors to nine matches in reaching the final. However, Anderson dropped the championship match by a score of 6-3, 6-2 to Jamie Loeb, the freshman phenom from
North Carolina
.
Check out what the UCLA junior had to say...
Questions and Answers
Harry Cicma (HC): You had a great run at the ITA National Indoor Championships. How does this help your confidence going into the spring season?
Robin Anderson (RA): I played much better this year than I did last year and I'm excited for the season and as long as I keep improving I think I have a good chance to do well this season.
HC: What was it like competing at Flushing Meadows, as a New Jersey Native?
RA: It's pretty awesome to come home. I played the juniors here, I have played qualies of the women's tour here, and I have played college tennis here.
HC: Growing up in the Eastern Section, how did the NYC and NJ competition prepare you for top Division I college tennis?
RA: Toward the end of my junior career I didn't play many Eastern tournaments, but growing up here was Christina McHale and other girls from the section who were pretty good. So the competition growing up was pretty helpful and made me better.
HC: What are your goals for the upcoming spring season with UCLA?
RA: I want to try to do the best I can and keep improving. Hopefully, by the time I get to the NCAAs, I can help my team win the team NCAA - and I will try to win the individual NCAAs.
HC: What advice would you give a young player looking to play high-level college tennis?
RA: I would say just to keep working hard. Hard work pays off, and you shouldn't ever get discouraged. If tennis is something you really want to do, then just keep going for it.
Leave a Comment
More College Coverage
18-Jan-2017
Talking with Hawaii Pacific's Lauren Conching
For the past ten seasons, the Hawaii Pacific Sharks have advanced to the NCAA Division II National Championships - the past five with Head Coach Lauren Conching at the helm. Conching, the ITA/Wilson Tennis National Coach of the Year in 2013, has led the program to three Final Four appearances in her five seasons. Harry Cicma of NBC Sports had the chance to talk with Conching about her experiences coaching college tennis.
18-Nov-2016
Quick Restart: Bradley Klahn Returns to ATP Tour
During his 21 months away from the game because of injury, 2010 NCAA singles champion Bradley Klahn was forced to consider a career that did not include tennis. But the thought of walking away proved more painful than undertaking a long rehabilitation - and this week Klahn saw that determination rewarded at an ATP Challenger. Colette Lewis of ZooTennis.com spoke with the Californian about his return to competition, his mindset, and a myriad of other topics.
28-Oct-2016
Countdown: Q&A with WFU Coach Tony Bresky
Tony Bresky wasn't anticipating a career in tennis, but that's how things have worked out for the Wake Forest head coach, now in his sixth year. After assistant and associate head coaching stints at Indiana State and Virginia, Bresky has brought the Demon Deacons to new heights in men's tennis. Colette Lewis of ZooTennis.com caught up with Bresky in Tulsa at the ITA All-American Championships - where the two discussed many tennis topics.
About Harry Cicma
When it comes to college tennis, Harry Cicma is your man. Cicma covers tennis and other athletic stories for
NBC Sports
, writing articles and producing video segments.
He is co-founder and host of World Tennis a weekly tennis show on NESN, and host of of Tennis Live Radio's College Corner.
Cicma competed as a junior in USTA/New England and went on to play college tennis at Rutgers University. As a professional, Cicma competed at the ATP Newport tournament and the San Jose Siebel Open. He reached a career-high #75 in the ATP doubles team rankings and #1262 in the ATP Entry System.
In media, Cicma has run the gamut. He has worked for NBC, CBS, ABC, ESPN, FOX Sports Net, the Tennis Channel, and World Team Tennis. Cicma has announced NCAA sports as well as the US Open Tennis Championships on both TV and radio.