Ask the Experts
Talking with UCLA's Robin Anderson
by
Harry Cicma
, 17 November 2013
Follow Harry on
Twitter
NBC's Harry Cicma was one of the announcers at the USTA/ITA Indoor Intercollegiate Championships last week in New York.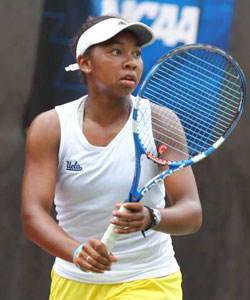 While at the event, Cicma got the chance to spend time with defending champion Robin Anderson of
UCLA
. Anderson, who is from Matawan, New Jersey, enjoyed her homecoming to the New York area, and she pushed her win streak at the Indoors to nine matches in reaching the final. However, Anderson dropped the championship match by a score of 6-3, 6-2 to Jamie Loeb, the freshman phenom from
North Carolina
.
Check out what the UCLA junior had to say...
Questions and Answers
Harry Cicma (HC): You had a great run at the ITA National Indoor Championships. How does this help your confidence going into the spring season?
Robin Anderson (RA): I played much better this year than I did last year and I'm excited for the season and as long as I keep improving I think I have a good chance to do well this season.
HC: What was it like competing at Flushing Meadows, as a New Jersey Native?
RA: It's pretty awesome to come home. I played the juniors here, I have played qualies of the women's tour here, and I have played college tennis here.
HC: Growing up in the Eastern Section, how did the NYC and NJ competition prepare you for top Division I college tennis?
RA: Toward the end of my junior career I didn't play many Eastern tournaments, but growing up here was Christina McHale and other girls from the section who were pretty good. So the competition growing up was pretty helpful and made me better.
HC: What are your goals for the upcoming spring season with UCLA?
RA: I want to try to do the best I can and keep improving. Hopefully, by the time I get to the NCAAs, I can help my team win the team NCAA - and I will try to win the individual NCAAs.
HC: What advice would you give a young player looking to play high-level college tennis?
RA: I would say just to keep working hard. Hard work pays off, and you shouldn't ever get discouraged. If tennis is something you really want to do, then just keep going for it.
Leave a Comment
More College Coverage
22-May-2015
Vanderbilt Women and Virginia Men Claim NCAA Team Titles
The Vanderbilt women had reached the NCAA Division I Team Championships only once before in the program's history, while the Virginia men had been to the championship match four of the previous five years. Yet the disparity in experience made no difference in the outcomes, with No. 4 seed Vanderbilt defeating defending champion UCLA 4-2 and No. 3 seed Virginia taking down top seed Oklahoma 4-1 at the Hurd Tennis Center at Baylor University.
13-May-2015
Previewing the NCAA Division III Championships
Hey there, avid tennis fans! It's been a couple of weeks, but I am back to write another one of our guest articles for the site as we head into the biggest time of the year. While the D-I Championships has gotten a lot of love, there has been a ton of excitement in D-III Tennis as well as we head into the Elite Eight. I'm going to give you some quick previews of the 16 teams that will be competing - eight on the men's side and eight on the women's. Let's get started!
12-May-2015
Illini Hold Off Drake for Sweet Sixteen Berth
It was two days filled with rain delays and later than expected matches. Fortunately, the heavy storms stayed away from the University of Illinois as the Illini men squeaked by Drake to once again head to the Round of 16 at the NCAA Division I Team Championships. It will be their eighth trip in the last 10 years.
About Harry Cicma
When it comes to college tennis, Harry Cicma is your man. Cicma covers tennis and other athletic stories for
NBC Sports
, writing articles and producing video segments.
He is co-founder and host of World Tennis a weekly tennis show on NESN, and host of of Tennis Live Radio's College Corner.
Cicma competed as a junior in USTA/New England and went on to play college tennis at Rutgers University. As a professional, Cicma competed at the ATP Newport tournament and the San Jose Siebel Open. He reached a career-high #75 in the ATP doubles team rankings and #1262 in the ATP Entry System.
In media, Cicma has run the gamut. He has worked for NBC, CBS, ABC, ESPN, FOX Sports Net, the Tennis Channel, and World Team Tennis. Cicma has announced NCAA sports as well as the US Open Tennis Championships on both TV and radio.