Championship Week
Khan Twins Dominate Boys 12s in Little Rock
by
Ali Jones
, 12 August 2014
They may not yet be the most famous twins in tennis - they're only 12 years old after all - but Zane and Faris Khan certainly are making their presence known in the junior tennis circuit. So far, the blue chip brothers have altogether won four gold USTA balls, three silver and four bronze.
Three weeks ago in Winston-Salem, Zane beat his younger brother for the Clay Courts gold as well.
Twins playing against each other in the finals of a Level 1 tournament is unprecedented, so the Khans have already made history. Repeating the feat three weeks later on a different surface makes them even more exceptional.
"I'm happy," said Coach Shariq Khan, who is also the boys' uncle. "What else can I ask for? I basically tell them that we did what we needed to do at this tournament and that you guys battle it out and have fun. It doesn't matter from now on whoever wins or loses. To get to the finals is not an easy task."
Coach Khan, who played for the University of Texas San Antonio, had to set aside his own tennis aspirations to guide his nephews in their development as elite junior players. The twins will continue to train with him as well as at the USTA Training Center in Boca Raton, Florida.
"There's a lot of pressure playing against each other," Coach Khan said. "That's why the match at the Clays was pretty ugly. The quality of the match was probably the worst they'd played against each other just because they're very competitive. They both want to win."
In Little Rock, the finalists seemed more relaxed.
"I felt that both boys did a pretty good job of keeping their emotions in check," Tournament Director Cindy Curtis said. "I know that for them to play each other in the finals of a national championship is a tough situation, but they appeared to rise to the occasion."
Rain forced the finals indoors, which gave 6th seed Faris a slight advantage.
"Both started off pretty close," Coach Khan said. "At 5-all in the first set they had a pretty close game, and then Zane took the set."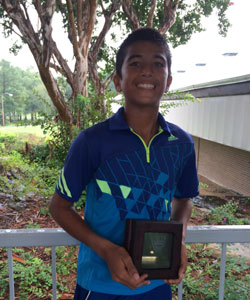 Zane Khan
won this round - and the Boys' 12 Title
courtesy, Boys' 12 Nationals
Faris regrouped for the second set. Now fully healed from the quad injury he suffered a few months back, Faris was his old self, running down balls and showing off an arsenal of shots as he took the pivotal ninth game of the second set.
"Again it was close till 4-all," Coach Khan said. "Faris played a good game, went up 5-4 and finished it out 6-4."
Traditionally, the 10-minute break between the second and third sets is spent in consultation with the player's coach. Not in this case.
"I just let them be," Coach Khan said. "I let them figure it out. As they get older they're not going to have too many breaks in between, so it's good for them to figure it out themselves."
Third seeded Zane came out roaring in the final set.
"I just started playing my game, playing more offensive," he said. "I lost the second set because I was playing too defensive."
Up 5-2 and love-forty on his brother's serve, Zane hit a screaming forehand down the line on a second serve. That was all he needed to win the match.
"It's always weird playing my brother," Zane said. "He knows all my strengths and knows all my weaknesses."
Does he take it easy on his brother?
"Not really," he said. "I like to win."
"I compete really well," he explained. "I never give up a point. This week I wasn't sure that I was going to win because I wasn't playing too well. But I found a way to win it all the way. I just always fight my hardest and never give up."
En route to the finals, he beat 2nd seed Jeremie Casabon 6-1, 6-3, and 8th seed Justin Boulais 2-6, 6-1, 6-2.
With this championship, Zane set a personal best in the 12s division, extending a winning streak in singles to 24-1. His only loss was in the round of 32 at the Winter Nats to Spencer Brachman. He has won three of the last four tournaments he's played.
Faris is disappointed in his singles defeat, but acknowledges that he fought well.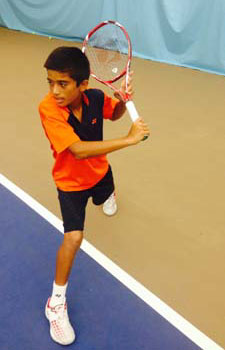 "I could have played smarter, maybe played more consistent," he said. "He just hit too many winners and I missed."
But he also pointed out a happy outcome.
"He won the gold in singles, I won the gold in doubles," Faris said. "It worked out good."
Faris and Zane usually play doubles together, but for this tournament Faris begged off, so Zane signed up with Nicholas Garcia. Faris changed his mind upon arrival in Little Rock and signed up with Benjamin Kittay.
Faris and Kittay won their matches in straight sets until the semis, when they beat the top seeds Justin Boulais and Spencer Whitaker in three, 1-6, 6-4, 6-2.
That victory set up a meeting in the finals against Zane and Garcia, and their dream run continued, winning the championship 6-2, 4-6, 6-3.
In the doubles playoffs, top seed Boulais and Whitaker took the bronze ball over third seeds Aidan Mayo and Billy Suarez, 6-4, 6-1.
In the singles playoffs, 7th Spencer Brachman, who beat top seed Aidan Mayo in the quarters, also defeated 2nd seed Jeremie Casabon for third place 6-1, 6-1.
Nicholas Garcia beat Stefan Leustian for the Gold draw 6-1, 6-3.
Nathan Kwon was given the Sportsmanship Award.
Coverage Continues Tomorrow...
With the 12s in hand, tomorrow we move up to the 14s divisions. Rick Limpert and James Hill have all the action from Georgia and Texas, respectively. Make sure to check out all of the articles in our and Van Der Meer Tennis article series!
About Van Der Meer Tennis Academy
We are excited to have Van Der Meer Tennis Academy as the title sponsor of Championship Week at TennisRecruiting.net.
Van Der Meer Academy: Train Harder, Play Smarter...
Van Der Meer Tennis Academy is dedicated to providing personalized, performance-driven tennis instruction, along with rigorous fitness training and family-oriented housing, so that recruited players acquire the athletic and life skills to successfully pursue college scholarships and/or tennis careers as high-powered players and respectful global citizens.
Our elite Tennis Academy uses an integrated approach and commitment to on-court tennis training, physical training, mental toughness, nutrition, tennis tournament scheduling and injury prevention. On a daily basis, VDM coaches assist players in every facet of their development. A wide range of Tennis Academy programs are available. Our expert staff will lift your game with tactics, strategy, mental toughness and fitness.
Connect with Van Der Meer Tennis Academy on Facebook and YouTube - or on their website.
Leave a Comment
More Tournament Features
3-Jun-2015
Talking About the New Balance HS Tennis Championships
We chat with Evan Zeder, Sports Marketing Manager for Tennis at New Balance, about the 2015 edition of the New Balance High School Tennis Championship to be held at Harvard University in July.
5-May-2015
USA Qualifies for Finals of ITF Junior Team Championships
Representing your country at the International Tennis Federation's two world team championships is a highlight of any junior career. The cheers, the uniforms, the face painting and the pressure of team competition all were on display last weekend in Boca Raton, Florida, where the four teams from the US secured places in the 16-team world finals this summer and fall.
18-Apr-2015
Fritz, Liu Win ITF Championships at Easter Bowl
Fantastic weather and unlikely comebacks made the 2015 Asics Easter Bowl a tournament to remember last week, with the famous Indian Wells Tennis Garden hosting both the ITF Grade B1 competition and the later stages of the USTA 12s, 14s, and 16s championships.
About Ali Jones
Ali Jones has been a speechwriter, book editor, publicist and writer, most recently for
Muckety.com
. She has been a tennis enthusiast from an early age and has played recreationally on various surfaces, including crushed seashells in the Philippines and red clay in the Czech Republic and Mexico. When she's not travelling with her son to his tennis tournaments, Ali writes and enjoys historical research.