Special from
WAM Sports
For most junior tennis players, playing in college is the next goal. Your performance, behavior, and preparation both on and off the court in high school are getting you ready for college and college tennis. Here are five things to keep in mind as you think about the future...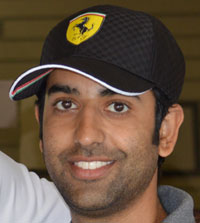 (1) The recruiting process has already started
Most people wonder when to start the recruiting process. Well, it has already started. You officially become a scholarship prospect to college coaches when you enter high school. However, each time you step onto a court, every time you play in a tournament, you are exposing yourself to potential opportunities to be recruited by colleges and universities. Word of mouth travels quickly. It is best to always behave and play like you are being watched.
(2) Recruiting starts with verified 3rd party information
It is very important to have your academic record, athletic talent, and standardized test scores verified by a qualified independent party to determine what your expectations should be. Navigating the path through the process can be overwhelming, as each school has different requirements. Having a comprehensive and cohesive evaluation makes the process of choosing a school much easier for the student, the parents and the individual school.
(3) College coaches evaluate prospects online
In this age of technology, college coaches are able to see results of tournaments with the click of a mouse. We encourage you to have an online presence - including a resume and profile - so that coaches can view your results and scout for talent.
Coaches are also able to view a student athlete's social media, which often includes photos and videos. This can either work for you or against you. Be very wary of posting inappropriate information or photos on the Internet. No coach or future employer wants to see players or employees in compromising situations. But do brag about accomplishments. Winning a tournament or acing a test is something to be proud of and share with the world.
(4) Be realistic, less than 1% of players get a D-I full ride scholarship
Be realistic but do not be discouraged. Most of us who play a sport want to be the best and win every tournament. How many of us can be Tiger Woods or Roger Federer? Even Tiger and Roger lose. There are great opportunities for student athletes at universities and colleges across the country at all levels. Keep an open mind to all available options.
(5) Don't blame your coach
It is your coach's job to be your coach. Although your coach is there to support your college recruiting process, he or she is not responsible to be your tutor, advisor, cheerleader, recruiter or advocate. It is your job to make the grades, study for tests, and reach out for college advice. If you cannot participate in a tournament because you have an exam or a term paper due, college coaches will not accept this excuse. College coaches demand that players manage both academics and athletics successfully. Time management is the key to success.
To learn more about evaluations and a Free Consultation, go to www.wamsports.com.
About Weil Tennis Academy
Weil Tennis Academy is proud to sponsor the Recruiting 101 series of articles at TennisRecruiting.net.
Weil Tennis Academy: Helping develop young champions - on and off the court.
Since 1997 in picturesque Ojai, Calif., the Weil Tennis Academy and College Preparatory School has placed 100% of its students into top NCAA universities and colleges like UCLA, Stanford, Duke, Brown, Yale, Pepperdine, Cornell, USC and many, many more, mostly on scholarship.
At Weil, our teachers and coaches, our players and their families are all focused first on college preparation and college placement. The goal for every one of our students is to gain admission, study and play college tennis at the most prestigious universities in America.
Our program here at Weil is founded on our belief in hard work and striving for excellence every day. Our players train hard and study hard to achieve great results.
Be a Winner; come to Weil, train with Champions and let us help make your dreams come true!
Contact Weil today and schedule your visit!
Leave a Comment
More Recruiting 101 Articles
4-Aug-2014
Changes in NCAA Contact Rules
With recent changes in NCAA recruiting contact rules, the summer has become an important time for families managing the tennis recruiting process. Check out changes that every tennis family and all prospective student athletes need to know...
28-Jul-2014
Transition from Junior to College Tennis
Over the last ten years, I have seen junior tennis player struggle with the transition into college tennis. Changes occur in your training, competition, team structure and academics. It has sometimes resulted in extreme cases where the student-athlete cannot handle the pressure and has to leave school indefinitely. Here are a few key changes you should be ready for - and advice on how to best prepare yourself for success.
16-Jul-2014
What Impact Did the Top 100 Girls from 2013 Have as Freshman?
Last week, Scholarship for Athletes investigated the impact the Top 100 Boys from the 2013 class had on their college teams as freshmen. This week, they cover the Top 100 Girls from the same recruiting class. The ladies performed a little bit better...