Special Announcement
Tennis Against Breast Cancer
by Marcia Frost, 31 October 2006
Special from
CollegeAndJuniorTennis.com
The 14th Annual Tennis Against Breast Cancer Tennis Challenge took place on Sunday, October 29th at Roosevelt Island Racquet Club in New York City. Davis Cup Captain Patrick McEnroe was on hand to kick off a fun day of tennis with participants and local top junior players Lindsay Clark and Laken & Carlissa King. Also on hand was Easter Bowl Founder and Tournament director Seena Hamilton.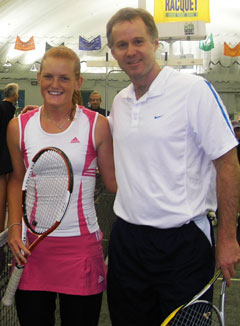 It was over a decade ago when Maureen Rankine began to put her heart and soul into Tennis Against Breast Cancer. She had no direct connection to the disease, but she had seen and heard enough to know that women needed help in early detection and early treatment of this disease. This summer, however, the illness hit home as Maureen's mother was struck with cancer. Without early detection available in Jamaica the diagnosis was terminal. It was a bittersweet tribute to the event when, just as the party was beginning on October 29th, the woman who had raised nine children (seven of them tennis players) lost her battle.
Donations are still coming in from the weekend events, as well as sales of TABC jewelry and clothing. Please visit the TennisABC Website to purchase products - or just make a donation to honor Beryl Rankine and all of those who have been touched by Breast Cancer.
Leave a Comment
More Special Features
19-May-2013
National Showcase Tournament Update
As we head into the back half of May, there are a number of upcoming tournaments in our National Showcase Series - two of which have entries closing in the next week. If you are looking for an opportunity to compete outside of your section - which will earn you credit towards a Tennis Recruiting ranking - consider a National Showcase Tournament.
9-May-2013
Ramp It Up - New Academy Opens in Southern California
The Home Depot Center in Carson, California, site of the USTA Training Center-West, has a new source of activity this spring with the opening of the RAMP Tennis Academy.
6-Feb-2013
Teah Flynn Organizes Groundbreaking Tennis Relay
For a 15 year old, Teah Flynn has done more community service than most adults, logging hundreds of volunteer hours raising funds for charities, walking dogs owned by disabled people, and producing PSAs. On February 9, Flynn, a two-star sophomore from Farmington, Arkansas, will host her most ambitious volunteer project so far - a Tennis Relay to raise money for genomic cancer research.
About Marcia Frost
Marcia Frost runs
College And Junior Tennis
and
Big Ten Tennis
. She writes regularly for Tennis Life Magazine and has contributed to many other publications. She is a college tennis advocate and helps organize the
USTA/Eastern College Tennis Showcase
, which she speaks at each year. Her first book,
American Doubles... the Trials... the Triumphs... the Domination
, was released in 2008 and she has recently published
Monthly Guides To College Tennis Planning for H.S. Juniors and Seniors
.