Special Announcement
Tennis Against Breast Cancer
by Marcia Frost, 31 October 2006
Special from
CollegeAndJuniorTennis.com
The 14th Annual Tennis Against Breast Cancer Tennis Challenge took place on Sunday, October 29th at Roosevelt Island Racquet Club in New York City. Davis Cup Captain Patrick McEnroe was on hand to kick off a fun day of tennis with participants and local top junior players Lindsay Clark and Laken & Carlissa King. Also on hand was Easter Bowl Founder and Tournament director Seena Hamilton.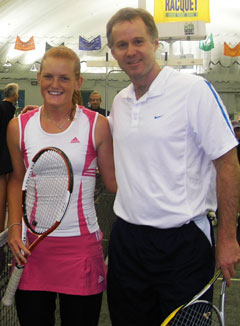 It was over a decade ago when Maureen Rankine began to put her heart and soul into Tennis Against Breast Cancer. She had no direct connection to the disease, but she had seen and heard enough to know that women needed help in early detection and early treatment of this disease. This summer, however, the illness hit home as Maureen's mother was struck with cancer. Without early detection available in Jamaica the diagnosis was terminal. It was a bittersweet tribute to the event when, just as the party was beginning on October 29th, the woman who had raised nine children (seven of them tennis players) lost her battle.
Donations are still coming in from the weekend events, as well as sales of TABC jewelry and clothing. Please visit the TennisABC Website to purchase products - or just make a donation to honor Beryl Rankine and all of those who have been touched by Breast Cancer.
Leave a Comment
More Special Features
24-Jan-2014
Eight Intriguing Questions for 2014
Tennis Recruiting enters its ninth year in 2014, and this January we feature the ninth straight edition of "Intriguing Questions" from columnist Colette Lewis. Lewis asks eight questions about junior and college tennis that should reveal their answers over the next twelve months.
20-Jan-2014
College Format Changes - The Vote of 21-19
The scoring system in tennis is one of its most sacred heirlooms. When the ITA (Intercollegiate Tennis Association) had its annual convention and coaches meeting in December, the hottest and the most pressing topic was the scoring system. Legendary tennis coach Chuck Kriese reviews highlights of the discussion - with his usual commentary.
13-Jan-2014
Previewing Inside College Tennis with Tony Minnis - Part II
A new television series - Inside College Tennis with Tony Minnis - premieres this week, Tuesday, January 14 at 9pm EST / 6pm PST on the Tennis Channel. And the entire tennis community should be very excited about the new program. We got the chance to talk with host and former LSU coach Tony Minnis about what we should expect to see...
About Marcia Frost
After years of running
College And Junior Tennis
and contributing to many other tennis publications, Marcia Frost is now freelancing full time. She writes regularly on tennis for Tennis Recruiting and
Stack
. Frost is also a college tennis advocate and has helped organize many college tennis showcases, where she acts as a featured speaker. She has written
Monthly Guides To College Tennis Planning for H.S. Juniors and Seniors
and is the author of
American Doubles... the Trials... the Triumphs... the Domination
.