Special Announcement
Tennis Against Breast Cancer
by Marcia Frost, 31 October 2006
Special from
CollegeAndJuniorTennis.com
The 14th Annual Tennis Against Breast Cancer Tennis Challenge took place on Sunday, October 29th at Roosevelt Island Racquet Club in New York City. Davis Cup Captain Patrick McEnroe was on hand to kick off a fun day of tennis with participants and local top junior players Lindsay Clark and Laken & Carlissa King. Also on hand was Easter Bowl Founder and Tournament director Seena Hamilton.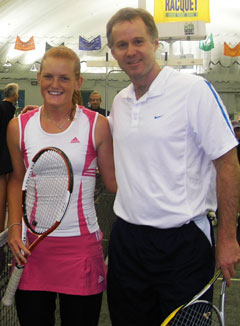 It was over a decade ago when Maureen Rankine began to put her heart and soul into Tennis Against Breast Cancer. She had no direct connection to the disease, but she had seen and heard enough to know that women needed help in early detection and early treatment of this disease. This summer, however, the illness hit home as Maureen's mother was struck with cancer. Without early detection available in Jamaica the diagnosis was terminal. It was a bittersweet tribute to the event when, just as the party was beginning on October 29th, the woman who had raised nine children (seven of them tennis players) lost her battle.
Donations are still coming in from the weekend events, as well as sales of TABC jewelry and clothing. Please visit the TennisABC Website to purchase products - or just make a donation to honor Beryl Rankine and all of those who have been touched by Breast Cancer.
Leave a Comment
More Special Features
15-Aug-2015
Revisiting the USTA Nationals Forecast
For the second time in as many national championship events, Tennis Recruiting put out heat maps forecasting last week's USTA National Championships. We put our rankings on the line - making predictions about how the tournaments would play out. It's time to take another look at those predictions to see how we did...
1-Aug-2015
Forecasting the USTA National Championships
We had so much fun with the Clay Courts that we decided to do it all again. The USTA National Championships start today all around the country, and Tennis Recruiting once again forecasts the tournament with its Heat Maps - showing predictings for every player in the draws. Let's take a look at the best players in American junior tennis...
25-Jul-2015
Analysis of Junior Ratings and Rankings
The Tennis Recruiting ranking system provides a predictive measure of junior tennis players. For the recent Clay Court Championships, our rankings correctly predicted 77.2% of the match results. So - is that a good number? This article compares the Tennis Recruiting ranking system with other junior tennis ranking and rating systems.
About Marcia Frost
After years of running
College And Junior Tennis
and contributing to many other tennis publications, Marcia Frost is now freelancing full time. She writes regularly on tennis for Tennis Recruiting and
Stack
. Frost is also a college tennis advocate and has helped organize many college tennis showcases, where she acts as a featured speaker. She has written
Monthly Guides To College Tennis Planning for H.S. Juniors and Seniors
and is the author of
American Doubles... the Trials... the Triumphs... the Domination
.