Special Announcement
Tennis Against Breast Cancer
by Marcia Frost, 31 October 2006
Special from
CollegeAndJuniorTennis.com
The 14th Annual Tennis Against Breast Cancer Tennis Challenge took place on Sunday, October 29th at Roosevelt Island Racquet Club in New York City. Davis Cup Captain Patrick McEnroe was on hand to kick off a fun day of tennis with participants and local top junior players Lindsay Clark and Laken & Carlissa King. Also on hand was Easter Bowl Founder and Tournament director Seena Hamilton.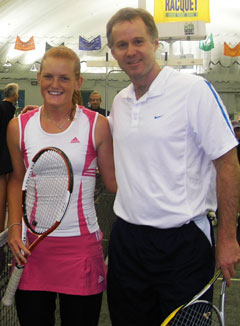 It was over a decade ago when Maureen Rankine began to put her heart and soul into Tennis Against Breast Cancer. She had no direct connection to the disease, but she had seen and heard enough to know that women needed help in early detection and early treatment of this disease. This summer, however, the illness hit home as Maureen's mother was struck with cancer. Without early detection available in Jamaica the diagnosis was terminal. It was a bittersweet tribute to the event when, just as the party was beginning on October 29th, the woman who had raised nine children (seven of them tennis players) lost her battle.
Donations are still coming in from the weekend events, as well as sales of TABC jewelry and clothing. Please visit the TennisABC Website to purchase products - or just make a donation to honor Beryl Rankine and all of those who have been touched by Breast Cancer.
Leave a Comment
More Special Features
7-Oct-2016
ImRecruitable College Showcase Events Nov 30 to Dec 1
ImRecruitable will host its 5th Annual College Tennis Showcase November 30th and December 1st 2016 at Patch Reef Park Tennis Center in Boca Raton, FL. This unique, one-of-a-kind event combines both on-court training with college coaches as well as showcase match play in front of observing coaches. This event allows players the opportunity to gain maximum exposure and networking with college coaches.
30-Sep-2016
What an Agent Does: Interview with Topnotch Management's Sam Duvall
Sam Duvall played high-level tennis as a junior outside of Louisville, Ky., and he played college tennis at Bates College. As a senior, Duvall had an internship at Octagon, a sports management firm. After several years at SFX, Duvall started his own firm, Topnotch Management. Colette Lewis of ZooTennis.com spoke with Duvall about many issues around sports management - and what advice he would give top juniors and their families.
28-Sep-2016
Rome Tennis Center Blends Economics and Education with Tennis
In Field of Dreams, a voice told Kevin Costner's character, "If you build it, he will come." Cities and municipalities have been doing this for sports like baseball, softball, soccer and lacrosse. Add tennis into the conversation, as word has reached the "powers that be" that a large, modern and sprawling tennis center can drive money into the local economy, bring awareness to all that a city offers, and offer unprecedented educational and recreational opportunities for residents.
About Marcia Frost
After years of running
College And Junior Tennis
and contributing to many other tennis publications, Marcia Frost is now freelancing full time. She writes regularly on tennis for Tennis Recruiting and
Stack
. Frost is also a college tennis advocate and has helped organize many college tennis showcases, where she acts as a featured speaker. She has written
Monthly Guides To College Tennis Planning for H.S. Juniors and Seniors
and is the author of
American Doubles... the Trials... the Triumphs... the Domination
.