Recruiting Feature
Top Women's Classes - 2017 Winter Rankings
by TennisRecruiting.net, 6 February 2017
Spring Signing Day is just over two months away, and coaches are busy finalizing their recruiting classes. A number of highly-ranked seniors have already made their college choices - making verbal commitments or signing NLIs during the Fall Signing Period.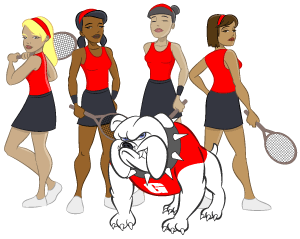 So how are things shaping up for your favorite school? Last week, we looked at the men. Today we check out the top women's programs. The Tennis Recruiting Network is proud to present its Winter Rankings of the Top 25 Women's Recruiting Classes for the Class of 2017.
Media Poll
Similar to last week, TennisRecruiting.net has enlisted the aid of junior tennis experts from around the country to vote for the top classes. We list the panelists for this voting period below.
Each of our panelists submitted his/her take on the Top 25 recruiting classes. Schools received 25 points for each first-place vote, 24 points for each second-place vote, on down to 1 point for each 25th-place vote. The panelists did not consider incoming transfer students in their voting - and also did not consider players that started college in January.
Top 25 Women's Recruiting Classes (through January 4)
Here are the Winter Rankings of the top women's college recruiting classes. Point totals are shown in the right-most column - with the number of first-place votes in parentheses. All commitments reported through January 4, 2017 are included.
Also Receiving Votes
Other women's programs receiving votes are: Penn State (63), Dartmouth (60), Vanderbilt (55), Florida (47), Wake Forest (25), Boston University (21), Michigan State (20), Michigan (19), Washington State (13), Indiana (11), Alabama (8), Army (8), Denver (7), Cornell (4), Kansas (4), Arkansas (2), Texas A&M (2), Auburn (1), Maryland (1).
Best in Show
2017 looks to be the start of good things for women's tennis at the University of Georgia. The Bulldogs have all but one of their starters back from last year's Sweet 16 squad, and the 2016-17 edition was awarded a preseason ranking of No. 6 in the Oracle/ITA rankings. Jeff Wallace's teams have advanced to 30 consecutive NCAA Tournaments - and they are certainly expected to continue that run this year. If they do, the Bulldogs will get to enjoy competing on their home courts at the Dan Magill Tennis Complex in Athens, which is the host site for the NCAA Championships.
As good as 2017 is shaping up, the future may look even brighter. Caroline Brinson is the lone senior on the Georgia roster, and next Fall the Bulldogs are set to bring in the No. 1 recruiting class in the nation.
Georgia has commitments from three outstanding recruits. Blue Chip seniors Morgan Coppoc (Tulsa, Okla.) and Annette Goulak (Oak Park, Calif.) will be joined by Katarina Jokic of Serbia next Fall in Athens. Both Coppoc and Goulak have won gold balls in US National Championship play, while Jokic has won two ITF $10K pro circuit events.
While the voting for the top spot in last week's Top 25 Men's Rankings was historically close, our panel was comfortable awarding the Georgia women the top spot in this week's poll. The Bulldogs earned No. 1 votes from 14 of our 19 panelists, garnering 470 out of a possible 475 points.
High Five
Two other recruiting classes earned first-place votes from our panel. The UCLA Bruins rank No. 2 in our poll with four first-place votes, while the LSU Tigers picked up the remaining first-place vote and ended up in the No. 3 spot.
UCLA has a pair of Blue Chip recruits in Caroline Dolehide and Helen Altick who have both ranked among the top ten seniors in the Class of 2017. Dolehide has been competing mainly in professional events, with the USTA Girls 18 Nationals and US Open Juniors her only junior events in 2016. At the professional level, her 26-18 singles record and 12-13 doubles record have earned her a ranking of No. 343 on the WTA Tour. Altick, who posted four victories in San Diego at the USTA National Championships, has been spending time in qualifying at the professional level, most recently in France. These two recruits should provide a boost to Stella Sampras Webster's squad in 2017-18.
LSU is bringing in a three-woman class consisting of Eden Richardson (Great Britian) Alexandra Bozovic (Australia), andformer Blue Chip athlete Elyse Lavender of North Carolina. This trio of recruits should contribute immediately for the Tigers.
Rounding out the Top 5 are the Duke Blue Devils and Columbia Lions in the No. 4 and 5 positions, respectively.
Conference Call
The Southeastern Conference have a strong showing at the top with two of the top three teams in our rankings. Top teams Georgia and LSU are joined on the list by Ole Miss (No. 18) and South Carolina (21).
No conference has more Top 10 or Top 25 teams than the
Atlantic Coast Conference
. Leading the way for the ACC is the
Duke Blue Devils
who hold down the No. 4 spot in our rankings. They are joined in the Top 10 by the
Georgia Tech Yellow Jackets
(No. 6) and
Notre Dame
(9). Other ACC teams in the Top 25 are
Boston College
(11),
Florida State
(13), and
North Carolina
(19).
Also of note is the Ivy League who has four recruiting classes in the Top 25.
Power Company
Three recruiting classes in our rankings come from programs outside of the six so-called tennis "power" conferences.
The highest-ranked of these programs is the Central Florida Knights at No. 12. The Knights are joined in the rankings by Loyola Marymount (No. 14) and Florida International (25).
Drop Shots
Scattershooting through the rankings...
Panelists for January 2017
The panelists for this voting period are shown below alphabetically. Please join us in thanking them for donating their time and talents to this effort.
Casey Chapin, National Tournament Director, Director, Hudlow Tennis Center
Brian Cory, Director of Tennis at Carmel Valley Athletic Club (CVAC), USPTA
Sonny Dearth, Daily Press newspaper and dailypress.com Web site in Newport News, Va.
Joey Dillon, Tennis Recruiting contributor, freelance writer
Tim Donovan, Donovan Tennis Strategies, DTS College Prospects Showcases
Sally Grabham, National Tournament Director, USTA Winter Nationals, National Junior Competition Committee, Southwest Junior Competition Committee, Southwest Section Executive Committee
Larry Haugness, USTA/Missouri Valley Section President, Former ITF and USTA National Tournament Director, PTR National Tester, USPTA, Former Junior Davis Cup Coach
Marty Hennessy, Director of Tennis at The Stirling Club, USPTA professional, National Tournament Director
Granger Huntress, Texas College Tennis blog
Bobby Knight, College Tennis Today
Patty Lambropoulos, Junior Tennis Coordinator, College Park Athletic Club, National Tournament Director, Chicago District Board of Director and Endorser, Midwest Junior Competion Committee
Colette Lewis, ZooTennis.com
Rick Limpert, Tennis Recruiting contributor, freelance writer
Tony Minnis, Former head coach, LSU women's tennis, principal at Advantage Tennis Recruiting, host of College Sports Weekly on Fox College Sports
Kevin Minor, Former USTA Chicago District President, USTA Chicago District Junior Competition Commitee, USTA Midwest Section Junior Pathway Ratings and Rankings Vice-Chair
Phil Parrish, Tennis Director, The Longfellow Club, National Tournament Director, Former College Coach
Robert Sasseville, National Tournament Director, USTA Junior Competition Committee Member, USTA National Referee
Lisa Stone, ParentingAces.com
Julie Wrege, TennisInformation.com, TennisRecruiting.net, former National Tournament Director, former USTA junior ranking chair and USTA Tennis Rules Committee member
Signing Day, Then More Rankings
With this list, the Tennis Recruiting Network concludes its Winter Recruiting Class Rankings. But we will be back in the spring - shortly after the Spring Signing Day - with updated rankings. During that time, we will also post rankings featuring schools outside the high major conferences.
Also, keep in mind that there is a lot of time left in the recruiting season. Look for teams to rise - and fall - in the rankings once more commitments are in.
Leave a Comment
More Recruiting Class Rankings
30-Jan-2017
Top Men's Classes - 2017 Winter Rankings
Late January is a great time to take a look at college recruiting. More than 850 seniors have made their college choices, and recruiting classes are really shaping up. How is your favorite team doing? Let's find out ... as Tennis Recruiting and ArrowBar bring you the Top 25 Men's College Tennis Recruiting Classes for 2017.
17-Jun-2016
2016 Top NCAA Division III Women's Classes
The Tennis Recruiting Network wraps up its spring recruiting class rankings with a look at the D-III women. Today we present our list of the Top 25 NCAA D-III women's recruiting classes for 2016. This year, the top of our rankings has a distinct Maroon hue ...
13-Jun-2016
2016 Top NCAA Division III Men's Classes
The Tennis Recruiting Network presents its recruiting class rankings for NCAA Division III conferences. Today we present our Top 25 D-III men's recruiting classes for 2016. This year, the No. 1 class comes from Amherst College for the first time since 2013.