Recruiting Profile
Lords of the Strings
by Joshua Rey, 13 August 2009
WEST HARTFORD, Conn. - When I left Miami for New England last February, I had two major concerns. What am I going to do when it snows and where am I going to find good tennis? I still haven't figured out the winter weather, but I got my tennis answer at Elizabeth Park, where 800 varieties of roses have long outshined nine dusty hard courts.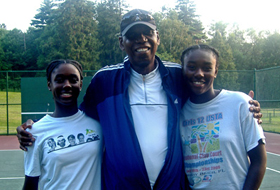 Not long after making my move, I met Phil Gordon in a local pro shop and told him I was a 4.5 player looking for a good hit. Gordon, a 65-year-old who's spent more than half his life teaching tennis to inner-city youths, invited me to Elizabeth to hit with a junior from his Tennis Unlimited summer camp. Upon arriving, I quickly learned that though flowers may flourish in Elizabeth's world-famous rose garden, a trio of racquet-swinging siblings is blooming on concrete.
My hitting partner on that June 2008 day was taller, stronger and better than me. She was also half my age. I couldn't believe my ears when Dayna Lord told me she was 12 years old. I couldn't believe my eyes when after 30 minutes of baseline bashing, I sported a sweat-soaked shirt while hers appeared as if it had just been dry-cleaned.
And that was just the warm-up.
As our set began, I was on the receiving end of faster serves and cleaner strokes than I'd ever encountered in four years of college club tennis at Florida International. I mustered just enough energy to run down enough of Dayna's devastating shots to drop the set 6-4. When I walked over to Gordon to praise my opponent, he introduced me to Melissa and Matthew Lord, Dayna's younger siblings, as if to say, "There's more where that came from."
Playing against an older, more experienced opponent isn't out of the ordinary for the Lords. Ten-year-old Matthew is No. 18 in USTA New England's Boys' 12 singles rankings. Melissa, 12, is No. 3 in the Girls' 14s. Dayna, who turned 14 over the summer, is No. 1 in the Girls' 16s.
But playing in a section that hosts just two of the USTA's 175 national junior tournaments, the Lords aren't a household name in America. Gordon likes it that way.