TOP PROSPECTS
Girls' Class of 2015 - Juniors
As of Monday, 9/16/2013




| | | | | | | | | | | | | |
| --- | --- | --- | --- | --- | --- | --- | --- | --- | --- | --- | --- | --- |
| View: | | Blue Chip | | 5-Star | | 4-Star | | 3-Star | | 2-Star | | 1-Star |





| Rating | Name | City | State |
| --- | --- | --- | --- |
| | Aaron, MaryAnn | Sagamore Beach | MA |
| | Abbe, Caroline | McKinney | TX |
| | Abbott, Sara | Knoxville | TN |
| | Abdalla, Tyra | Dalton | PA |
| | Adames, Stephanie | Sugar Land | TX |
| | Adel, Lena | Buffalo Grove | IL |
| | Agarwal, Divya | Knoxville | TN |
| | Ahuja, Lori | Lakeville | MN |
| | Aisiks, Sofia | New York | NY |
| | Amaro, Jessica | Birmingham | AL |
| | Andersson, Madeleine | Las Cruces | NM |
| | Anzalotta, Isabella | Trujillo Alto | PR |
| | Arends, Taylor | River Forest | IL |
| | Arnold, Alivia | North Canton | OH |
| | Auclair, Janet | Kirkwood | MO |
| | Austin, Alexis | Louisville | KY |
| | Avgerinos, Angela | Elmhurst | IL |
| | Ayers, Hannah | Woodstock | GA |
| | Baba, Akari | Vancouver | WA |
| | Ball, Jennifer | Debary | FL |
| | Barrett, Ashley | Westlake | TX |
| | Batchinsky, Maria | San Antonio | TX |
| | Bauer, Alexandria | Palos Verdes Estates | CA |
| | Beachy, Elizabeth | Canonsburg | PA |
| | Beasley, Caroline | Cumming | GA |
| | Beckman, Kathryn | Cornelius | NC |
| | Bedi, Claire | Chesapeake | VA |
| | Benayoun, Natalie | Plantation | FL |
| | Bennett, Audrey | Hilton Head Island | SC |
| | Berkey, Rachel | Myrtle Beach | SC |
| | Beyes, Danielle | Akron | OH |
| | Bhat, Kirtana | Tucson | AZ |
| | Biglione, Carla | Panama City Beach | FL |
| | Bissett, Madeline | Grand Rapids | MI |
| | Blanno, Sofia | Roswell | GA |
| | Blowe, Bridgett | Frederick | MD |
| | Boeschen, Phoebe | Jefferson City | MO |
| | Bond, Jenny | Tulsa | OK |
| | Booth, Victoria | Marblehead | MA |
| | Bowen, Alexis | Southlake | TX |
| | Brandt, Chloe | Broomfield | CO |
| | Brinkman, Katrina | Kingwood | TX |
| | Brown, Thalia | Albany | CA |
| | Brunson, Tristen | Florence | TX |
| | Bruscemi, Amanda | Mc Kees Rocks | PA |
| | Bush, Allison | Glen Ellyn | IL |
| | Canda, Vanessa | Jersey City | NJ |
| | Carpenter, Abby | Wildwood | MO |
| | Cash, Karli | Miramar | FL |
| | Cassity, Connor | Saint Louis | MO |
| | Catena, Seasia | FtLauderdale | FL |
| | Chang, Erica | Olathe | KS |
| | Changtroraleke, Katherine | Greenvale | NY |
| | Chernyetsky, Carolina | Carmichael | CA |
| | Christman, Livia | Otsego | MI |
| | Cirella, Katie | Woodbury | NY |
| | Clope, Hayley | Racine | WI |
| | Colling, Clarisa | El Paso | TX |
| | Companion, Kahalauamalunonalani | Huntington Beach | CA |
| | Conway, Olivia | Saint Louis | MO |
| | Corcoran, Lauren | Tampa | FL |
| | Crowe, Sarah | Watkinsville | GA |
| | Crymes, Tate | Sharpsburg | GA |
| | Cunningham, Rachel | Seabrook | TX |
| | De Bracamonte, Ines | Sunny Isles Beach | FL |
| | De Leon, Andrea | Mission | TX |
| | Defrench, Darian | Cartersville | GA |
| | Degeorge, Claire | Collierville | TN |
| | Denney, Abigail | Peoria | AZ |
| | Diaz, Elythania | Vega Alta | PR |
| | Dick, Gabrielle | Enid | OK |
| | Doherty, Caroline | Bogart | GA |
| | Dolan, Kate | Saint Louis | MO |
| | Dong, Kaylin | Vernon Hills | IL |
| | Donkor, Akua | Chantilly | VA |
| | Downey, Nicole | Groveland | MA |
| | Drapeau, Mikayla | San Diego | CA |
| | Eisinger, Ursi | Carmel Valley | CA |
| | England, Jordan | Watkinsville | GA |
| | Etelalahti, Emma | Suwanee | GA |
| | Fan, Judith | Ames | IA |
| | Fancher, Jacqueline | Irvine | CA |
| | Farmer, Sophie | Eden Prairie | MN |
| | Fatemi, Nicole | Bethesda | MD |
| | Fedele, Stella | Stuart | FL |
| | Fillingame, Shelby | Beach City | TX |
| | Fincher, Layne | Monroe | LA |
| | Fioretti, Sara | Finksburg | MD |
| | Fisher, Molly | Austin | TX |
| | Fite, Alexia | Seattle | WA |
| | Fleming, Rebecca | The Woodlands | TX |
| | Folsom, Jessica | Glendora | CA |
| | Formentin, Julia | Grosse Ile | MI |
| | Fountain, Imani | Concord | NC |
| | Fox, Rachel | Raleigh | NC |
| | Foye, Megan | Alpharetta | GA |
| | Funk, Olivia | Hicksville | NY |
| | Gannon, Danielle | Excelsior | MN |
| | Garrott, Grace | Memphis | TN |
| | Garza, Ana | Mission | TX |
| | Gauch, Katie | Potomac | MD |
| | Gerard, Nina | Bayside | WI |
| | Gianelos, Eleni | West Chester | PA |
| | Giffenig, Lyndell | Lakeville | CT |
| | Gilani, Ariana | Plano | TX |
| | Golden, Brittany | Parkland | FL |
| | Goldner, Cass | Naperville | IL |
| | Goldston, Allison | New Braunfels | TX |
| | Goode, Savanah | Poway | CA |
| | Gooding, Katherine | Atlanta | GA |
| | Goodman, Nicole | Marietta | GA |
| | Goree, Carmella | Detroit | MI |
| | Gray, Maura | Pittsburgh | PA |
| | Green, Brittany | St. Louis | MO |
| | Grodecki, Stephanie | Germantown | MD |
| | Guillen, Carla | Overland Park | KS |
| | Guillen, Elisa | Beaumont | TX |
| | Gulick, Madison | Roswell | GA |
| | Gutierrez-Rodriguez, Paula | San Antonio | TX |
| | Hafitz, Rylee | Atlanta | GA |
| | Halinski, Rachel | Manassas | VA |
| | Hall, Sarah | West Orange | NJ |
| | Hamilton, Kira | Laguna Beach | CA |
| | Hammons, Ashley | Louisville | KY |
| | Harlas, Lindsay | Las Cruces | NM |
| | Harris, Ali | Crossville | TN |
| | Hartmann, Briana | Owatonna | MN |
| | Hastings, Sara | Humble | TX |
| | Heber, Sharon | Allen | TX |
| | Heiniger, Nicole | Munster | IN |
| | Hill, Mary | Des Moines | IA |
| | Hinton, Kara | San Jose | CA |
| | Hooker, Tori | Memphis | TN |
| | Horvat, Jurasia | Cary | NC |
| | Hu, Rosanne | Sugar Land | TX |
| | Hughes, Meredith | Houston | TX |
| | Hurt, Gaby | Davidson | NC |
| | Ishikawa, Kaede | Foster City | CA |
| | James, Karah | Milton | GA |
| | James, Rhiannon | Dublin | OH |
| | Jefferies, Chloe | Clive | IA |
| | Joanlanne, Nathalie | Dallas | PA |
| | Johnson, Elizabeth | Portland | OR |
| | Johnson, Mical | Canton | SD |
| | Jones, Chyna | Charlotte | NC |
| | Jones, Kendall | Haslet | TX |
| | Kanak, Jordyn | Austin | TX |
| | Kanda, Saera | Hilton Head Island | SC |
| | Kantcheva, Mihaela | Duluth | GA |
| | Kareh, Victoria | The Woodlands | TX |
| | Katapadi, Aashika | Columbus | OH |
| | Kauffman, Melinda | Fuquay-Varina | NC |
| | Kaufman, Lindsay | Armonk | NY |
| | Kayatta, Hailey | Claremont | CA |
| | Keats, Hayley | Potomac | MD |
| | Kelley, Kayla | The Woodlands | TX |
| | Kent, Mia | Ridgeland | MS |
| | Khromchenko, Keren | Manalapan | NJ |
| | Klein, Marissa | Evansville | IN |
| | Knecht, Ashley | Ashland | OR |
| | Knight, Teagan | Aptos | CA |
| | Knors, Devin | Raleigh | NC |
| | Kolman, Ava | Downers Grove | IL |
| | Kosharek, Abigail | Bloomington | IL |
| | Kremennaya, Veronika | San Diego | CA |
| | Kreslin, Catherine | Poway | CA |
| | Kreutzer, Lily-Ana | Ojai | CA |
| | Kuhn, Lauren | Dallas | TX |
| | Kulkarni, Ashwini | Plano | TX |
| | Kutach, Caroline | Mc Gregor | TX |
| | Kwon, Esther | Camas | WA |
| | LaRose, Megan | Edwardsville | IL |
| | Lagura, Ericka Denise | San Diego | CA |
| | Lair, McKinleigh | Tulsa | OK |
| | Lally, Devin | Loveland | OH |
| | Lanasa, Paulina | FtWorth | TX |
| | Leavitt, Olivia | Falmouth | ME |
| | Lee, Destiny | Andover | MN |
| | Lee, Isabel | San Diego | CA |
| | Lee, Tia | Marlton | NJ |
| | Lehat, Michele | Great Neck | NY |
| | Levich, Ilana | Staten Island | NY |
| | Lewis, Jennifer | Camas | WA |
| | Leyva, Anessa | Clewiston | FL |
| | Lifsey, Alexis | Metairie | LA |
| | Lim, Cindy | Grand Forks | ND |
| | Lindgren, Zoe | Belgrade | MT |
| | Londoner, Hannah | Westport | CT |
| | Lorenz, Jessica | Fishers | IN |
| | Lorich, Tristan | New York | NY |
| | Lovig, Tess | Columbia | MO |
| | Lowes, Brooke | McKinney | TX |
| | Magnuson, Sara | Arlington Heights | IL |
| | Majendie, Fiona | West Vancouver | BC |
| | Malin, Octavia | Grapevine | TX |
| | Mannino, Julia | Greenwood Village | CO |
| | Marinovich, Mackenzi | Edina | MN |
| | Martinez, Koral | Lajas | PR |
| | Martinez, Valentina | Katy | TX |
| | Martinovic, Maria | Ewing | NJ |
| | Mathews, Sara | Decatur | GA |
| | Mathews, Whitney | Los Altos | CA |
| | Maxwell, Timara | Homewood | IL |
| | Mayerchak, Mary Claire | Princeton | MN |
| | McGaughy, Katarina | Fremont | CA |
| | McGrail, Ann | Fontana | WI |
| | McKissick, Alexandra | Humble | TX |
| | McLean, Sheridan | Waverly | OH |
| | McNamara, Teagan | Maumee | OH |
| | McNulty, Alexandria | Virginia Beach | VA |
| | Medina, Paula | Manchester | MA |
| | Meylor, Nicole | Wauwatosa | WI |
| | Moeller, Sophia | Tuckahoe | NY |
| | Moore, Amanda | Hudsonville | MI |
| | Moriyama, Kana | Redmond | WA |
| | Morris, Colleen | Lake Forest | IL |
| | Morris, Nicole | Braselton | GA |
| | Moss, Haley | Lake Oswego | OR |
| | Mu, Yu | Ojai | CA |
| | Narang, Anmol | Roswell | GA |
| | Nordman, Caroline | Redwood City | CA |
| | Nosenko, Elizaveta | Ojai | CA |
| | O'Brien, Vika | Ashland | OR |
| | O'Malley, Lauren | Westlake | OH |
| | Oberwetter, Emily | Middleton | WI |
| | Ochsenhirt, Ashley | Birmingham | AL |
| | Ohlhausen, Gretchen | Liberty | MO |
| | Ortiz, Julia | Chandler | AZ |
| | Palisoc, Christine | Hixson | TN |
| | Pamphilis, Nicole | Palos Park | IL |
| | Parker, Sydnee | The Woodlands | TX |
| | Parnell, Camryn | Lees Summit | MO |
| | Patel, Ryana | Plano | TX |
| | Paul, Cassidy | Kansas City | MO |
| | Peelor, Allegra | Palos Verdes Estates | CA |
| | Petrenko, Viktoria | FtLee | NJ |
| | Phanco, Delaney | Carlsbad | CA |
| | Phillips, Mackenzie | Brentwood | TN |
| | Poje, Brittany | East Stroudsburg | PA |
| | Poje, Kaitlyn | East Stroudsburg | PA |
| | Popa, Edwina | Flower Mound | TX |
| | Pope, Caroline | Chapel Hill | NC |
| | Porter, Leighton | Knoxville | TN |
| | Prabakar, Shwetha | Austin | TX |
| | Prathab, Vanessa | Hopkinton | MA |
| | Price, Courtney | Raleigh | NC |
| | Pringle, Elizabeth | Eastborough | KS |
| | Prost, Corinne | Peoria | AZ |
| | Puckett, Christen | Nicholasville | KY |
| | Ramic, Ida | Hopkins | MN |
| | Reger, Kelly | Bloomington | MN |
| | Reisler, Julia Reisler | Plano | TX |
| | Richards, Taylor | Martinez | GA |
| | Roach, Halle | Libertyville | IL |
| | Roberts, Victoria | Ridgeland | MS |
| | Robinson, Imani | Cincinnati | OH |
| | Rodman, Billie | Baton Rouge | LA |
| | Roman, Sydney | Gilbert | AZ |
| | Rosiello, Abigail | Morgantown | WV |
| | Royle, Adele | Parkville | MO |
| | Rusyniak, Alexandra | Fairhope | AL |
| | Ruzinsky, Miranda | Houston | TX |
| | Ryan, Katherine | Chicago | IL |
| | Ryan, Kathryn | Redlands | CA |
| | Ryan, Lillian | Monroe | LA |
| | Ryland, Milah | Clovis | CA |
| | Sabada, Arathi | Saratoga | CA |
| | Sabada, Smita | Saratoga | CA |
| | Samson, Michelle | Dacula | GA |
| | Sanchez, Maria | Houston | TX |
| | Sandusky, Kylie | Greer | SC |
| | Sarwal, Rubina | Plano | TX |
| | Scannell, Megan | Carmel Valley | CA |
| | Scarano, Hayley | San Diego | CA |
| | Schneemann, Lacy | San Angelo | TX |
| | Schrepferman, Samantha | Elburn | IL |
| | Schuler, Gwyneth | Wichita | KS |
| | Seeman, Sarah | Port Washington | NY |
| | Seo, Cassidy | Arlington Heights | IL |
| | Setnar, Sydney | New Albany | OH |
| | Sharma, Apurva | Torrance | CA |
| | Sheffield, Callie | Marietta | GA |
| | Shipley, Kylee | Palm Bch Gdns | FL |
| | Sikes, Michelle | Menomonee Falls | WI |
| | Sirimoungkhons, Mallissa | Memphis | TN |
| | Small, Eve | Iowa City | IA |
| | Smith, Jaci | Edmond | OK |
| | Spencer, Nicole | Charlotte | NC |
| | Stankiewicz, Tiffany | Keller | TX |
| | Stearman, Sarah | Louisville | KY |
| | Stevanovich, Katarina | Delray Beach | FL |
| | Stewart, Mara | Oceanside | NY |
| | Stinnett, Morgan | Knoxville | TN |
| | Stone, Isabella | Concord | MA |
| | Strickland, Savannah | Alpharetta | GA |
| | Subbiah, Sankavi | Beaverton | OR |
| | Sutton, Kyara | Irvine | CA |
| | Swallow, Brooke | Hermosa Beach | CA |
| | Swartwood, Brigitte | Evansville | IN |
| | Swenson, Laura | Winnetka | IL |
| | Szkudlarski, Emily | Belle Mead | NJ |
| | Tarrago, Ines | Alpharetta | GA |
| | Tatten, Julia | Omaha | NE |
| | Thomas, Monica | College Park | GA |
| | Thurwalker, Kayleigh | Belleville | IL |
| | Tibbles, Lindsey | Rapid City | SD |
| | Todd, Elissa Grace | Memphis | TN |
| | Travis, Adrienne | Scarsdale | NY |
| | Tulchinskaya, Michelle | Buffalo Grove | IL |
| | Vacaguzman, Nicole | Wyoming | MI |
| | Vahdat, Nika | Irvine | CA |
| | Valencia, Andrea | Tampa | FL |
| | Vasic, Katarina | River Forest | IL |
| | Venditti, Gabriela | Mercer Island | WA |
| | Venditti, Lydia | Mercer Island | WA |
| | Verdin, Gabrielle | Cincinnati | OH |
| | Volkova, Julia | Mc Lean | VA |
| | Voss, Natalie | Dothan | AL |
| | Walker, Ashton | Goldsboro | NC |
| | Walker, Michelle | Tomball | TX |
| | Walroth, Maggie | Cincinnati | OH |
| | Wardwell, Taylor | Honolulu | HI |
| | Warren, Mariah | Mc Leansville | NC |
| | Wartenberg, Alex | Mission Viejo | CA |
| | Weaver, Ivey-Katherine | Decatur | AL |
| | Weber, Kirsten | Texarkana | TX |
| | Weeks, Samantha | Tacoma | WA |
| | Weston, Haley | Cincinnati | OH |
| | Westwick, Emma | Houston | TX |
| | Wheary, Lillian | Portland | OR |
| | White, Kirsten | Charleston | WV |
| | Wight, Chloe | Santa Monica | CA |
| | Wilcox, Haley | Oak Forest | IL |
| | Wilcox, Stephanie | Prairie Village | KS |
| | Willis, Tess | Boerne | TX |
| | Wind, Randi | Park Ridge | IL |
| | Wingrove, Catherine | Okemos | MI |
| | Winton, Haley | Bastrop | TX |
| | Worring, Julienne | Westlake Villsgr | CA |
| | Wright, Cheryl | Cerritos | CA |
| | Wright, Electa | Porterville | CA |
| | Wu, Lily | San Marino | CA |
| | Wunsch, Ashton | Trophy Club | TX |
| | Yao, Sydney | Alexandria | VA |
| | Yeung, Kindall | Brea | CA |
| | Yuan, Lydia | Charlotte | NC |
| | Zou, Kimberly | White Plains | NY |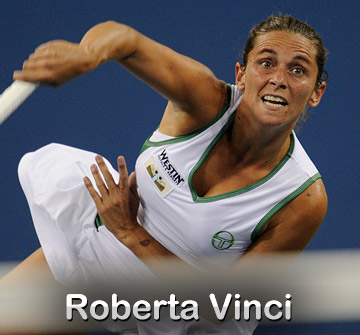 Click on Roberta Vinci to view and buy her equipment, apparel, and footwear.


Follow college tennis with the ITA - the governing body that oversees all levels of men's and women's varsity collegiate tennis.
Daniela Hantuchova visits the Prince Store
Check out Daniela Hantuchova's visit to the Prince SW19 Store in Wimbledon Village, and get an inside look at what she recommends picking up.
Tennis Warehouse provides lively forums for the discussion of junior and college tennis. Here are the latest topics from the Talk Tennis message boards.