Special Feature
ITA Summer Circuit Fills Competition Gap for College and Junior Players
by
Colette Lewis
, 15 July 2010
Last Saturday 128 players took to the Western Michigan University courts with a variety of motives - to size up their games, stay sharp over the summer months, prepare for the fall college season and test their conditioning in two-a-day matches in the summer heat and humidity.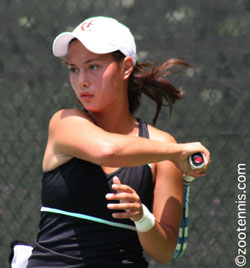 Singles champions
Nida Hamilton
of
Northwestern
and
Brandon DeBot
of
Dartmouth
, two Midwest section junior players beginning their college tennis careers this fall, survived six matches in three days against competition ranging from high school competitors to established Division I players en route to their
ITA Summer Circuit
tournament titles.
"I was looking for extra tournament in the summer and I just wanted to get a feel for what college players were like, and have fun," said Hamilton, the No. 4 seed from Illinois, who defeated incoming Bowling Green freshman Nikki Chiricosta 7-6(2), 6-4 in the final. "It's nice and it's pretty stress-free."
DeBot, who like Hamilton was playing in his first ITA Summer Circuit tournament, agreed.
"I think I was more relaxed being in a college tournament versus USTA," said the Wisconsin resident, who claimed the title over Detroit Mercy rising junior Nick Tolomei 6-4, 6-1 in a battle of two unseeded players.
"Some of the guys on the team were coming out here and invited me along, and it turned out great. It was just kind of a relaxed, fun tournament for me."
The brainchild of Indiana University women's coach Lin Loring, who established the circuit in 1993, the ITA Summer Circuit now annually provides an opportunity for over 1400 players to compete in regional circuits throughout the month July. The WMU tournament was the second of four such tournaments in the Midwest region, one of eight circuits around the country. The circuit culminates in the ITA/USTA National Summer Championships in Bloomington Indiana, scheduled this year for August 7-11.
The relaxed atmosphere and exposure to college competition are not the only attractions, according to tournament director David Morin, the men's tennis coach at Western Michigan University.
"It's very reasonable," Morin said of the $55 entry fee (which does not include the one-time $25 ITA membership fee required to participate). "It's very affordable and they will get a minimum of two singles matches and one or two doubles matches. When you look at the price of some of the USTA tournaments - 80, 90, 100 bucks - this is a great event for the price."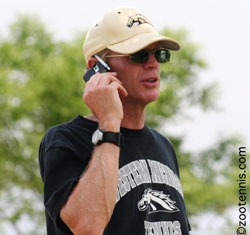 Doubles are played under the standard college format of an eight game pro set, while in singles, a match tiebreaker is used in lieu of a third set to assist in completing the tournament in three days.
Morin's doubles team of Michael and Thomas Calderone collected their second consecutive summer circuit title with a 9-8(2) win over Grand Valley State's Bryan Hodges and Pjotrs Necajevs of Detroit Mercy. The top-seeded brothers also won the doubles at the University of Michigan tournament last week, the first stop on the Midwest circuit.
The Middle Tennessee State team of Yuiri Nomoto and Carla Nava won the women's doubles title at the WMU courts, defeating the Ohio State team of Fidan Manashirova and Gabrielle Steele 8-3 in the final.
Morin also appreciates the tournament from a coach's point of view.
"I have a kid on my team who is going to be joining us as a transfer, Ross VanderPloeg, who got to the semis," said Morin, who had six players competing in the tournament. "When he's doing that, I think there's a good chance he's going to be playing for us, and you don't know that if he's not doing anything all summer - it takes you the whole fall to figure that out. Now he's one step ahead of the game."
It's not just newcomers who stand to benefit from the extra match play. Established players can use the opportunity to experiment with their strokes and strategy.
"If you've been making some technical changes, maybe you've been working on your serve the last six weeks and you come in here and you're getting more free points off your serve, or you've been working on finishing at the net, and you put that into play here, you've got confidence coming into the fall," Morin said. "It allows you to grow your game in the summertime."
"We always talk about playing six tournaments in the summer, and if you can do that, I think that really gives you a jump on the other teams."
For the high school players competing in the ITA Summer Circuit there is yet another advantage - a chance to compete against collegiate players while visiting the facilities and campuses they may be considering during the recruiting process.
"I did the ITA at Michigan and I wanted to do another one," said Alix Thurman, a rising senior at L'Anse Creuse High School, north of Detroit. "I really wanted to see the campus here and there's a lot of good players."
Thurman, who is looking to play Division I tennis, preferably in the Big Ten, echoed the comments of the two champions.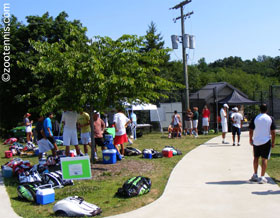 "It's not as much pressure; you can just go out and play."
For the vast majority of those in the tournament, playing and competing is more than enough compensation.
But there are more tangible rewards for a few. There is a points chart, with Americans who compete in at least three regional events and accumulate the most points automatically entered in the National Tournament in August. The ITA and USTA help defray some of the expenses of these players at the Nationals by providing airfare and a per diem.
The ITA Summer Circuit National Championship has a 128 draw for the men and a 96 draw for the women, with entry open to anyone, first come first served. The coveted prize in the circuit's season finale is main draw wild cards into the ITA All-American championships in October for the winners, with a qualifying wild card going to the finalists.
Entries to compete in this year's events are still being accepted through August 1 at the ITA website.
Leave a Comment
More Recruiting 101 Articles
3-Dec-2019
Coachspeak: Talking Points for Recruits to College Coaches
Communication is paramount in the recruiting process. But what are the most important questions for recruits to ask during their correspondence with college coaches? We provide a list of essential talking points to find out as much as possible about a school, program and coach.
19-Nov-2019
Ten Things to Know About the USTA Junior Structure Changes
Beginning in January of 2021, the USTA is making changes to its competitive junior structure. There are 10 important things to know about the changes to get everyone prepared and informed.
18-Nov-2019
USTA Making Changes to Junior Competitive Structure
The USTA will be making changes to its junior competitive structure. Beginning in January of 2021, the USTA is adopting a simplified nationwide structure, which will create a standardized system and greater consistency for players, parents, coaches, tournament directors and officials.
About Colette Lewis
Colette Lewis
has covered topflight U.S. and international junior events as a freelance journalist for over a decade. Her work has appeared in
Tennis
magazine, the
Tennis Championships
magazine and the US Open program. Lewis is active on
Twitter
, and she writes a weekly column right here at TennisRecruiting.net. She was named
Junior Tennis Champion
for 2016 by Tennis Industry Magazine.
Lewis, based out of Kalamazoo, Michigan, has seen every National Championship final played since 1977, and her work on the tournament's ustaboys.com website led her to establish ZooTennis, where she comments on junior and college tennis daily.