Recruiting Profile
Recruiting Profile: Katie Goepel
by
Colette Lewis
, 9 August 2010
During her preteen years, five star recruit Katie Goepel found contentment hitting tennis balls against the garage door of the family home. A triplet, with an older sister, she found the rhythm of ball hitting racquet soothing.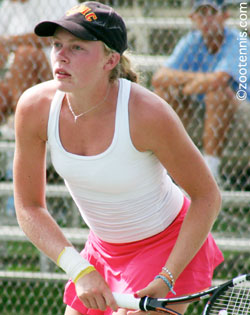 "I was kind of quiet when I was little and even with a house full of people, I was always by myself," says Goepel, a rising senior now immersed in the college recruiting process. "Every day, I would come home from school with a headache from the noise and I would play tennis against the garage. I would be out there for hours."
Those countless hours have helped give the 17-year-old from Chatham, New Jersey plenty of options. A straight-A student with Kaplan College Preparatory, Goepel received a dozen or so calls from college coaches on July 1, and she is now reviewing her list of possible schools, which includes Notre Dame, Vanderbilt, Virginia and several Ivy League universities.
"It's a pretty wide range right now," Goepel says, "but I think in the next month or so, I'll really narrow it down."
While the other triplets, brother Conor and sister Ellie, are athletes, both excelling in soccer, it is Katie and her older sister Kenzie, now a student at Boston College, who carried on the family tradition in tennis.
"My dad played, and my dad's dad played, so it was always sort of in my family," Goepel says.
Her father Steve, who refers to himself as a "county" player, introduced her to the sport, but by the time she was 7, she was ready for more formal instruction. Soon she was on her way to becoming a national level player like her grandfather. Now training with Gordon Uehling and Carlos Cano at Court Sense in Tenafly, New Jersey, Goepel often practices with two other accomplished players from Northern New Jersey, Lauren and Christina McHale.
Her friendship with the McHales led to one of Goepel's best tennis experiences: this spring she accompanied the sisters to Paris for Christina's main draw debut at the French Open.
"It was so much fun. I had a badge, so I got to go in the players area, the cafeteria. It was unreal," recalls Goepel, who encountered Roger Federer and sat across the table from Venus Williams. "You walk by some of the best players in the world that you see on TV all the time, it's amazing."
Goepel is hoping to compete in professional tournaments herself eventually, but is certain that college tennis is her best route.