College Commitment
Countdown: Three Top Recruits to C of C
by James Hill, 13 October 2010
Three top recruits from the Southeast have given verbal commitments to become members of the College of Charleston women's tennis team.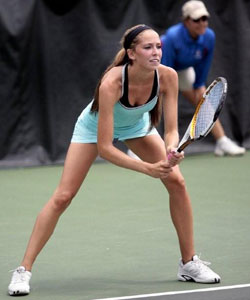 The highly-rated recruits all plan to sign their National Letter of Intent as soon as possible. They will play next year on the Mount Pleasant, S.C., USTA award-winning courts - the home of the NCAA Division I Cougars.
Joining the program of the 2009 ITA Southeast Coach of the Year Angelo Anastopoulo are Samantha Maddox of Lexington, Ky.; Jenny Falcone of Davidson, N.C.; and Grace Baker of Charlotte, N.C.
Coach Anastopoulo, in his 20th year at the Cougars helm, has guided the team to three NCAA Tournament appearances (including 2010), and four straight 20-win seasons. He is not able to comment on his new Cougars until the signings are official.
Besides their eagerness to attend the 230-year-old school, located in beautiful and historic downtown Charleston, the players can all claim state high school singles titles.
Maddox captured the Kentucky High School State Athletic Association singles crown last May as a player for Lexington Catholic High School. During regular-season play, Maddox has been undefeated for the past three years.
She is currently the No. 1 girls player in the Bluegrass State, and holds a No. 22 ranking in the Southeast. Maddox, whose top ranking was 33rd, is No. 60 on national lists.
One of the schools Maddox considered was the University of Kentucky, in her hometown. She has been trained by current Wildcats women's coach Carlos Drada. In addition, Maddox looked at Pepperdine, Vanderbilt, Loyola Marymount, and Tulane.
Maddox will give the Cougars the benefit of her aggressive style of play.
"The College of Charleston will provide me a quality education on a historic and personable campus," Maddox said. "C of C also has the type of high quality tennis program I was looking for. Coach A's long tenure, high expectations and warm personality, along with the beautiful training and tennis facilities, were very inviting. Lastly, Charleston is such a great city with tons of southern charm, great weather and beautiful beaches."