Commitment Announcement
Countdown: Jeremiah a Cowgirl
by
Ali Jones
, 18 October 2010
Mary Jeremiah's college invitations would turn almost anyone green with envy. In the end, the blue chip picked Oklahoma State's orange and black for her colors.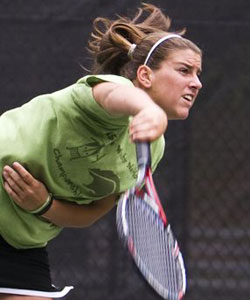 Mary Jeremiah
heads to Stillwater next fall
© Julie Wrege, TennisRecruiting.net
"The biggest [factor] was going into a program that hasn't always been at the top," she said. She was impressed by both Cowgirls coaches Chris Young and Jamea Jackson, who told her that "you can make a difference in our program."
"In the beginning I wasn't thinking about Oklahoma State," the Peachtree Ridge High senior said. It wasn't exactly a top tennis school, she thought. But it dawned on her that she herself could help propel it upward, an idea that appealed to the natural-born leader.
The recruitment of Meghan Blevins, another blue chip, made Jeremiah's decision easier. Their doubles partnership at OSU portends great results: Jeremiah was a surprise unseeded doubles finalist at the 2010 Spring National Championships and among Blevins' many accomplishments is the 2010 Copper Bowl doubles crown.
Over the summer, Jeremiah, who plans to major in communications, received numerous emails from coaches. She assiduously answered each of them, just so she could learn more about the recruiting process.
"I was talking to [the coaches] just for the experience and just to see what I want," she said. While she was ecstatic about her OSU decision, the Georgian felt bad that she had to turn down the other colleges.
"All the coaches at the other schools were so helpful, they were so amazing through this whole entire process," Jeremiah recalled. Many of her peers have commented on the difficulty of making the final decision, but for her "I haven't had to deal with any stress at all. It's been so enjoyable to me."