Special Feature
UCLA Grad Harrison Aims for WTA Success
by
Colette Lewis
, 19 November 2021
Catherine Harrison was encouraged by the direction of her professional career in February of 2020, as she began a second full year playing professional tennis. The former UCLA All-American was poised to compete in her first slam qualifying at Roland Garros, a vital step in financial viability. And then Covid-19 hit.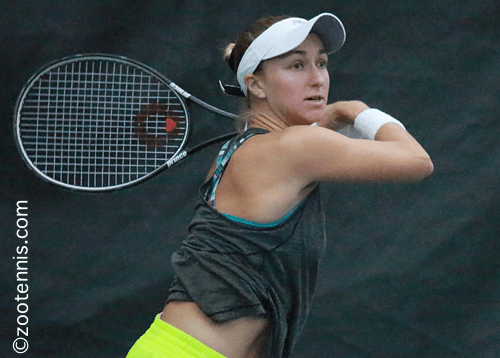 Catherine Harrison Is Ranked a Career-High No. 252
© Zoo Tennis
"It was the biggest mess," said the 27-year-old from Tennessee, who now lives in Dripping Springs, Texas, near Austin. "My [former] coach unfortunately got Covid twice, and it really took a toll on him. Then my trainer moved and my physio retired and I'm like, is this really meant to be?"
With no opportunity to play and her training on hold, Harrison considered retiring.
"My ranking was just going backwards," said Harrison, who spent the months of inactivity with her boyfriend Logan Staggs, also a former UCLA Bruin. "But I was like, you're so close. 2018 was my first full year playing. 2019 was kind of getting ready, so I was like OK, 2020's my year. And then it was not. It was nobody's year, maybe except for Jenny Brady. I think that's about the only person who had a good 2020," Harrison said of her former teammate.
"It really took a lot of mental toughness to get out of that, there was a lot of questioning, a lot of does this even make sense," Harrison said. "I'm 27, not that I'm old by any means, but I'm at an age where I either want to make a living doing this or stop."
Harrison, who has won two $25,000 tournaments on the USTA Pro Circuit, including one last month in California, reached her career high of 252 in the WTA rankings after this month's WTA 125 in Midland, Michigan. However, it has been doubles that has provided a life-altering rankings jump.