Special from
Zoo Tennis
CHAMPAIGN, Ill. – Ben Shelton of Florida and Peyton Stearns of Texas faced multiple challenges at last week's NCAA Division I individual championships at the University of Illinois. Yet the wind, rain and mental and physical fatigue of the six-day tournament didn't deter the sophomores from earning singles championships and the US Open main draw wild cards that are traditionally awarded to American champions.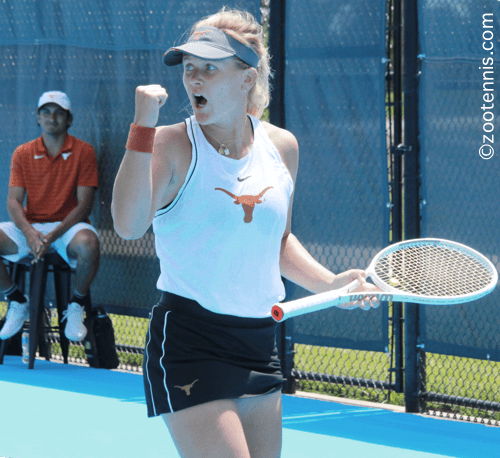 NCAA Division I Singles Champion Peyton Stearns
© Zoo Tennis
Shelton, the top seed, defeated San Diego's August Holmgren 4-6, 6-3, 6-2 and Stearns, the No. 2 seed, beat Connie Ma of Stanford 6-3, 6-2 at the Khan Outdoor Tennis Complex in Champaign.
Stearns started the individual tournament as a two-time NCAA champion, having led her team to the team title both last year and the day before she began her quest to become Texas's first women's NCAA singles champion.
The 20-year-old from Mason, Ohio had her share of tough matches, needing three sets to record her third round and quarterfinal wins. But in the semifinals, played indoors due to rain, Stearns kept her time on court to a minimum, beating unseeded Paola Diaz-Delgado of Virginia Commonwealth 6-3, 6-4.
The anticipated final against top seed and defending singles champion Emma Navarro of Virginia did not materialize after Navarro was stunned 5-7, 6-4, 6-3 in the third round by unseeded Abigail Rencheli of North Carolina State, who held her nerve in the 25 mph winds to close out one of the biggest college tennis upsets in decades.
Ma, who defeated Rencheli in the quarterfinals, also won her semifinal in straight sets, beating Fiona Crawley of North Carolina 6-4, 6-4 indoors.