Tournament Summary
Favorites and Unseeded Texan Win in Tucson
by
Ali Jones
, 12 January 2011
Four athletes who train at USTA High Performance Centers- three are 12 years old and one is 13 - claimed the top prizes in Tucson, which was ravaged by rain and cold during the Winter National's final rounds.
Tournament director Meghan Houk mobilized an army of volunteers to roll dry courts so play could resume as quickly as possible. Rescheduling three days' worth of matches was a challenge, Houk said.
The Girls 12s champion, Sofia Kenin, won five matches on New Year's Day. Kenin, Stefan Kozlov and unseeded Maria Smith train at the High Performance Center in Boca Raton. William Blumberg trains at the Flushing Meadows facility.
Girls 12s: Sofia Kenin
Sofia Kenin's extraordinary tennis gifts were spotted at a very early age and have been honed by the very best mentors of the sport.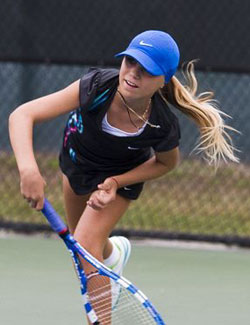 Girls 12s Champion
Sofia Kenin
© Julie Wrege, TennisRecruiting.net
In Tucson on New Year's Day, the petite powerhouse from Florida showed the magic that she can conjure up with her tennis racquet. In spite of the biting cold, rain, fatigue and compressed schedule, Kenin kept her focus to win gold balls for both singles and doubles.
"Mission accomplished," said Alex Kenin, her father, after Sofia won over Elizabeth Porter 7-5, 6-1. "She played very well and she was very determined to win this."
Sofia, who just turned 12, had come close to her first gold ball at the Clay Courts, but had to settle for the silver ball. Prior to the Winter Nationals, she made the semis at the Eddie Herr and won the back draw of the Junior Orange Bowl.
Seeded one, Kenin, affectionately called Sonya, came in with a lot of confidence and determination. Her one great asset is that "she hates to lose," her father said.
"From a very young age she's been playing bigger and stronger girls," Mr. Kenin said. "She has a game, a lot of girls maybe know how to chip and hit hard, but she has an all-around game, she knows how to adjust to different opponents and find weak spots during the game. I would say she's very smart."
"I am so excited, my game is so much better, I was doing really good things at the tournament," said Sofia, who is destined for the pros if the predictions of legendary junior coaches Macci, Bollettieri and Lansdorp are to be believed.
Runner-up Porter, whose path to the finals was a little more difficult than Kenin's, started out firing in the first set of the finals.
"It was hard in the first set," Kenin said. "[Porter was] making lots of balls and I was just returning it and trying to do my best to win the set."