Tournament Summary
U.S. Players Claim Three of Four Titles at Junior Orange Bowl
by
Colette Lewis
, 31 December 2010
The weather was chilly in Coral Gables, Florida, the site of last week's Junior Orange Bowl, but it didn't cool off the American girls. Nicole Frenkel and Brooke Austin collected the 12s and 14s titles, giving U.S girls all four titles in the December competitions. Earlier in the month, Lauren Davis had won the ITF Grade A Dunlop Orange Bowl championship, with Allie Kiick capturing the 16s title.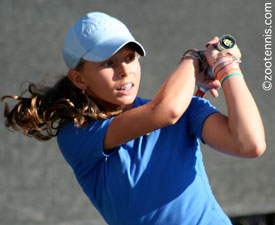 Frenkel was first to extend the streak, coming from behind to defeat
Yulia Bryzgalova
of Russia 3-6, 6-3, 6-4 on the Har-Tru courts at Salvadore Park. It was the unseeded Frenkel's fourth win over a No. 1 seed (there are 16 No. 1 seeds among the 128 competitors in the 12s), but such was her dominance throughout the tournament that it was the first time Frenkel had been down a set.
Rain on the tournament's second day had made the normally compressed girls 12s schedule even more so. Playing two matches on each of the two days prior to the final, Frenkel posted straight-set wins in each, reaching the championship match with an impressive 6-1, 6-2 dismantling of Eddie Herr champion Katarina Jokic of Bosnia.
But in the final, it was Bryzgalova who came out firing. Loading up on her forehand, the Russian played nearly perfect tennis in the first six games, and, after breaking Frenkel to open the second set, looked to be in control of the match.
The left-hander from Boston broke right back however, and although her serve was giving her trouble, did manage a crucial ace at a key moment in the final game of the second set.
After a 10-minute break between sets, which resolved neither girl's service woes, the first four games of the third set went to the returner. At 4-4, Frenkel secured another break. But could she tame her wayward serve long enough to seize the title?
Fortunately, Frenkel was serving with her back to the sun.
"I was pretty much guessing on that (other) side, because the sun was just exactly where the ball was," said Frenkel. "My coach told me to adjust the toss, and I was telling myself that, but it's really hard. But on this side it was just like night and day."
Frenkel got all but one first serve in during the final game, and Bryzgalova missed three returns, although one was an unlucky net cord. A backhand wide gave Frenkel her first championship point, and another first serve saw Bryzgalova go for a big forehand return. It went long, and after nearly two and a half hours, Frenkel could claim the bowl of oranges she craved.
"I'm celebrating by eating an orange," said the 12-year-old, who trains at the Manchester Athletic Club in Massachusetts. "It's so exciting, and I'll definitely remember this forever. It's my last 12s and I finished it really well."