Special from
Zoo Tennis
NICHOLASVILLE, Ky. - Surprises were the rule last week at the International Tennis Federation's JB1 Pan American Closed championships, with wild cards, qualifiers and unseeded players making deep runs. Yet when the tournament concluded Saturday at the Top Seed Tennis Club, No. 2 seed Tatum Evans and No. 12 seed Keegan Rice had posted convincing victories to earn their first Grade 1 titles.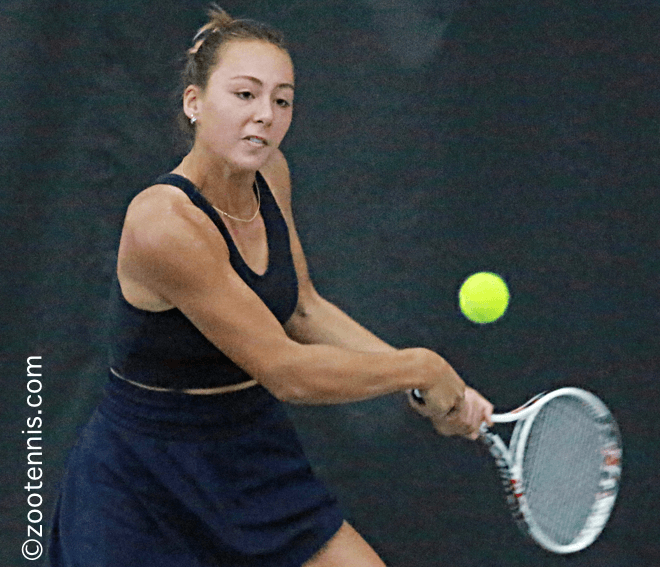 Girls Singles Champion Tatum Evans
© Zoo Tennis
Evans had worked hard for her three-set victories over No. 10 seed Alexia Harmon in the quarterfinals and unseeded Alanis Hamilton in the semifinals, both of which clocked in at over two-and-a-half hours. But in the final, Evans was at her best, defeating unseeded Maddy Zampardo 6-2, 6-1.
Zampardo had dropped only one set in her five victories prior to the final, to unseeded Piper Charney, who had beaten top seed Mia Slama in the third round. After that 6-3, 5-7, 6-3 quarterfinal win over Charney, Zampardo ended the run of qualifier Jessica Bernales with a 7-5, 6-2 victory in the semifinals.
In the final, the first at the Grade 1 level for both, Evans earned a break of the big-serving Zampardo to open the match. The 17-year-old Virginian then kept that advantage before recording a second break to go up 5-2. Zampardo was not sharp, while Evans hit her targets and made few unforced errors, closing out the opening set with a routine hold.