Tournament Feature
Gold Balls Awarded at USTA National Doubles Championships
by Rhiannon Potkey, 7 September 2022
Dylan Jaen knew exactly who to call when his partner had to pull out of the USTA National Doubles Championships with a back injury.
Chase Fralick has been Jaen's best friend since they met as roommates at Smith Stearns Academy in Hilton Head, South Carolina two years ago.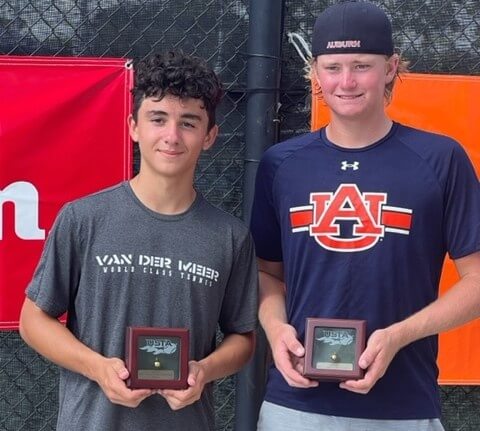 Boys 16s Champions Dylan Jaen and Chase Fralick
© Contributed Photo
Jaen explained the situation to Fralick and told him, "I need you."
Although Fralick has turned his attention to baseball, the blue chip from Peachtree City, Georgia couldn't think of a better swan song for his junior tennis career.
Jaen and Fralick captured the Boys 16s title with a 6-3, 6-4 win over Jacob Smith and Devin Ruhotina on clay at the USTA National Campus in Lake Nona, Florida. The top seeds didn't drop a set on the way to securing the gold ball.
"It was like a gigantic weight was lifted off our shoulders," said Fralick, a catcher who has committed to Auburn in baseball. "It's one of the biggest titles you can win in American tennis. It's just unbelievable to finally win one."
Jaen and Fralick were one of four top-seeded duos to live up to the billing by winning titles across the six divisions.
Brandon Carpico (Blacklick, Ohio) and Caden Hasler (Pleasant Grove, Utah) won the Boys 18s title, Susanna Maltby (Glen Ellyn, Illinois) and Maddy Zampardo (Grosse Pointe Farms, Michigan) defended their Girls 18s title and Bella Payne (Taylors, South Carolina) teamed with Sara Shumate (Charlotte, North Carolina) to win the Girls 14s title.
Fifth-seeded Kady Tannenbaum (Commack, New York) and Linda Ziets-Segura (New York, New York) won the Girls 16s title in three sets and No. 2 Jackson Hinderberger (Lake Worth, Florida) and Tristan Dussault (Leesburg, Virginia) captured the Boys 14s crown.