College Feature
Michigan Women Survive USC Comeback to Reach Team Indoor Championships
by
Colette Lewis
, 2 February 2011
"You got this."
Anyone who has ever been to a college tennis match has heard this ubiquitous cheer, as teammates encourage each other to remain confident and positive.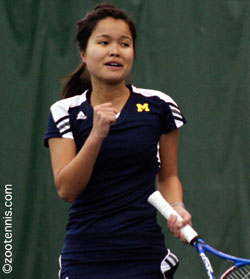 Last Sunday at the
Varsity Tennis Center
in Ann Arbor, the
University of Michigan
women's team appeared to have a tidy win over the
University of Southern California
in its grasp in the final match of the
ITA's Kickoff Weekend
. The road to a berth in the 16-team
Indoor Championships
got bumpy however, with the upbeat "you got this" nearly turning into the lament "you had that" before Michigan escaped with a 5-2 win.
The eighth-ranked Wolverines certainly looked as if they had the doubles point. Michigan's Brooke Bolender and Denise Muresan beat Danielle Lao and Lindsay Kinstler 8-3 on the No. 2 court, while 18th-ranked Southern California's Kaitlyn Christian and Maria Sanchez took their match with Whitney Taney and Rika Tatsuno 8-4 at No. 1 doubles just a few minutes later.
At the completion of those matches, Michigan's Samantha Critser and Mimi Nguyen were in the midst of a five-game winning streak against Cristala Andrews and Alison Ramos at No. 3 doubles. Down 4-2, Critser and Nguyen took a 7-4 lead, and Nguyen, a sophomore from Long Beach, California, had match point serving at 40-30. She double faulted, USC won the next two points to make it 7-5, and the first signs of uneasiness began to circulate among the small crowd of Michigan supporters. Spirits lifted when Michigan earned two match points in the next game with Ramos serving, but strong net play by Andrews, who hit two volley winners on each match point, kept the Trojans alive.
Critser still had a chance to serve it out at 7-6, but the freshman from California was broken at 15-40, with a series of unforced errors suggesting the young Michigan team was feeling the pressure. Andrews held to give USC the 8-7 lead, and Nguyen followed with a quick hold of her own to send the match and the doubles point to a tiebreaker.
The level of play rose in the tiebreaker, and although Michigan trailed 3-0, they won six of the next seven points. When Critser slammed a backhand winner to make it 6-4, Michigan again had match points. Andrews saved the first with a poach and a volley winner, and when Critser missed a volley on the next point, match point number five had come and gone. There would be no more for Michigan, as Critser missed volleys on the next two points to give the Trojans a 9-8(6) victory and a 1-0 lead.