Anazagasty-Pursoo Does Her Homework on Texas
by Rhiannon Potkey, 22 September 2023
Ariana Anazagasty-Pursoo (WTN 13.1) needed a little more time before she could make her college decision. The blue chip senior from New York wanted to do her homework on all the options to make an informed choice.
"It was a little stressful and overwhelming when so many schools started reaching out at one time. But thankfully my parents were the ones who got the majority of emails and text messages," she said. "They kind of handled it and let me do my research figuring out what I liked and didn't like."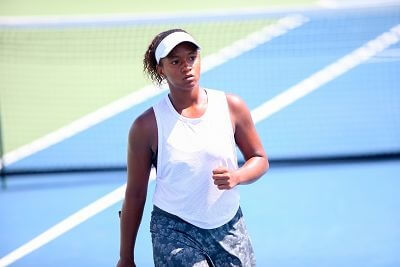 Blue Chip Ariana Anazagasty-Pursoo Has Committed to Texas
© Daved Kenas
Anazagasty-Pursoo eventually spoke with coaches, toured campuses and learned more about each school on her list. She was intrigued by several possibilities, but felt most comfortable at the University of Texas and decided to commit.
"I really liked the coaches and the good energy they had. The campus was great and the area was very lovely," she said. "The whole environment they provided at UT just felt right. I had to go off my personal preferences."
In the end, Anazagasty-Pursoo narrowed her choices down to Texas, North Carolina and North Carolina State. She also spoke to the coaches at UCLA, Oklahoma State and Virginia.
"They were all very nice and very respectful. The unfortunate part about college is that it could be a great school but it's just not your personal preference, even outside of tennis," she said. "It could be that you don't like the dorms or the area. That is the tricky part, because the schools and the program sound great but you may just not see yourself attending there personally."