Commitment Profile
Countdown: Cypers Joins Amherst with Eye Toward Titles
by
Colette Lewis
, 30 March 2011
Four-star recruit Jonathan Cypers has a variety of reasons for selecting Division III Amherst for his higher education, with location, academics, and friendship among them. But the first one the 18-year-old New Yorker mentions is the tennis dream of many college players - a chance to win a national title.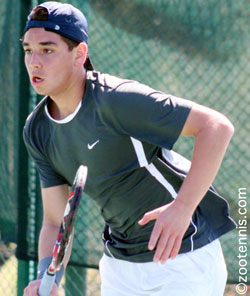 "At Amherst, we'll be playing for a national championship, hopefully all four years," says Cypers, who also considered several Division I schools. "I think it's a little bit different experience if you're not playing for a top DI. You're in the middle and you can't play for something as big."
The Lord Jeffs have reached the finals of the NCAA Division III team championships the past two seasons under fourth-year coach Chris Garner, who also played a major role in Cypers' decision.
"I decided pretty early that I wanted to go to Amherst," says Cypers, who also considered Middlebury, the 2010 NCAA champions and Amherst's New England Small College Athletic Conference rival. "Chris was one of the big reasons. I want to further my tennis and I definitely feel he can help me out a lot with his tennis background and his reputation as a coach."
Also drawing Cypers to the liberal arts school of 1800 students is his former junior doubles partner Justin Reindel, a freshman on the team.
"He's had a really good experience," says Anne Hasegawa, Cypers' mother. "I'd say Justin has similar objectives to Jonathan in terms of what he wants to get out of the next four years. He told Jonathan yes, it's a small school, but it's still great, the tennis is good, Chris Garner's good. So I think this is going to be a good balance for him."
"They say not to base your choice on the coach, but it's really hard not to," continues Hasegawa. "We've heard really good things about him, he's had a good record and a good career."