College Commitment
Spring Signing Week '11: Dancu Signs with DePaul
by
Gary Curreri
, 12 April 2011
Joshua Dancu enjoys playing tennis and the drums, but he acknowledges they have their differences.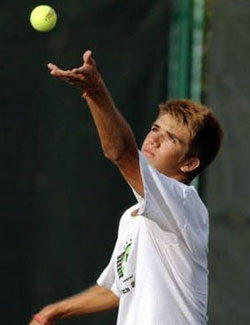 "I feel less stress performing drums because a miscalculation will not cost me a match," said the 17-year-old Dancu, a Naples High School (Florida) senior. "As I have gotten older - and more experienced - I find that they each provide a different type of rush."
Dancu, who once finished as first runner up at a talent show in Hollywood when he was 8 years old, competing against 500 others, will now take his talents to DePaul University.
Dancu said he chose DePaul for a variety of reasons.
"I picked DePaul because of the level of competition, the coach, the city, and just the general atmosphere of the college itself," said Dancu, who also considered Tulane, Denver, Wisconsin, and Central Florida. "I made my decision towards the end of last year - after I took all of my official visits."
Dancu is currently ranked 115th nationally by Tennisrecruiting.net and No. 14 in Florida. He won the third-place playoff at the Tennis Plaza Cup in Miami this past January, and he has also won several championships in national doubles tournaments throughout the years.
"My best finish was probably the Florida State Closed a few years ago when I was fourth place," Dancu said. "I was playing very well before the heat caused some problems."
He's also played in the Florida High School Athletic Association state tennis tournament and finished third in his freshman year and fourth as a sophomore.
Dancu said he is pretty well rounded. The honor student also has an eclectic side - he's played drums in a variety of bands, and he also enjoys writing comedy skits with friends. Dancu said he plans on studying screenwriting, and he added that tennis has always been separate from his schooling.
"I know I want to do something involving music or film," Dancu said.
Dancu said he's been playing tennis for a little more than 13 years. He got his start, like many youth players, at a tennis summer camp.
"I couldn't get enough of it," Dancu said. "I was hitting against the garage door all the time."