Who's Hot?
Prince Hot 100 List - July '11
by Amelia Thomas, 18 July 2011
With summer in full-blown heat and afternoon temperatures that surpass 100 degrees, most people want to spend their time either in the swimming pool or in air conditioning. But the athletes on the Hot 100 List are still working up a sweat as they train through the hottest months of the year. We catch up with a few of those exceptional recruits in the latest edition of the Prince Hot 100.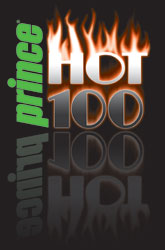 The Prince Hot 100 lists are published each month, and the July Hot 100 lists feature the one hundred boys and girls who most improved their ranking during the month of June. You can find out more about the Prince Hot 100 - and how the lists are calculated - by reading here.
The very latest lists, published earlier today, are available here:
Let's check in with some of these players...
Roundup
Canyon Teague (Gahanna, Ohio)
Rising junior and three-star recruit Canyon Teague didn't begin his athletic career with tennis. The Gahanna, Ohio native practiced martial arts and baseball for many years before he discovered the sport he has come to love. "When I was 12, I really started to focus on tennis because it could do so much for me."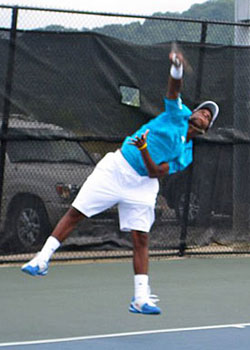 But unlike many junior players, Teague did not choose tennis over his other hobbies simply because he liked it more. Teague soon learned that he could take skills from his experiences in other sports and apply them to tennis.
"He preferred tennis as it was a sport that he could combine his athletic abilities and mental focus in a largely individual sport to obtain a high level of proficiency," said his father, Dimitri Teague. "Tennis could combine mental and physical skills from martial arts and an outdoor spectator sport to provide a rewarding experience."
With such clear reasoning behind his choice to focus on tennis, it is not surprising that Teague surfaced on the Prince Hot 100 list this month after jumping nearly 70 spots in the rankings. He won the Gahanna Open in early June and then went on to collect several wins in both the Ohio Valley Midwest Qualifier and the Midwest Closed Championship, bringing his total record for the month of June to 12-3.
Teague is most impressed with his win over 5-Star freshman Daniel Rayl at the main draw of the Midwest Closed (6-3, 6-3). The victory was special for Teague because he had taken a break from tournament play for nearly three months prior to June. "I wanted to see how I would fare against top Midwest kids after not playing with them for awhile," Teague said. "Beating him made me feel like I belonged with the rest of the top kids."
An explanation for Teague's improvement could easily be the time he spent training with a visiting Jamaican tennis pro and fitness expert. In addition, Teague works regularly with coach Paul Kobelt of the New Albany Tennis Center, to whom Teague's parents attribute much of their son's success. "Keener focus on his tennis practices provided by his local head pro Paul Kobelt... sparked and redoubled his efforts to become the best athlete and tennis player he could be," Dimitri Teague said.
The five-foot-10 recruit agreed, crediting Kobelt and his family for his improvements, as well as the motivators for the future of his game. "My coach, my family and my friends have always believed in me from day one," Teague said. "They never give up on me, even when times get tough. And they always give me confidence to keep on playing and working hard."