Commitment Profile
Countdown: Garrett Gordon Looks to Improve at Georgia Tech
by Todd Holcomb, 4 November 2011
Garrett Gordon's tip to junior players looking to play college tennis is not to worry about things you can't control, but he admits he struggled with his own advice last summer.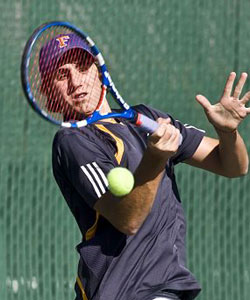 Injuries and recruiting were weighing on him. Gordon, a high school senior from Marietta, Ga., lost in the round of 32 at his state's qualifying tournament for the Southern Closed. Then at Southerns, where he was seeded No. 1, Gordon lost in the round of 32. Both losses were to unseeded players.
"I feel like recruiting is definitely in the back of your mind, especially when you're going through a tough time in summer just because I was injured," Gordon said.
Before the USTA Boys 18 Super Nationals at Kalamazoo, Gordon committed to Georgia Tech. He then proceeded to beat two blue-chip recruits at Kalamazoo in Jeremy Efferding (now at Texas A&M) and Jordan Daigle (ranked No. 16 in the class of 2013). He lost to University of Oklahoma freshman Dane Webb 6-3, 6-4 in the round of 32 and to Ohio State freshman Christopher Diaz in a tiebreaker played in lieu of the third set.
Gordon is now the No. 31-ranked senior college prospect for men's tennis in the Athletic DNA Class Rankings, and he is a five-star recruit. He's the top-rated player in Tech's recruiting class.
"Right before Kalamazoo and after clay courts, I started to relax," Gordon said. "One thing that helped me was committing to Georgia Tech. It took a lot of pressure off my shoulders. At Kalamazoo, I felt like I played good tennis. I had a couple of good wins. I had a close match with a kid who has always been one of the top juniors. Now I feel like I'm playing the best tennis I have."
Kalamazoo was Gordon's final junior tournament. He plans on playing a series of Futures and Challengers through next summer. He'll be traveling with Austin Smith, who has committed to Georgia.
Gordon said he picked Tech for its academics - "I wouldn't have gotten into Tech or a school like that without tennis, so I might as well use that to my advantage" - but the prospects of turning pro some day also was a factor.
Tech coach Kenny Thorne spent nearly 10 years on the ATP Tour. He was named the Wilson/ITA Division I National Coach of the Year after the 2011 season, during which Tech reached the NCAA round of 16.
"With all the time I've put into it, I want to see if I can take it that far [to the pro tour]," Gordon said. "Coach Thorne is good at developing players, and I definitely want to get better while I'm at college."