Commitment Profile
Countdown: Zach Mueck Heads to the Musketeers
by Marcia Frost, 28 October 2011
Five star recruit Zach Mueck has chosen to stay in his native Ohio and play for the Xavier Musketeers. The West Chester native won't have far to travel to the Cincinnati school, which is part of the Atlantic 10 Conference.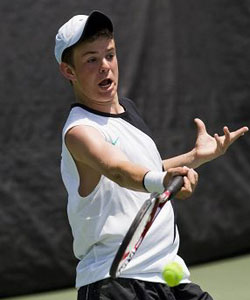 Zach Mueck just turned 18 this fall and has been holding up a top 50 ranking in the
Athletic DNA standings
. His final two years in the juniors have included a sixth place finish at the
St. Louis Gateway Championships
and a finalist position at the
Midwest Closed
, both in November 2010. He followed these with a title at the
Columbus Indoors
in January 2011. Since then he's been sidelined a bit, but he's also placed in a number of Midwest events this summer.
High school tennis has also been an important part of Zach Mueck's playing career. He's participated on the Lakota East High School team and came in second place in Division I singles for the state of Ohio both as a sophomore and a junior. He is the first player from his high school to reach the finals of that event.
The 2009 road to the state championships for Zach Mueck in his freshman year was sidelined by an act of sportsmanship. According to the Journal News, Mueck gave a racquet to opponent Wyatt Lippert in the final match of the Greater Miami Conference Championship rather than allowing Lippert to default because he broke a string and was out of racquets. Lippert would go on to take the title with a 6-3,7-6 win.
Mueck's high school tennis accomplishments were well noted in his state. He was named the Greater Miami County Player of the Year for his high school efforts in both 2010 and 2011. In 2011, he was also chosen as the Greater Cincinnati Tennis Coaches Association Division I Player of the Year.