Commitment Profile
Countdown: Van Cott Twins to Tulane
by
Ali Jones
, 2 November 2011
Twins Alexander and Ian Van Cott began their search for a college tennis home with a simple stipulation: They were going someplace warm and sunny.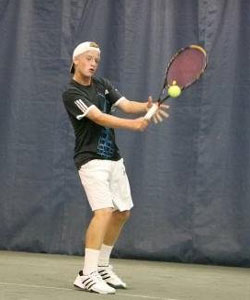 It was nothing against the bucolic charms of their native upstate New York, with its wooded hills, rushing brooks and rustic dairy farms. They simply wanted a break from the dreary winters, and the long months of indoor tennis under artificial light.
The 5-star recruits from Unadilla, New York, recently took a major step toward their shared goal of playing college tennis on warm, sun-splashed days by verbally committing to attend Tulane University in New Orleans, Louisiana.
"It's the fulfillment of a dream to get to go to a great college," said Alex Van Cott. "I never thought when we started playing tennis that we'd get this far."
Ian Van Cott echoes that sentiment. "It's exciting to know where we're going to school," he said, "especially this early in the year."
How the Van Cotts came to even consider New Orleans as a college destination is a testament to the tennis credentials and interpersonal skills of Tulane head coach Mark Booras. The third-year skipper honed those skills at Louisiana State University in Baton Rouge, where he spent the final four of his 10 years as associate head coach.
Booras impressed the Van Cott brothers with his vision for returning Tulane to the ranks of America's college tennis elite. It was a realm the school perennially occupied before Hurricane Katrina roared ashore in 2005, devastating New Orleans and forcing the suspension of Tulane's athletic programs.
In 2008, Booras was hired to rebuild Tulane's men's tennis program after a three-season hiatus. The international squad he recruited finished the 2009-10 season with a 3-17 dual match record. Last year, Booras's team won five of its final seven contests to finish the 2011 spring season with an 11-11 dual match record and a No. 9 ranking in the Intercollegiate Tennis Association's Southern Region.
With the Van Cott brothers, Booras is getting an experienced doubles team and a pair of proven singles players with contrasting games: Alex relies on a big forehand and aggressive tactics, while Ian prefers a patient, grinding approach.