Tournament Summary
Thiem Makes History, Three Young Americans Take Titles at Eddie Herr International
by
Colette Lewis
, 9 December 2011
Familiar faces and newcomers were among the eight champions crowned at the Eddie Herr International last week, as over 2200 players descended on the IMG/Bollettieri Academy in Bradenton Florida to test their games against the world's best junior players.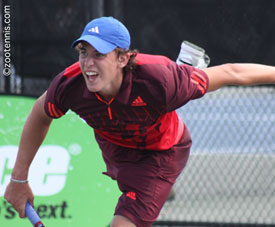 Defending ITF 18s champion
Dominic Thiem
was one of the players well known to the many local tennis fans, and the 18-year-old Austrian cruised to a historic second title without dropping a set in the tournament.
The top seed became the first player ever to repeat as 18s champion when he rolled past No. 6 seed Patrick Ofner, also of Austria, 6-1, 6-0 in the final.
"For me it's really a dream," said the world's No. 8 junior. "I know all the great players who have won it, and I can't believe that I'm the first to win it two times."
Thiem grew up on red clay and doesn't find it much different from the Har-Tru surface the 18s played on for the first time this year. It wasn't, however, the only reason he chose to come back to the Yucatan Cup, which he also won in 2010, the Eddie Herr, and the Orange Bowl.
"I like these tournaments," said Thiem, who joked that December tournaments were his favorites. "I had to defend points from last year, and I like clay."
Yulia Putintseva had lost in the 2010 final to American Lauren Davis, but the feisty Russian denied that was the motivation for her return.
After defeating No. 9 seed Victoria Kan, also of Russia, 6-3, 7-6(4) to claim the championship, the second-seeded Putintseva admitted that the absence of ITF Women's Circuit events this time of year contributed to her decision to play both the Eddie Herr and Orange Bowl, especially since both are now on clay.
"At 16, I get to play only 12 (professional) tournaments, and in December there are just maybe a few, in Chile, or somewhere," said Putintseva, who is ranked 242 on the WTA computers and plans to travel to Australia for the Open's women's qualifying next month. "And we didn't think to play Eddie Herr, just Orange Bowl, because it was on clay, but when we heard Eddie Herr was clay too, we decided to come."