Who's Hot?
Prince Hot 100 List - January '12
by Amelia Thomas, 16 January 2012
The approach of the New Year means New Year's resolutions. With new goals to work towards, junior tennis players are kicking up their game for the New Year. We caught up with a few of those players in the inaugural Prince Hot 100 for 2012.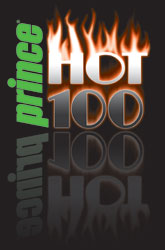 The Prince Hot 100 lists are published each month, and these January Hot 100 lists feature the one hundred boys and girls who most improved their ranking during the month of December. You can find out more about the Prince Hot 100 - and how the lists are calculated - by reading here.
The very latest lists, published earlier today, are available here:
Let's catch up with a few of these players...
Roundup
Caitlyn Merzbacher (Dublin, Ohio)
Three-star freshman Caitlyn Merzbacher has been at a disadvantage with other players the past few months. She has been coping with a serious knee injury that required surgery, which put her on the bench for almost a year.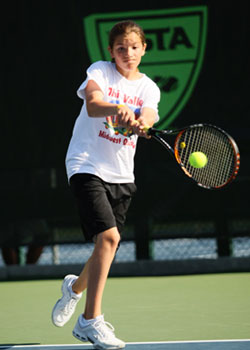 Even though the injury was a struggle, it has increased her respect for the game. "Not having tennis made me realize how much I love to play, and I appreciate it everyday," Merzbacher said.
When the five-foot-four athlete finally came back to the sport, she had a choice to make. At the time, Merzbacher was playing ice hockey and basketball in addition to tennis. "I enjoyed playing team sports, but after surgery, I decided to put all my concentration on tennis," Merzbacher said.
This turned out to be the right choice, but Merzbacher had a lot of ground to cover in order to catch up to other players. Luckily, Merzbacher's coach, her father, is close to home. "I am extremely fortunate to have my dad as my coach - he pushes me to be the best and is a great motivator," Merzbacher said. She didn't neglect to thank her mother as well. "My mom also signs me up and takes me to every tournament, so she deserves a lot of credit for my success. She is a great supporter and is proud of me no matter what."
With her father, Chuck Merzbacher, Caitlyn Merzbacher has been working on her consistency and handling aggressive opponents. She recently had the chance to test some of these new skills in an intense match against three-star freshman Halle Hyman in the USTA Midwest Winter Championships.
"I quickly got down 0-4 in the first set. My parents taught me to never, ever give up, and I didn't," Merzbacher said. She came back to win the first set, 7-5, but Hyman picked up her game to take the second set, 6-3. "In the tiebreak, I knew I had to step up my game - knowing I didn't have a lot of points to give up," Merzbacher said. "I started out strong with a 7-4 lead, but then [Hyman] hit some amazing shots to make it 7-7. After that, it was an ongoing battle that lasted until I finally converted the match point at 12-10."
Merzbacher added this victory to her 10-4 record for the month of December. She competed in three additional tournaments, the NWO Junior Indoor, GMVTA Junior Grand Prix, and the Contardi Winter Open.
December was a good month for Merzbacher, but she knows how to handle adversity as well. "Caitlyn understands how to compete and bounce back from a tough loss," Chuck Merzbacher said. "She understands the journey - and that getting better is not a race but just a daily progression of working on your game."