Who's Hot?
Prince Hot 100 List - February '12
by Amelia Thomas, 20 February 2012
As junior tennis players got back into their regular school routines after winter break, they took hold of their tennis schedules as well. The only difference was, many players stepped up their game higher than before. We checked in with a few of those recruits - in the February edition of the Prince Hot 100.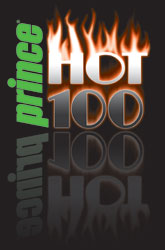 The Prince Hot 100 lists are published each month, and the February Hot 100 lists feature the one hundred boys and girls who most improved their ranking during the month of January. You can find out more about the Prince Hot 100 - and how the lists are calculated - by reading here.
The latest lists, published earlier today, are now available:
We talked with a few of these players...
Roundup
Dillon Launius (Austin, Texas)
Three-star junior Dillon Launius has a unique story for getting involved in tennis. At the age of five, his favorite board game was Candy Land. Once, while playing with his mother, he was on the verge of winning. His game piece was sent back to "Gumdrop Mountain," however, and he lost. Launius threw the game board across the table and accused his mother of cheating.
"My mom says she put me into tennis because, during this game, she realized that I needed to accept my wins and losses," Launius said. "She put me into tennis so that I would have nobody to blame for success or failure but myself."
Since that day, Launius has constantly been learning his mother's lesson, and he has come a long way in tennis, beginning with his practice regimen. The five-foot-ten recruit can often be found hitting at the Lone Star Tennis Academy two hours before school starts and three or four hours after school. He also has a private lesson once a week with coach Jeff Jacobsen.
The game of Candy Land is not the only thing that motivates Launius. He lives and competes by a quote from one of his favorite athletes, Kevin Durant, who said "Hard work beats talent when talent doesn't work hard.
"I live by this quote and work hard every time I step onto the court," Launius said. The message behind Durant's quote has especially inspired him over the last month. "My ability to compete and my work ethic are probably the two biggest reasons for my recent success," he said.
All of these factors came together last month when Launius won one of the strongest USTA Texas tournaments, a Super Champ Major Zone in Corpus Christi.
Launius names his best win of this tournament as a match against four-star senior Yates Johnson. In the semifinals, Launius beat Johnson in a 10-8 third set tiebreaker. "This win was not only great because of the end result but also great because of how I got there," Launius said. "I had to fight to get the win."
Success and wins like this are important to Launius, but when considering a college team, there are more important requirements. "Academics are very important to me along with tennis," Launius said. "I would want a school with a high academic standard and a good, hard-working, fun, but most of all close tennis team."